Meadows, Neverauskas chosen for Futures Game
Outfielder scratched due to injury, but right-hander will go to All-Star showcase of top prospects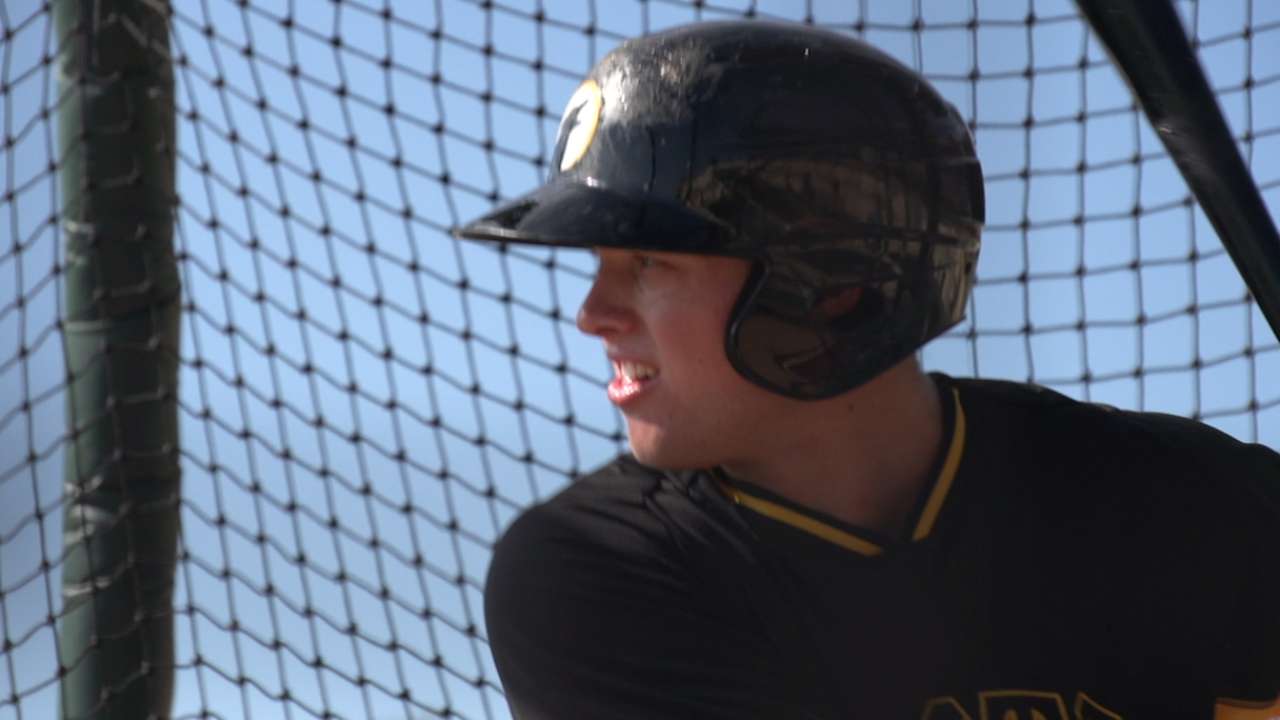 PITTSBURGH -- Two Pirates prospects were selected to play in the SiriusXM All-Star Futures Game in San Diego, one a classic top prospect with a bright big league future, the other a little-known success story with an uncommon baseball background. But only one will go to the game.
Outfielder Austin Meadows (U.S. Team) and right-hander Dovydas Neverauskas (World Team) were chosen to represent Pittsburgh at Petco Park on Sunday in the annual showcase of baseball's best Minor League prospects. Meadows, though, was replaced by Colorado's David Dahl because of a slight hamstring injury.
You won't find Neverauskas, 23, on many -- if any -- lists of top prospects. But the right-handed reliever has clearly and perhaps unexpectedly created a future in the Majors since being signed out of Lithuania in July 2009, the first player to sign directly out of the European country.
"I'm excited. I've seen this kid when he first came over from Lithuania. He couldn't speak English," Pirates manager Clint Hurdle said. "I got to see him last spring grow and develop, and the year he had in Altoona. Now we've moved him up to Triple-A and the stuff's real. Guys are excited for him, we're excited for him. And now he can speak English."
Neverauskas has climbed up the Minor League ladder over the last seven years, earning a promotion to Triple-A on June 15. In 28 appearances this season, the 6-foot-3 right-hander is 1-1 with a 2.67 ERA and 34 strikeouts over 33 2/3 innings.
Neverauskas was signed by former Pirates scout Tom Randolph, the same scout who signed Gift Ngoepe out of South Africa and Daniel Arribas from the Netherlands.
If Neverauskas reaches the Majors, he would become the second Lithuanian-born player to do so. The other, Joe Zapustas, emigrated to Boston at a young age and played only two games for the Philadelphia A's in 1933.
Meadows, 21, is one of the game's top overall prospects. He ranks 16th on MLBPipeline.com's Top 100 Prospects list, second among Pirates prospects and second among all outfielders. He dominated the Eastern League early on this season, running up a 24-game hitting streak, and quickly earned a promotion to Triple-A Indianapolis.
The ninth-overall pick in the 2013 Draft, Meadows earned the promotion by batting .311/.365/.611 with six homers, eight triples and nine steals for Double-A Altoona. He's a career .309 hitter over four Minor League seasons, showing his smooth left-handed swing and above-average defensive ability when he's been healthy enough to take the field.
"He's shown us he's an advanced young man, an advanced hitter capable of playing really good defense, the guy that our scouts were so thrilled to get in the Draft," Pirates general manager Neal Huntington said Sunday. "He does just about everything well on the field, and it was just time. ... We felt like he was ready to take the next step to Triple-A."
Adam Berry has covered the Pirates for MLB.com since 2015. Follow him on Twitter at @adamdberry. This story was not subject to the approval of Major League Baseball or its clubs.