Dahl, Hoffman, Tapia picked for Futures Game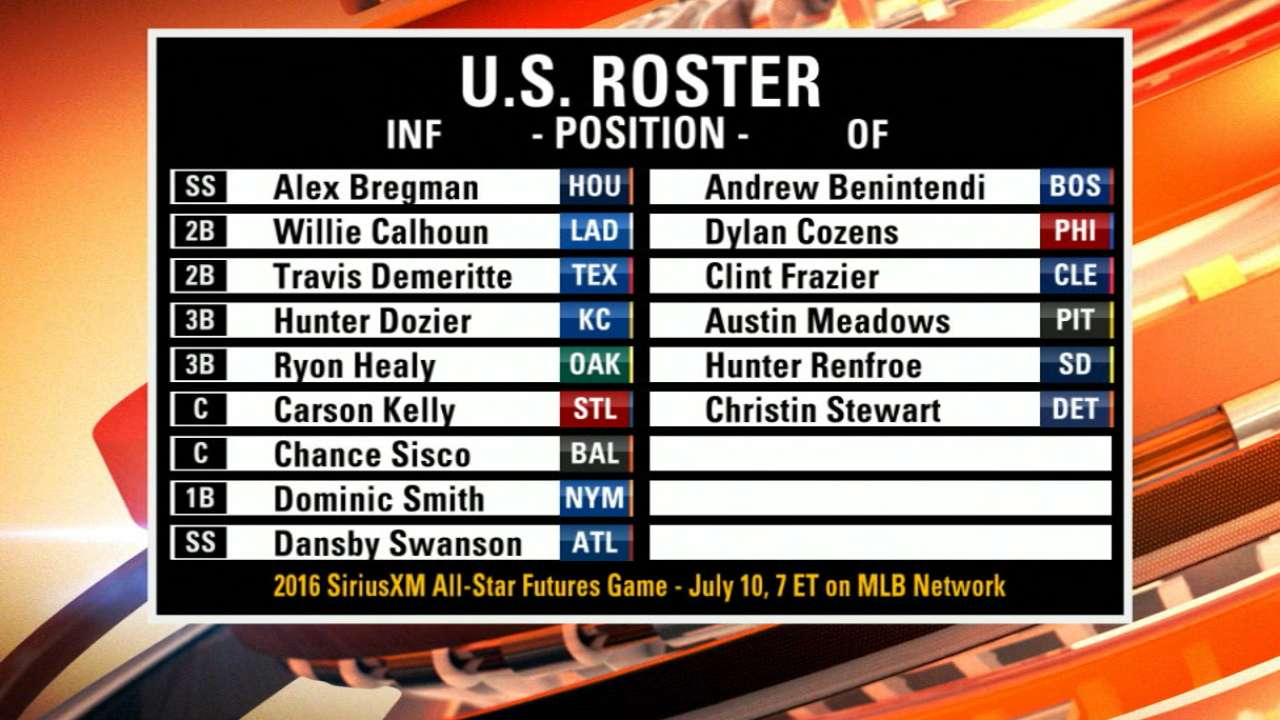 DENVER -- Three of the Rockies' top prospects will take part in next week's SiriusXM All-Star Futures Game.
The Rockies' No. 2 prospect, outfielder David Dahl, and No. 4 prospect, right-hander Jeff Hoffman were named to the U.S. team, while the No. 6-ranked prospect, outfielder Raimel Tapia, will join the World Team for a second straight year.
Dahl, Hoffman and Tapia are among the 50 prospects named to play in the Futures Game, which takes place Sunday at Petco Park in San Diego (5 p.m. MT on MLB Network) as part of All-Star Sunday.
• More on the Rockies' top prospects
It will be an especially big moment for Hoffman, who underwent Tommy John surgery in May 2014 and resumed pitching just 13 months ago.
"I mean, it's awesome," Hoffman said. "I grew up watching that game. Last year I was just coming back from my surgery, so I didn't get a chance to play in it last year. I told myself, 'Well if I'm not going to be able to be in it this year, then next year I'm either going to be in the big leagues or I'm going to be in it. I'm going to make sure of that.' I pitched my way into it, so I'm happy I did that."
Hoffman, who was acquired last July from Toronto in the Troy Tulowitzki trade, is the No. 47-ranked prospect in the MLBPipeline.com Top 100. He has a 3.49 ERA with 88 strikeouts in 15 starts (87 2/3 innings) for Triple-A Albuquerque this season.
Hoffman's fastball was clocked at 99 mph last season, and the 23-year-old also features a plus curveball with big break. His changeup has a chance to become a third plus offering.
Tapia, 22, plays center and left field and bats leadoff for Double-A Hartford. He leads the Eastern League with 91 hits and ranks third with a .317 batting average. Tapia has never hit below .305 in any season since coming to to the U.S. from the Dominican Republic.
Tapia started in left field at last year's Futures Game in Cincinnati, going 2-for-3 and scoring a run. Tapia has a well-rounded skill set with above-average hitting, speed and arm strength.
Dahl, who was just promoted to Triple-A Albuquerque, replaced the injured Austin Meadows of Pittsburgh on the roster. The 22-year-old Dahl was hitting .278 with 13 home runs and 45 RBIs, along with 16 stolen bases, for Double-A Hartford.
"He has shown his approach to be more consistent than ever, and that's something that he along with the staff has worked extremely hard on in a lot of different ways, and it's shown up in the numbers," Rockies senior director of player development Zach Wilson said.
Ben Weinrib is a reporter for MLB.com based in Denver. This story was not subject to the approval of Major League Baseball or its clubs.