Kendrys could see outfield action in NL parks
Royals will lose DH spot on road trip through St. Louis, Philadelphia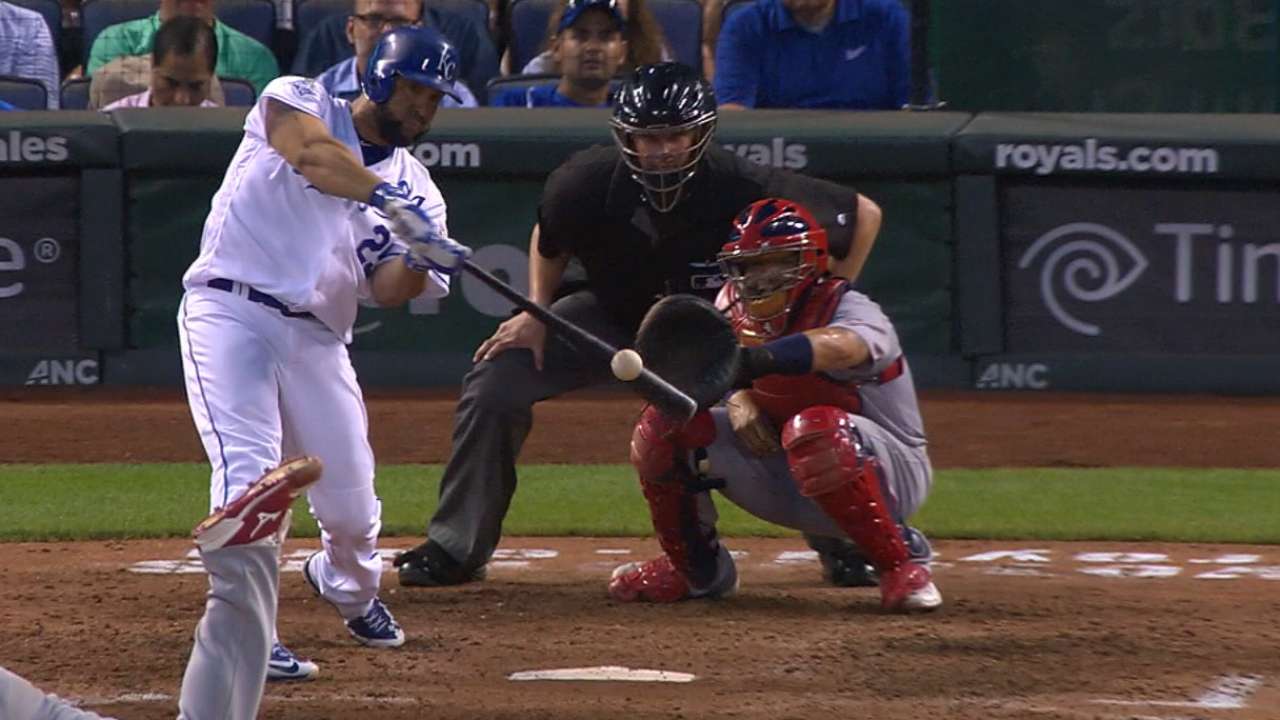 KANSAS CITY -- It was last September when Royals manager Ned Yost happened to notice designated hitter Kendrys Morales shagging some fly balls in the outfield during batting practice.
The more Yost watched, the more intrigued he became.
"People underestimate his athletic ability," Yost said before Tuesday's 8-4 loss to the Cardinals. "But he can move around."
The Royals had an upcoming makeup game at Wrigley Field last September and Yost knew he'd lose a hot bat in Morales without the DH.
"And Alex Rios was struggling at the time," Yost said, "so we kept our options open."
Morales in the outfield last season never materialized, but once again Yost is pondering the idea. The Royals have five games in National League parks starting on Wednesday in St. Louis. And Morales is sizzling, hitting .449 since June 11.
"We're not ruling it out," Yost said. "We want to keep our options open. He's such a hot bat right now."
If it happens, Yost hinted, it likely would happen in Philadelphia this weekend, rather than the two games in St. Louis, just based on the smaller size of the Phillies' stadium.
Royals first-base coach Rusty Kuntz, who also coaches the outfielders, was skeptical at first last season of Morales playing in the outfield.
So Kuntz took time before a couple of games in Cleveland back then to work Morales out in the outfield.
"I'm hitting balls and he's zipping toward everything -- balls in the gap, balls in the corner, over his head," Kuntz said. "I couldn't believe it. He's not Lorenzo Cain, but he's better than decent."
Morales actually has a history as an outfielder. He played center field for the Cuban National team before defecting here, and was an outfielder with the Angels after they signed him in 2007.
"He was really a great athlete back then," Yost said. "He still has instincts out there."
Jeffrey Flanagan has covered the Royals since 1991, and for MLB.com since 2015. Follow him on Twitter @FlannyMLB. This story was not subject to the approval of Major League Baseball or its clubs.