2016 Futures Game rosters teeming with top prospects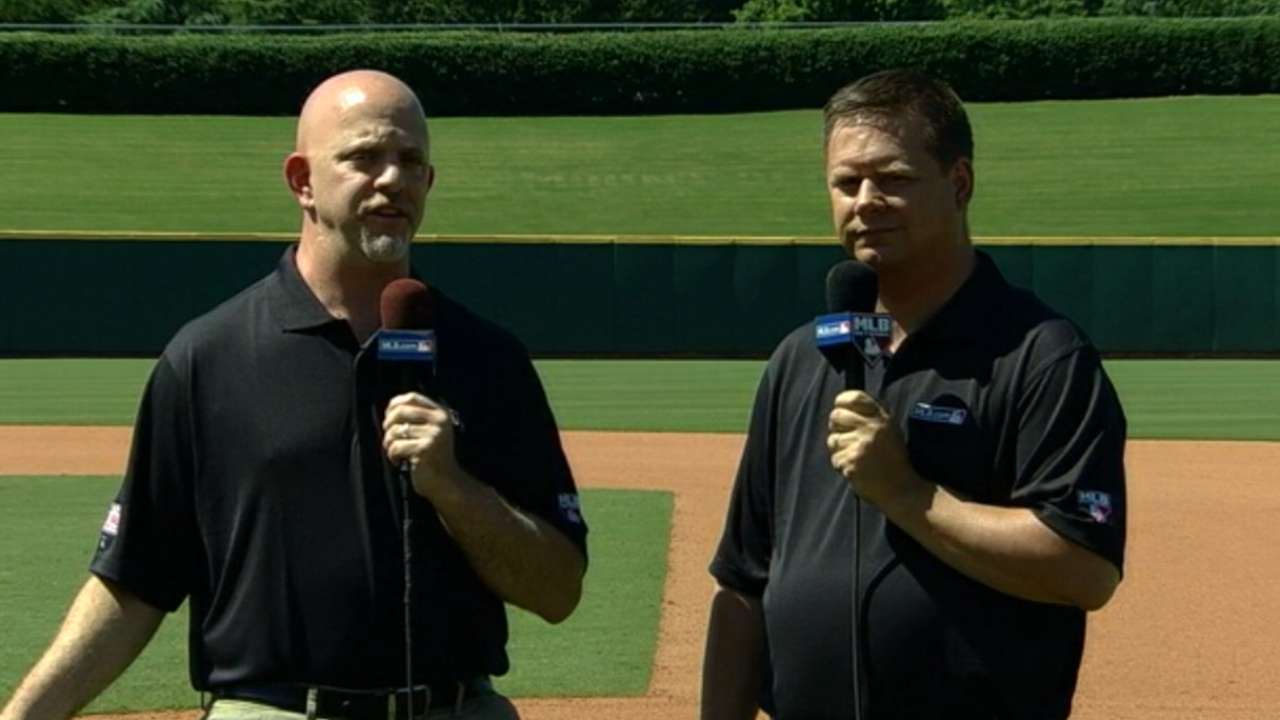 The crystal ball that is the SiriusXM All-Star Futures Game has been polished and is once again ready to predict the future stars of Major League Baseball.
The 18th edition of the Futures Game will take place on Sunday, July 10, at Petco Park in San Diego (7 p.m. ET/4 p.m. PT on MLB Network). Rosters for the prospect-filled game were announced on Tuesday, and as has become the tradition of the game, it is jam-packed with talent that will soon be filling big league rosters.
A look to last year's contest is all one really needs. The starting pitcher for the United States team in Cincinnati was No. 1 prospect Lucas Giolito, and he is slated to make his Major League debut on the very day this year's Futures Game rosters were released. Brandon Nimmo, one of Giolito's U.S. teammates, also recently got called up by the Mets. There is little question that when perusing this year's rosters -- with 18 members of MLB Pipeline's Top 100 Prospects list -- fans are sure to see players who will make big league contributions in the very near future.
"It was a special moment," Pirates outfield prospect Austin Meadows, No. 16 on the Top 100, said. "That was my goal coming into this year. I'm really thankful and looking forward to playing with the best talent in the world, hopefully getting a win for the U.S. Team and meeting new guys."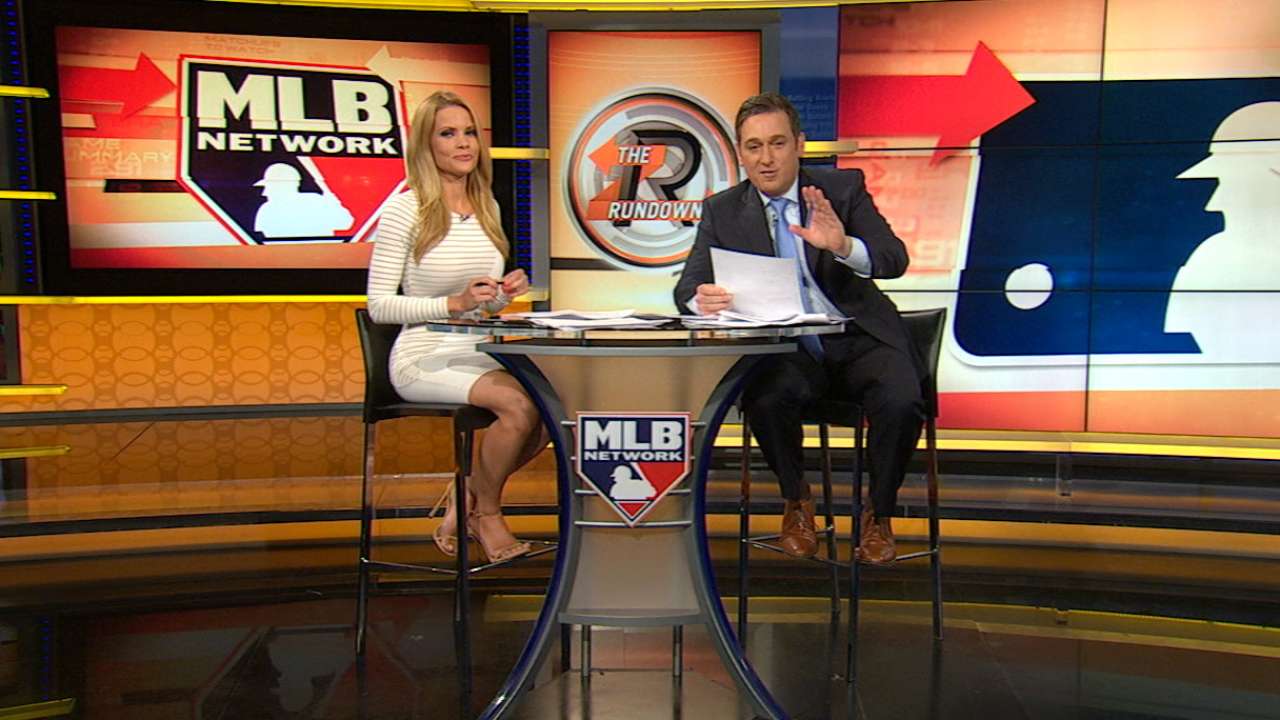 Meadows is one of a dozen top 100 prospects on the U.S. roster and part of a very talent-laden outfield that also includes the Red Sox's Andrew Benintendi (No. 21), the Indians' Clint Frazier (No. 23) and the Padres' own Hunter Renfroe (No. 83).
The U.S. squad has 14 former first-round picks, led by the top two picks of the 2015 Draft, shortstop Dansby Swanson of the Braves and shortstop/third baseman Alex Bregman of the Astros. White Sox top 2015 pick Carson Fulmer (No. 8 overall pick) is on the pitching staff, as is No. 18 pick Phil Bickford from the Giants. But perhaps no U.S. pitcher is more excited about being named to this team than the Astros' Joe Musgrove, who grew up in San Diego.
"As soon as I found out that the All-Star Game was going to be in San Diego, I told my pops, 'Well, I'm either going to have to get to the big leagues and earn an All-Star invite or get a shot at the Futures Game,'" Musgrove said. "I've always wanted the chance to play in Petco Park in front of my family."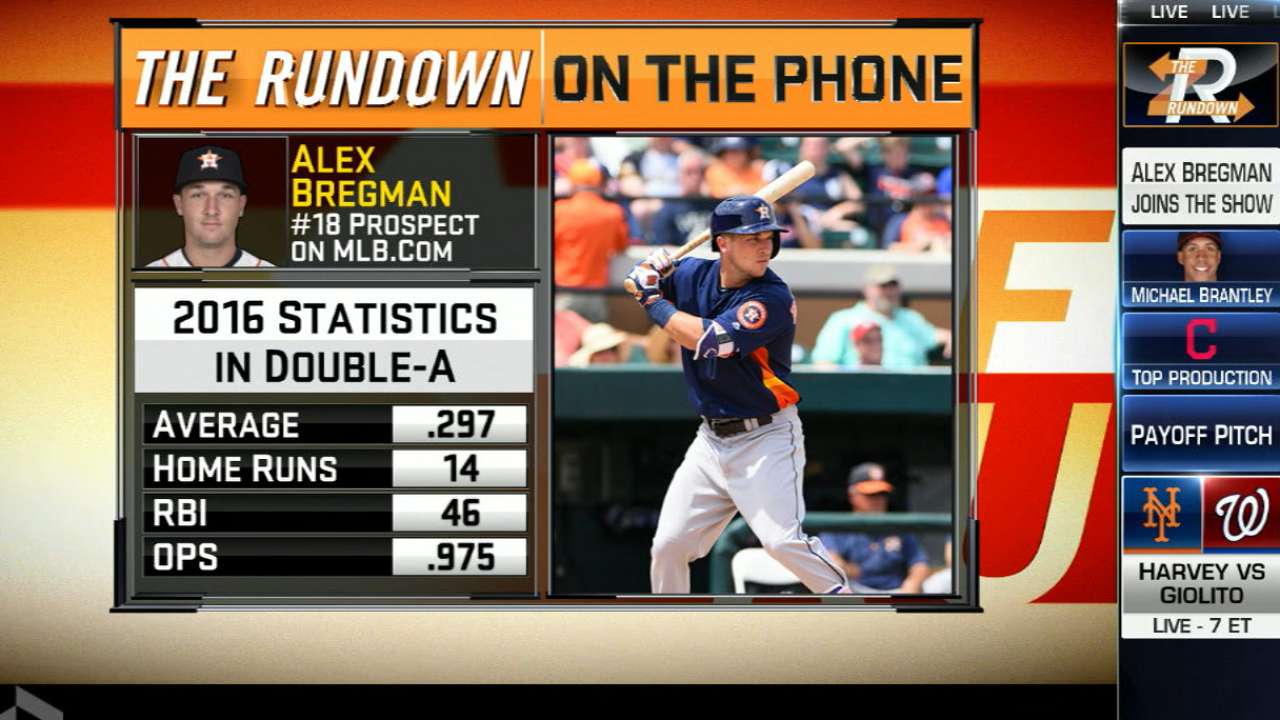 Musgrove will get the chance to do so against an extremely dynamic World Team lineup. It starts with one of the best double-play combinations in Futures Game history, with the Red Sox's Yoan Moncada (No. 5 overall prospect) and Yankees shortstop phenom Jorge Mateo (No. 26). The Rays' Willy Adames (No. 72) gives the World Team a third Top 100 middle infielder.
While the U.S. team has more Top 100 players on the roster, the World squad has two of the three highest-ranked players in the game in Moncada and Cardinals pitcher Alex Reyes (No. 11). The roster includes players from 11 countries and territories outside of the United States.
Futures Game representatives
| Team | Players |
| --- | --- |
| ARI | Anthony Banda |
| ATL | Dansby Swanson |
| BAL | Chance Sisco |
| BOS | A. Benintendi, Yoan Moncada |
| CHC | Jeimer Candelario, Eloy Jimenez |
| CIN | Amir Garrett |
| CLE | Clint Frazier, Francisco Mejia |
| COL | Jeff Hoffman, Raimel Tapia |
| CWS | Carson Fulmer |
| DET | Christin Stewart, Joe Jimenez |
| HOU | Alex Bregman, Joe Musgrove |
| KC | Hunter Dozier, Jorge Bonifacio |
| LAA | Nate Smith |
| LAD | Jharel Cotton, Willie Calhoun |
| MIA | Josh Naylor |
| MIL | Josh Hader |
| MIN | J.T. Chargois |
| NYM | Dominic Smith, Dilson Herrera |
| NYY | Jorge Mateo, Gary Sanchez |
| OAK | Ryon Healy |
| PHI | Dylan Cozens, Ricardo Pinto |
| PIT | A. Meadows, D. Neverauskas |
| SD | C. Asuaje, M. Margot, H. Renfroe |
| SEA | Tyler O'Neill |
| SF | Phil Bickford, Adalberto Mejia |
| STL | Carson Kelly, Alex Reyes |
| TB | Willy Adames, Chih-Wei Hu |
| TEX | Travis Demeritte, Ronald Guzman |
| TOR | Angel Perdomo, Francisco Rios |
| WSH | Reynaldo Lopez |
The U.S. team has some geographical pride as well. Beyond Musgrove coming home, Southern California is extremely well represented, not surprisingly. Musgrove is looking forward to experiencing the comforts of home he's seen other players have when on the road, especially now that he's in the Pacific Coast League.
"Now that I'm in in Triple-A, we're going to Nashville and Vegas and getting to tour around," Musgrove said. "There's always a guy from the area and everyone gets a little jealous. We get to enjoy those moments of happiness of seeing their family with them.
"I could bring hundreds to the Futures Game if I could."
Meadows won't bring that many, but he can't wait to get back together with the Georgia contingent on the U.S. team. Including him, there are five from the greater Atlanta area. The Pirates outfielder hasn't met Swanson, but he played against the others -- the Rangers' Travis Demeritte, the Tigers' Christin Stewart and his fellow 2013 first-round pick Frazier -- back in high school.
"I can't wait to play with those guys, it's awesome," Meadows said. "That's a great list of guys. It will be awesome to reunite with all of them and play together for our country. Everything brings something different to the game."
While the managers of the game -- Trevor Hoffman for the U.S. and Moises Alou for the World -- follow the usual pattern of MLB greats in the dugout, the coaching staffs have an interesting new look. Billy Bean, the vice president for social responsibility and inclusion for Major League Baseball, will be a coach on the U.S. side, while Curtis Pride, the ambassador for inclusion, will do the same for the World team. The complete coaching staffs, filled with more coordinators and special assistants than usual, are listed below:
U.S. Team manager and coaches
Trevor Hoffman, manager (senior advisor, baseball operations -- SD)
Billy Bean, coach (VP, social responsibility & inclusion -- MLB Office of the Commissioner)
Kirk Champion, bullpen coach (Minor League field coordinator -- CWS)
Mark Loretta, bench coach (special assistant, baseball operations -- SD)
Fred McGriff, first-base coach (special advisor, baseball operations -- ATL)
Mark Prior, pitching coach (Minor League pitching coordinator -- SD)
Garry Templeton, third-base coach (three-time All-Star shortstop)
Jim Thome, hitting coach (special assistant to the general manager -- CWS)
Jo Jo Tarantino, trainer (Minor League Medical Coordinator -- SD)
World Team manager and coaches
Moises Alou, manager (special assistant, player development -- SD)
Jose Leger, third-base coach (manager, Columbia Fireflies -- NYM Class A South Atlantic League affiliate)
Ever Magallanes, first-base coach (manager, Arizona League White Sox -- CWS)
Luis Ortiz, hitting coach (Minor League field and hitting coordinator -- SD)
Curtis Pride, coach (ambassador for inclusion -- MLB Office of the Commissioner)
Luis Rojas, bench coach (manager, St. Lucie Mets -- NYM Class A Florida State League affiliate)
David Rosario, pitching coach (pitching coach, South Bend Cubs -- CHI Class A Midwest League affiliate)
Luis Sierra, bullpen coach (pregame instructor -- CWS)
Joe Benge, trainer (Minor League medical training coordinator -- TB)
U.S. Team
Pitchers
Anthony Banda, D-backs
Phil Bickford, Giants
J.T. Chargois, Twins
Carson Fulmer, White Sox
Amir Garrett, Reds
Josh Hader, Brewers
Jeff Hoffman, Rockies
Joe Musgrove, Astros
Nate Smith, Angels
Ryne Stanek, Rays
Catchers
Carson Kelly, Cardinals
Chance Sisco, Orioles
Infielders
Alex Bregman, Astros
Willie Calhoun, Dodgers
Travis Demeritte, Rangers
Hunter Dozier, Royals
Ryon Healy, A's
Dominic Smith, Mets
Dansby Swanson, Braves
Outfielders
Andrew Benintendi, Red Sox
Dylan Cozens, Phillies
Clint Frazier, Indians
Austin Meadows, Pirates
Hunter Renfroe, Padres
Christin Stewart, Tigers
World Team
Pitchers
Jharel Cotton, Dodgers
Chih-Wei Hu, Rays
Joe Jimenez, Tigers
Reynaldo Lopez, Nationals
Adalberto Mejia, Giants
Dovydas Neverauskus, Pirates
Angel Perdomo, Blue Jays
Ricardo Pinto, Phillies
Alex Reyes, Cardinals
Francisco Rios, Blue Jays
Catchers
Francisco Mejia, Indians
Gary Sanchez, Yankees
Infielders
Willy Adames, Rays
Carlos Asuaje, Padres
Jeimer Candelario, Cubs
Ronald Guzman, Rangers
Dilson Herrera, Mets
Jorge Mateo, Yankees
Yoan Moncada, Red Sox
Josh Naylor, Marlins
Outfielders
Jorge Bonifacio, Royals
Eloy Jimenez, Cubs
Manuel Margot, Padres
Tyler O'Neill, Mariners
Raimel Tapia, Rockies
Replaced due to injury
Dylan Unsworth, RHP, Mariners
Jonathan Mayo is a reporter for MLBPipeline.com. Follow him on Twitter @JonathanMayo and Facebook, and listen to him on the weekly Pipeline Podcast. This story was not subject to the approval of Major League Baseball or its clubs.