Shoemaker has little to show for strong June
Angels starter goes winless in month despite 2.14 ERA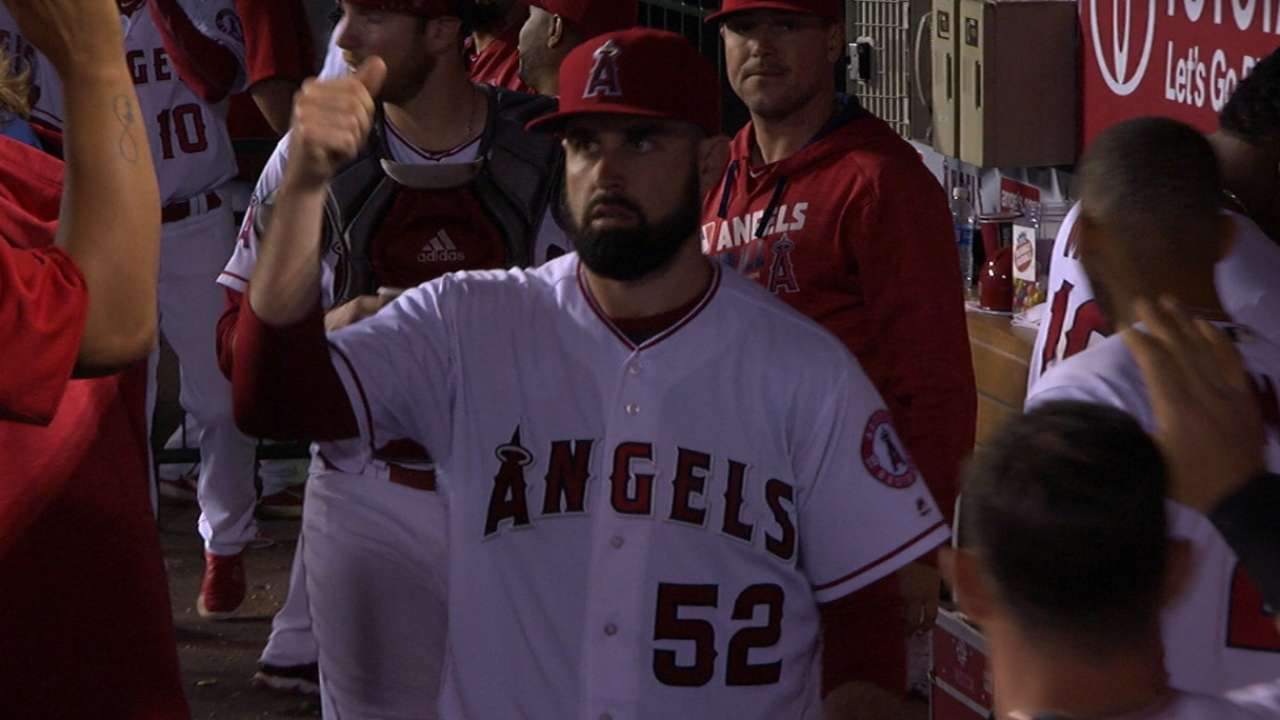 ANAHEIM -- Angels right-hander Matt Shoemaker's month of June has been as good, if not better, than any pitcher in the Majors.
However, he can't seem to find a win.
Shoemaker again fell victim to this trend Monday night, as the Angels couldn't hold on to a two-run lead and fell, 4-2, to the Houston Astros.
For the eighth start in a row, Shoemaker was magnificent. He threw six scoreless innings against the same Astros lineup he shut down earlier this week, working around five hits and a walk to hold his team to a 2-0 lead. The bullpen wouldn't hold on, as they gave up four runs in three innings and the Angels walked away with their seventh loss in their last eight games.
"It's not that frustrating because it's a long season and it's the game of baseball," Shoemaker said. "My job is to try to go out and put up zeros as much as I can. For the bullpen, it's the same thing. Sometimes things don't go our way."
Added manager Mike Scioscia: "Matt is on an incredible run. To do it against a team back-to-back is incredible. He made some adjustments, and he pitched a great game tonight."
Shoemaker wrapped up this month 0-3 with a 2.14 ERA. He is the first pitcher in the American League to do so since Sidney Ponson in 2002, and the first Angel since Tom Murphy in 1971. He's the second pitcher in baseball to post 45 or more strikeouts and five or fewer walks in a month, joining Clayton Kershaw's spectacular May.
His dominance has stretched over his last eight starts, as he's dropped his ERA from 8.49 on May 16 to its current number of 4.12. In five home starts, he's posted a 0.99 ERA and an absurd 48-to-2 strikeout-to walk ratio while currently riding a streak of 15 scoreless innings.
Shoemaker's run is accentuated when looking at his margin of error, which has been slim to none. Entering play Monday, Shoemaker's average of 2.73 runs of support ranked last in the American League and third-worst in the Majors. Monday, he got two runs on a Mike Trout home run and C.J. Cron's sixth-inning single.
Fabian Ardaya is a reporter for MLB.com based in Anaheim. This story was not subject to the approval of Major League Baseball or its clubs.