Gearrin has found home in Giants bullpen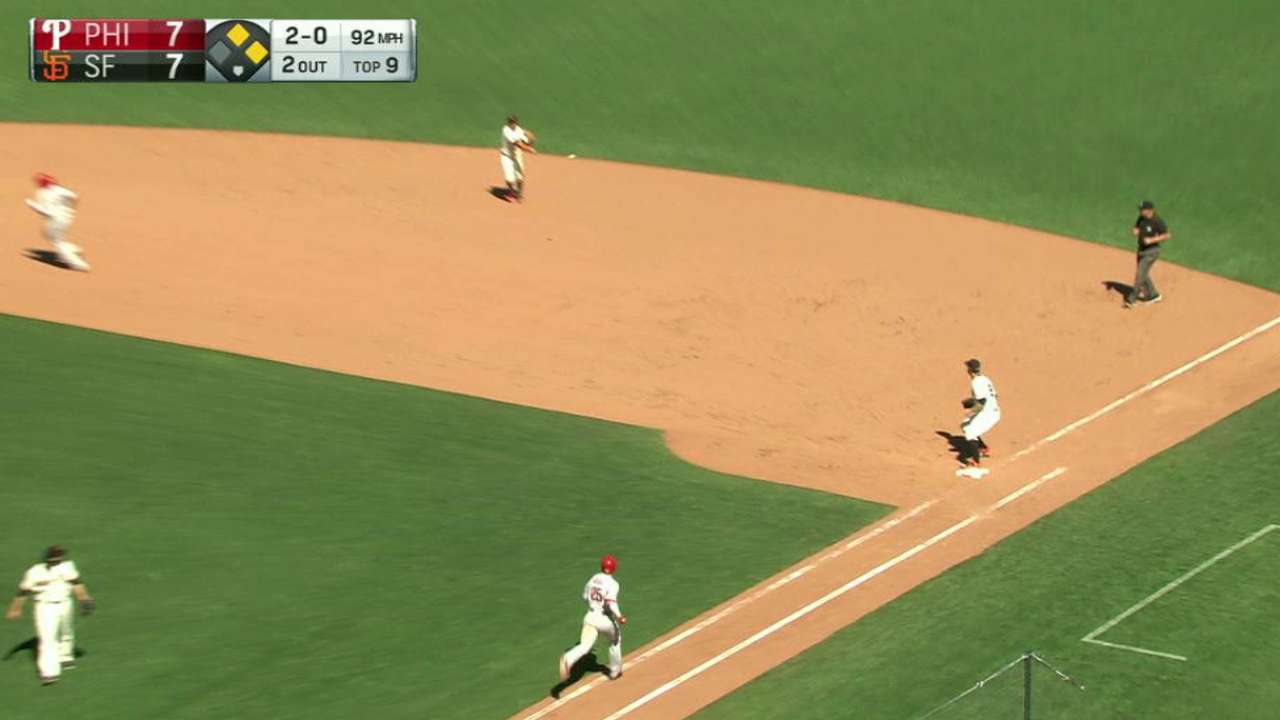 SAN FRANCISCO -- Cory Gearrin knows a situation like the one he found himself in during the San Francisco Giants' 8-7 victory over the Philadelphia Phillies on Sunday will pay dividends later in the season.
In a 7-7 tie with runners on first and second and two outs in the ninth, the Giants reliever forced the Phillies' Cody Asche to ground out to second to end the inning. It was the fifth consecutive relief appearance in which Gearrin did not allow a run. He also received his third win of the year, after Conor Gillaspie's walk-off double a half-inning later gave the Giants a win.
"As a reliever, that's what you prepare yourself for," Gearrin said. "You want to get in and help out in as many games as you can."
Gearrin continues to be a valuable piece of the Giants' bullpen this season. After recovering from Tommy John surgery in 2014 while a member of the Atlanta Braves, Gearrin has finally established himself as a big leaguer. He's appeared especially dominant as of late, posting a 0.63 ERA in his last 14 1/3 innings entering Monday.
"This is exactly where I want to be," Gearrin said. "To get here and be with a training and coaching staff that take care of you, you just enjoy waking up and coming to the field every day."
Of course, it feels good coming to the field every day when you're pitching well, too. He said the Tommy John surgery has proved to be beneficial for both his mechanical and mental approach to pitching. He's putting more stress on his body, and less on his arm, which has clearly made him more durable. He had logged 33 1/3 innings in 36 appearances entering Monday.
There isn't a day he can point to in which he felt established, but Gearrin said both meshing with the Giants organization as well as San Francisco has created a perfect environment for him to excel.
• Giants right-hander Sergio Romo struck out two in one inning of a rehabilitation appearance Sunday for Class A Advanced San Jose. Giants manager Bruce Bochy said Romo would make another rehab appearance this week.
• Brandon Crawford received the day off from the starting lineup Monday. Bochy said Crawford has some "general soreness" and will start Tuesday.
Justin Wise is a reporter for MLB.com based in the Bay Area. This story was not subject to the approval of Major League Baseball or its clubs.