Ever-tightening All-Star races going to the wire
Cards' Molina, Giants' Posey only about 5,000 votes apart; balloting ends Thursday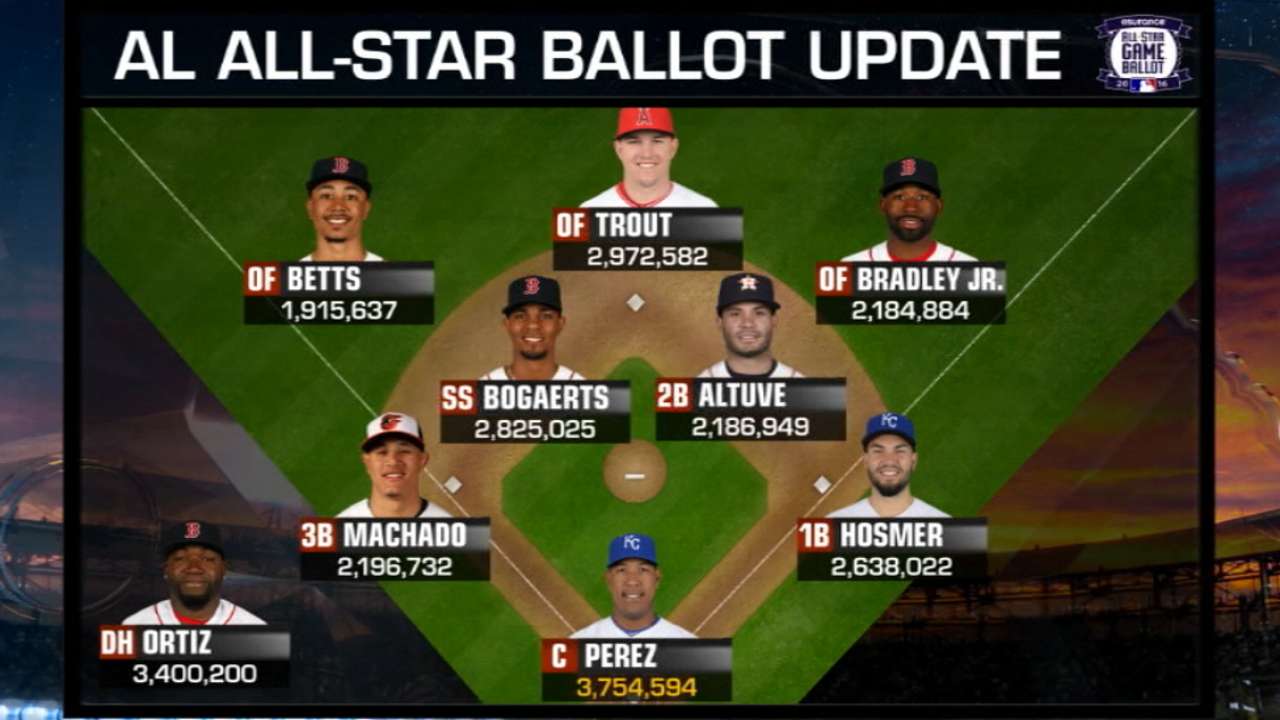 Entering the final hours of the 2016 Esurance MLB All-Star Game Ballot, it seems increasingly likely that Major League Baseball's tradition of surprising late-surge selections will continue as fans decide the starting position players for the 87th All-Star Game presented by MasterCard on July 12 in San Diego.
In the National League, there is now a virtual dead heat at catcher between to-date leader Yadier Molina of the Cardinals and surging Buster Posey of the Giants, while the Cubs' seemingly once-certain bounty of having five starters at Petco Park might be reduced to as few as two if leads keep disintegrating at this rate for infielders Ben Zobrist, Kris Bryant and Addison Russell.
• Cast your Esurance All-Star Game Ballot for #ASGWorthy players
In the American League, two-time All-Star Game MVP Mike Trout of the Angels is the only one seemingly assured of a starting spot in the outfield. Jackie Bradley Jr. and Mookie Betts of the Red Sox are still following him, respectively, in position for the other two spots, but the race is on. Betts is closing on his teammate, and only 208,503 votes separate Betts from No. 4 Lorenzo Cain of the Royals, No. 5 Mark Trumbo of the Orioles and No. 6 Jose Bautista of the Blue Jays.
Voting ends at 11:59 p.m. ET on Thursday. Fans can submit up to five ballots per any 24-hour period, with a maximum of 35 ballots per account, exclusively at MLB.com and all 30 clubs sites using the 2016 Esurance MLB All-Star Game Ballot.
Molina, bidding for his eighth consecutive All-Star selection, led in every weekly NL voting update for the past month. But Posey outvoted him since the last one, 433,716-363,433, so the previous lead that hovered around 70,000 is now down to just 5,130. The Nationals' Wilson Ramos, who made a big surge in the last update, outdrew Molina for the second week in a row, this time 383,224-363,433, and is very much in the picture given the massive voting volume.
The Cubs have dominated at all four infielder spots throughout the past month of updates, but at this moment, first baseman Anthony Rizzo, still holding a narrow lead over Trout in the race for top overall vote-getter, is the only sure thing. The other three have leads in the 300,000s, but that is a big dropoff over the past several days.
At third base, Nolan Arenado of the Rockies has outgained Bryant since Wednesday, 564,988-388,966.
At shortstop, Trevor Story of the Rockies outgained Russell, 313,545-251,184. Meanwhile, Dodgers rookie Corey Seager received more support than either of them -- 379,204 votes -- to make a late bid.
And at second base, few Major Leaguers have had a better time lately than Daniel Murphy of the Nationals. He received a whopping 594,028 votes since Wednesday's update -- compared to 417,730 for Zobrist. That reduced Zobrist's lead to 306,934, the smallest among those three Cubs.
Miguel Cabrera, Josh Donaldson and Nelson Cruz all made late-surge starts last year. Pablo Sandoval, Robinson Cano and Melky Cabrera did it in 2012. So did Alex Avila and Jose Reyes in 2011. There was Josh Hamilton in 2010, Dustin Pedroia in 2009, Barry Bonds in 2007, Mark Teixeira and David Eckstein in 2005. In 2004, Hideki Matsui surged past fellow countryman Ichiro Suzuki to start for the American League. There were others as well, going back to Cal Ripken Jr. in 2001 -- enough evidence to know that some big leads are not safe.
Fans may also receive the ballot by texting VOTE to 89269 (USA) or 101010 (Canada). Or text VOTA for a ballot in Spanish. Message and data rates may apply. Up to five messages. No purchase required. Reply STOP to cancel. Reply HELP for info.
Rosters for American and National Leagues will be revealed at 7 p.m. ET on July 5 during the one-hour Esurance All-Star Selection Show on ESPN.
Following that announcement, be sure to return to MLB.com and cast your 2016 Esurance MLB All-Star Game Final Vote for the final player on each league's All-Star roster. On Tuesday, July 12, watch the 2016 All-Star Game presented by MasterCard live on FOX, and during the game visit MLB.com to submit your choice for the Ted Williams Most Valuable Player Award presented by Chevrolet via the 2016 MLB All-Star Game MVP Vote.
The 87th All-Star Game, in San Diego, will be televised nationally by FOX, in Canada by Rogers Sportsnet and RDS, and worldwide by partners in more than 160 countries via MLB International's independent feed. ESPN Radio and ESPN Radio Deportes will provide national radio coverage of the All-Star Game. MLB.com, MLB Network and SiriusXM will also provide comprehensive All-Star Week coverage. For more information, please visit allstargame.com.
AMERICAN LEAGUE ALL-STAR BALLOTING LEADERS
CATCHER
1. Salvador Perez, Royals: 3,754,594
2. Matt Wieters, Orioles: 1,033,217
3. Russell Martin, Blue Jays: 981,618
4. Brian McCann, Yankees: 578,013
5. Robinson Chirinos, Rangers: 511,308
FIRST BASE
1. Eric Hosmer, Royals: 2,638,022
2. Miguel Cabrera, Tigers: 2,088,920
3. Chris Davis, Orioles: 952,053
4. Justin Smoak, Blue Jays: 772,948
5. Hanley Ramirez, Red Sox: 769,385
SECOND BASE
1. Jose Altuve, Astros: 2,186,949
2. Robinson Cano, Mariners: 1,276,010
3. Dustin Pedroia, Red Sox: 1,081,667
4. Omar Infante, Royals: 949,308
5. Ryan Goins, Blue Jays: 757,923
THIRD BASE
1. Manny Machado, Orioles: 2,196,732
2. Josh Donaldson, Blue Jays: 1,590,183
3. Mike Moustakas, Royals: 1,135,431
4. Adrian Beltre, Rangers: 1,099,086
5. Nick Castellanos, Tigers: 789,144
SHORTSTOP
1. Xander Bogaerts, Red Sox: 2,825,025
2. Alcides Escobar, Royals: 1,478,645
3. Troy Tulowitzki, Blue Jays: 1,136,479
4. Elvis Andrus, Rangers: 917,112
5. Carlos Correa, Astros: 694,103
OUTFIELD
1. Mike Trout, Angels: 2,972,582
2. Jackie Bradley Jr., Red Sox: 2,184,884
3. Mookie Betts, Red Sox: 1,915,637
4. Lorenzo Cain, Royals: 1,821,746
5. Mark Trumbo, Orioles: 1,801,969
6. Jose Bautista, Blue Jays: 1,707,134
7. Alex Gordon, Royals: 1,165,980
8. Ian Desmond, Rangers: 1,133,422
9. Paulo Orlando, Royals: 1,065,647
10. Carlos Beltran, Yankees: 964,473
11. Kevin Pillar, Blue Jays: 934,982
12. Michael Saunders, Blue Jays: 903,050
13. Adam Jones, Orioles: 726,916
14. Melky Cabrera, White Sox: 518,476
15. J.D. Martinez, Tigers: 497,102
DESIGNATED HITTER
1. David Ortiz, Red Sox: 3,400,200
2. Edwin Encarnacion, Blue Jays: 1,131,827
3. Kendrys Morales, Royals: 1,102,349
4. Victor Martinez, Tigers: 865,194
5. Nelson Cruz, Mariners: 799,967
NATIONAL LEAGUE ALL-STAR BALLOTING LEADERS
CATCHER
1. Yadier Molina, Cardinals: 1,568,930
2. Buster Posey, Giants: 1,563,800
3. Wilson Ramos, Nationals: 1,282,287
4. Miguel Montero, Cubs: 854,629
5. Jonathan Lucroy, Brewers: 846,380
FIRST BASE
1. Anthony Rizzo, Cubs: 2,630,049
2. Brandon Belt, Giants: 1,233,499
3. Paul Goldschmidt, D-backs: 977,889
4. Adrian Gonzalez, Dodgers: 734,448
5. Brandon Moss, Cardinals: 522,808
SECOND BASE
1. Ben Zobrist, Cubs: 2,474,852
2. Daniel Murphy, Nationals: 2,167,918
3. Joe Panik, Giants: 768,312
4. Neil Walker, Mets: 500,384
5. Chase Utley, Dodgers: 488,170
THIRD BASE
1. Kris Bryant, Cubs: 2,459,704
2. Nolan Arenado, Rockies: 2,108,503
3. Matt Carpenter, Cardinals: 882,135
4. Matt Duffy, Giants: 665,802
5. Martin Prado, Marlins: 396,859
SHORTSTOP
1. Addison Russell, Cubs: 1,741,182
2. Trevor Story, Rockies: 1,423,547
3. Corey Seager, Dodgers: 1,082,434
4. Brandon Crawford, Giants: 1,002,201
5. Zack Cozart, Reds: 528,785
OUTFIELD
1. Dexter Fowler, Cubs: 2,320,877
2. Bryce Harper, Nationals: 2,253,083
3. Yoenis Cespedes, Mets: 2,249,489
4. Jason Heyward, Cubs: 1,485,679
5. Ryan Braun, Brewers: 1,327,209
6. Carlos Gonzalez, Rockies: 1,155,982
7. Jorge Soler, Cubs: 992,174
8. Starling Marte, Pirates: 893,952
9. Andrew McCutchen, Pirates: 816,079
10. Stephen Piscotty, Cardinals: 793,912
11. Hunter Pence, Giants: 764,004
12. Matt Holliday, Cardinals: 680,416
13. Charlie Blackmon, Rockies: 644,191
14. Marcell Ozuna, Marlins: 578,015
15. Angel Pagan, Giants: 561,677
Mark Newman is enterprise editor of MLB.com. Read and join other baseball fans on his MLB.com community blog. This story was not subject to the approval of Major League Baseball or its clubs.