Kennedy picks up Royals' rotation with 11 K's
Right-hander yields just 1 run over 7 strong innings to beat Astros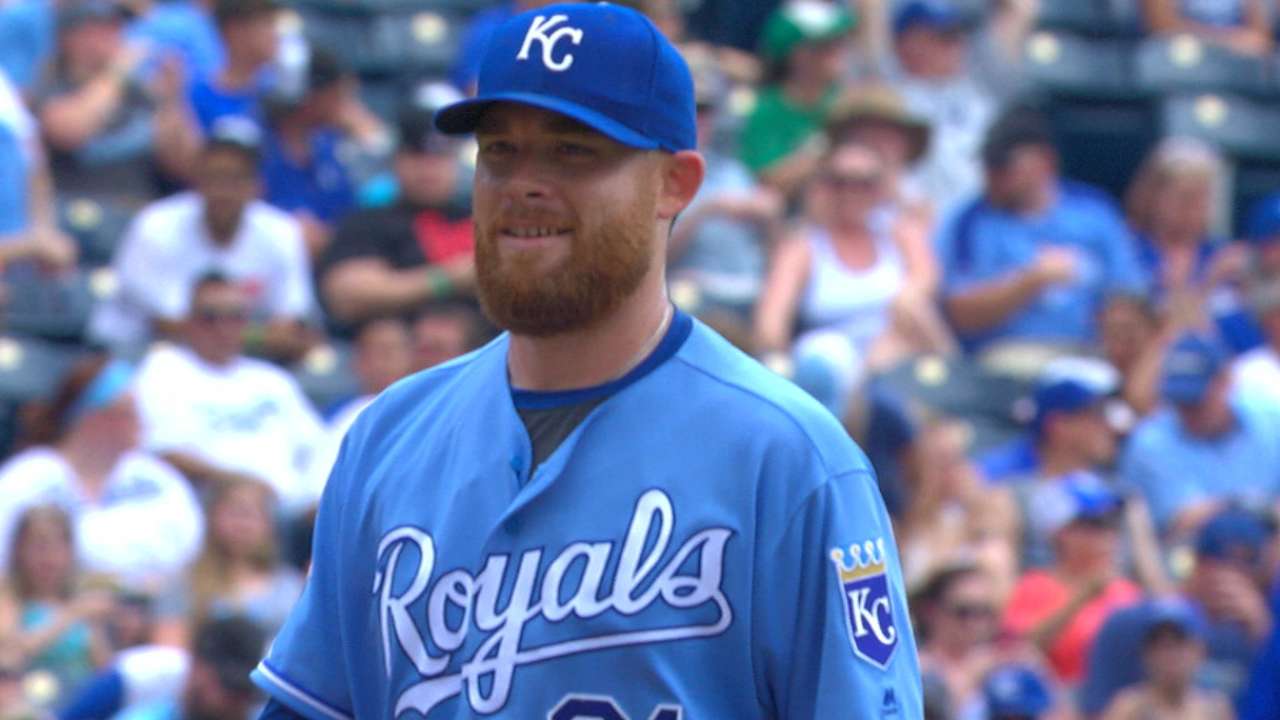 KANSAS CITY -- After the Royals were forced to go to their bullpen early in the first two games of the series against the Astros, right-hander Ian Kennedy knew the team needed a big time performance out of him.
As he walked past manager Ned Yost the night before Sunday's start, in which Kennedy racked up a season-high 11 strikeouts over seven innings in a 6-1 win, Kennedy jokingly asked if Yost needed him to throw a complete game so the bullpen could rest.
Yost's response was prophetic.
"I said, 'No. Just give me a strong seven,'" Yost said. "That's exactly what he did."
Kennedy was electric. He issued just one walk and one run, which came on a solo homer by Astros catcher Evan Gattis in the sixth. But Kennedy responded by retiring the next six batters he faced.
"Every time out, you try to do that," Kennedy said. "It doesn't happen every single time obviously, unless you're [Dodgers ace Clayton] Kershaw."
As Kennedy came back out for the seventh, right-hander Luke Hochevar began warming in the bullpen. The Royals wouldn't need him, as Kennedy struck out the side to become the first Royals starter to record 11 strikeouts in seven innings while allowing one run on three hits or fewer since Kevin Appier on June 23, 1996, at Baltimore
Over the first two games of the series, the Royals' bullpen was asked to pitch 13 2/3 innings, not counting catcher Drew Butera's one shutout frame on Saturday. And with relievers Peter Moylan and Chien-Ming Wang likely unavailable, and Dillon Gee and Brian Flynn still resting from combining for eight innings of work the series opener on Friday, Yost acknowledged he could've had to call on a position player for the second straight night if Kennedy got knocked out of the game early.
"Ian knew that he had to come out and give us some length today," Yost said. "What are we going to do if we get a [long] rain delay? What if Ian takes one off the shin in the second inning? We're back to [catcher] Drew Butera throwing three innings."
Thankfully for Yost and the Royals, that wasn't the case. Kennedy limited the bullpen's work to just two innings for the first time since June 13, while keeping an Astros lineup that scored 26 runs in the first two games of this set in check.
"We had a good game plan going in," Kennedy said. "I knew I had to be on and execute."
Scott Chasen is a reporter for MLB.com based in Kansas City. This story was not subject to the approval of Major League Baseball or its clubs.