Finnegan becoming bad-luck pitcher for Reds
Cincinnati has been shut out four times this season with lefty on mound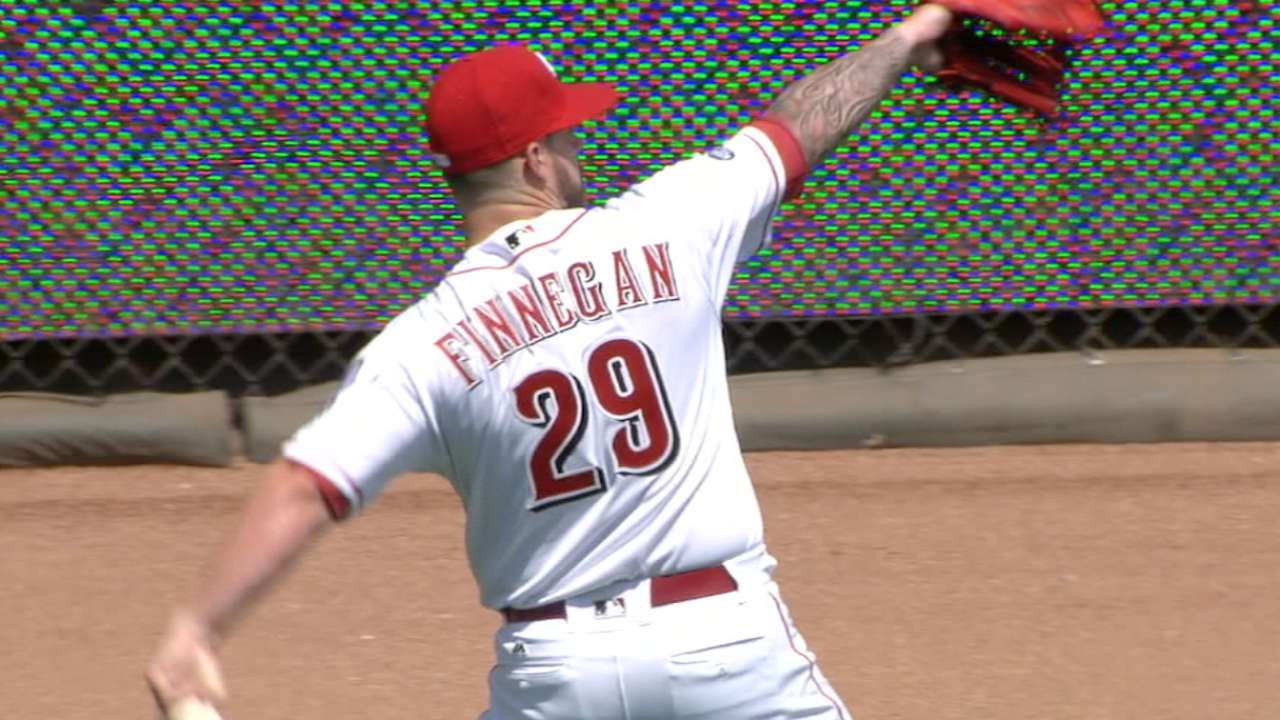 CINCINNATI -- It appears left-handed starter Brandon Finnegan is that guy this season for the Reds. Cincinnati has been shut out by its opponent six times in 2016, with Finnegan starting four of those games.
That includes Saturday's 3-0 blanking by the Padres and their starter, Drew Pomeranz.
"It happens," Finnegan said. "That's what happens when you go up against some other team's aces. It's going to happen a lot in my career, I promise you that -- hopefully. Hopefully I'm around long enough for it."
Finnegan finished after 6 2/3 innings, having allowed three earned runs, five hits and three walks, collecting eight strikeouts. Now 3-6 over 15 starts, he has a 3.83 ERA -- including a 3.19 ERA in five June starts.
Pomeranz countered with seven innings, three hits, one walk and six strikeouts. The Reds were also shut out in Finnegan's previous start at Houston. He was also on the mound when the Cubs' Jake Arrieta threw a no-hitter on April 21. On May 23, he threw his first complete game and lost to Clayton Kershaw and the Dodgers, 1-0.
"When you get shut out or you don't score many runs, it seems to be the same starting pitcher pitching for you," Reds manager Bryan Price said. "The thing is, he is really taking advantage of great opportunities and making the most of them. Win or lose, he's pitching winning baseball. Sometimes you pitch winning baseball and you lose, unfortunately."
Finnegan gave up a leadoff double by Travis Jankowski, who scored from third base on Matt Kemp's groundout, as the infield was played back. A pair of two-out runs came later -- both from Pomeranz. The Padres' starter hit a 1-1 fastball up in the zone for a homer to right field in the sixth inning and had an RBI single up the middle in the seventh.
"He just hit one out up in the air," Finnegan said of the homer. "That's what will happen when you hit one in the air in this ballpark."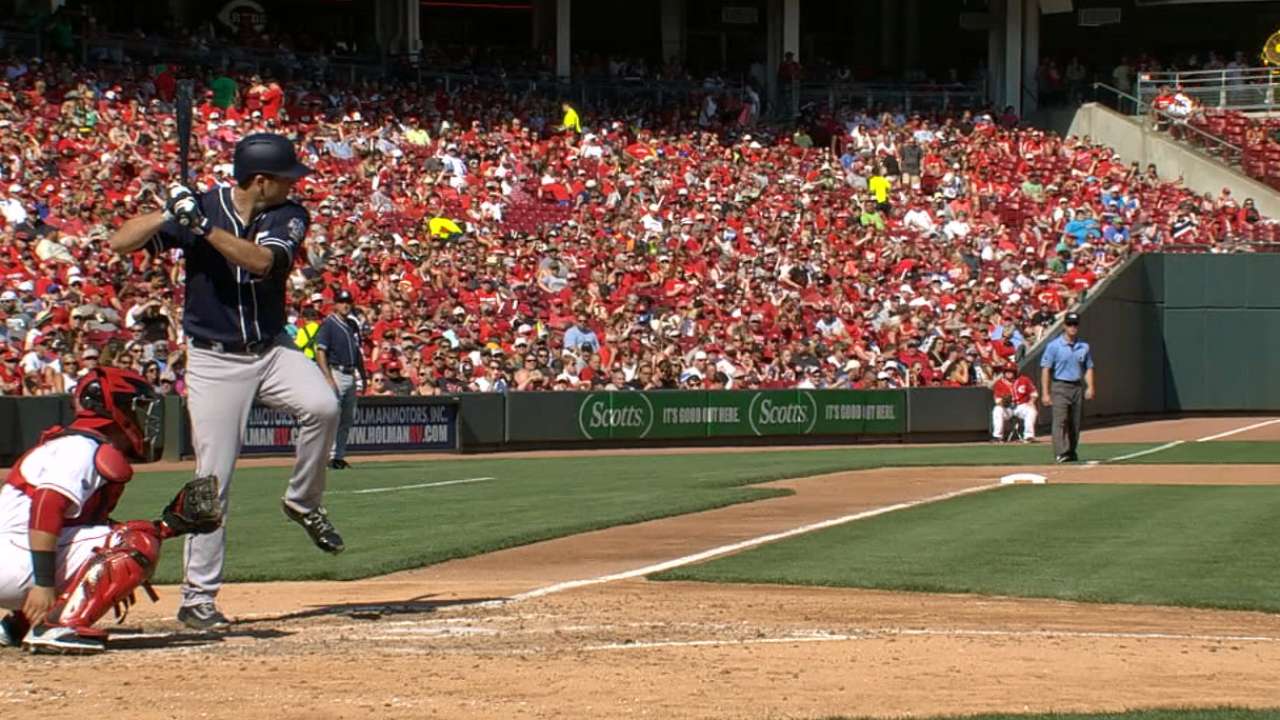 Rarely one to concede much credit to his opposition, Finnegan was still pleased with his outing.
"It wasn't my sharpest stuff, but when I threw strikes, I got outs," Finnegan said. "I realized I didn't need my best stuff to beat these guys, just try to throw the ball over the plate. They either hit it straight into the ground or straight in the air. ... I thought I did pretty well today."
There were mild irritations for Finnegan earlier in the game. He was mid-delivery in the first inning when second batter Wil Myers called timeout, forcing Finnegan to airmail a throw to the backstop. Later in the first inning, home-plate umpire Tom Hallion threw a ball to the mound when Finnegan wasn't looking and hit him.
"It's one reason I don't like umpires touching the ball when they're throwing it back," Finnegan said. "Some of them don't let the catcher throw it back, but it happens. I wish I would have paid attention. I wasn't looking."
Following the top of the fifth inning, Finnegan and Hallion exchanged words when Myers was granted another timeout right as a pitch was thrown. But Finnegan had a 1-2-3 sixth and was lifted following Pomeranz's single and a Jankowski walk in the seventh.
"Finny does what he does and that's battle," Price said. "He pitched extremely well. I thought he pitched his heart out. Unfortunately we weren't able to get him any runs today."
Mark Sheldon has covered the Reds for MLB.com since 2006, and previously covered the Twins from 2001-05. Read his blog, Mark My Word, follow him on Twitter @m_sheldon and Facebook and listen to his podcast. This story was not subject to the approval of Major League Baseball or its clubs.