Arcia eager for new opportunity with Rays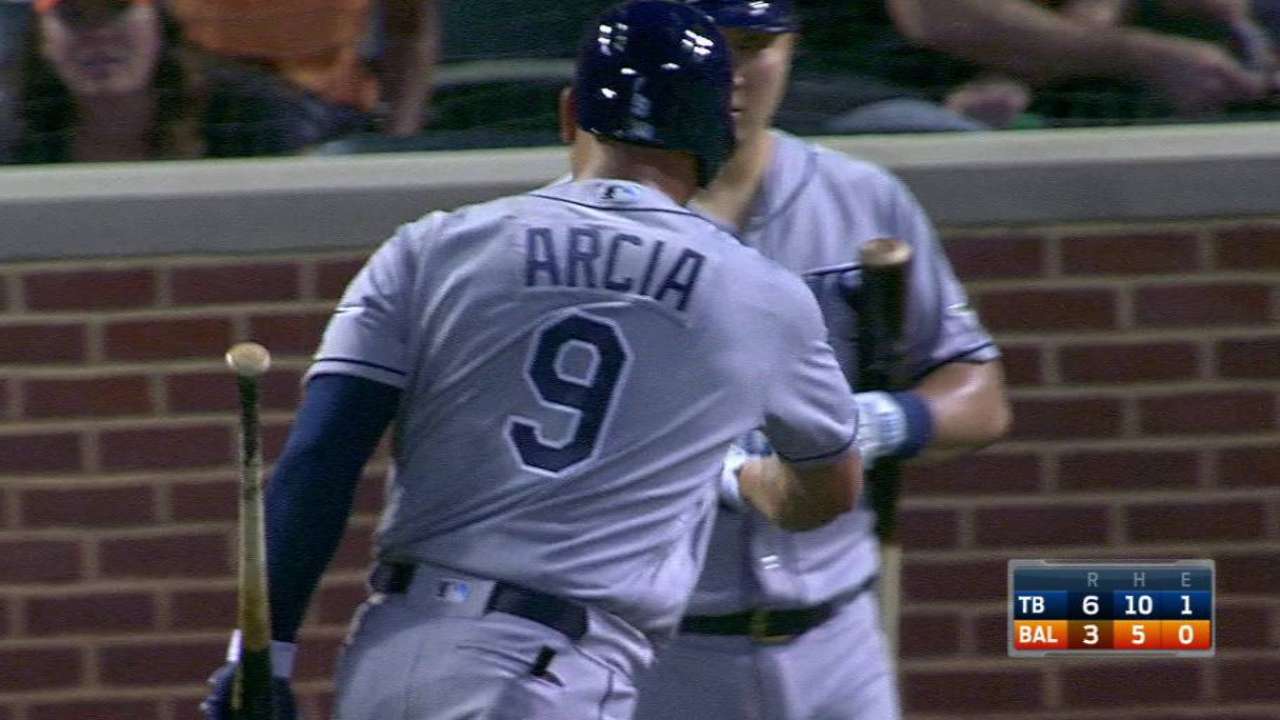 BALTIMORE -- New acquisition Oswaldo Arcia arrived to the Rays' clubhouse on Saturday morning.
Arcia was acquired from the Twins on Friday for a player to be named or cash. He becomes the 10th different outfielder to be employed by the Rays this season. Outfielders Steven Souza Jr. , Kevin Kiermaier, Mikie Mahtook and Brandon Guyer are currently on the disabled list.
Arcia got his feet wet in Game 1 of the doubleheader against the Orioles, pinch-hitting with two outs in the ninth and grounding out to end the ballgame in a 5-0 loss.
In an 8-6 loss to the O's, Arcia bat seventh and drove in his first run as a member of the Rays, hitting a sacrifice fly in the fifth inning. He also made an impressive sliding catch on a fly ball down the right-field line in the sixth.
"I'm happy for the opportunity here," said Arcia, through the team translator. "I'm happy to wear a new jersey today -- and have a new shot at helping the team win. I'm going to come here every day to play hard. Have a good at-bat every time I'm up there."
Arcia's best season with the Twins came in 2014, when he hit .231 with 20 home runs and 57 RBIs. He was hitting .214 with four home runs and 12 RBIs for the Twins this season.
"[The 2014 season] was a good year for me," Arcia said. "This year, in particular, I haven't had as many opportunities to be able to show what I'm able to do. So I'm thankful to be here with the opportunity to wear a Tampa Bay Rays jersey."
Arcia hit .276 with two home runs and eight RBIs in 19 games last season. He was asked what happened in 2015 and whether he felt the Twins gave up on him too soon.
"Last year, I had some time recovering from an injury, finished the year in Triple-A," Arcia said. "I was up and down a little bit. It's not really a stable situation to have that. So this year, I'm looking forward [to] my chance to be up here the whole time and compete."
Minnesota had designated Arcia for release or assignment on June 16. He was not surprised it did so.
"I was basically waiting for it. It was one of those things you have to have it in your mind that at any point something like that could happen," said Arcia, noting that he has been lifting weights and taking batting practice in Minnesota since getting designated.
Bill Chastain has covered the Rays for MLB.com since 2005. This story was not subject to the approval of Major League Baseball or its clubs.