Padres fall short of history in big night at plate
San Diego scores run in each of first eight innings before scoreless ninth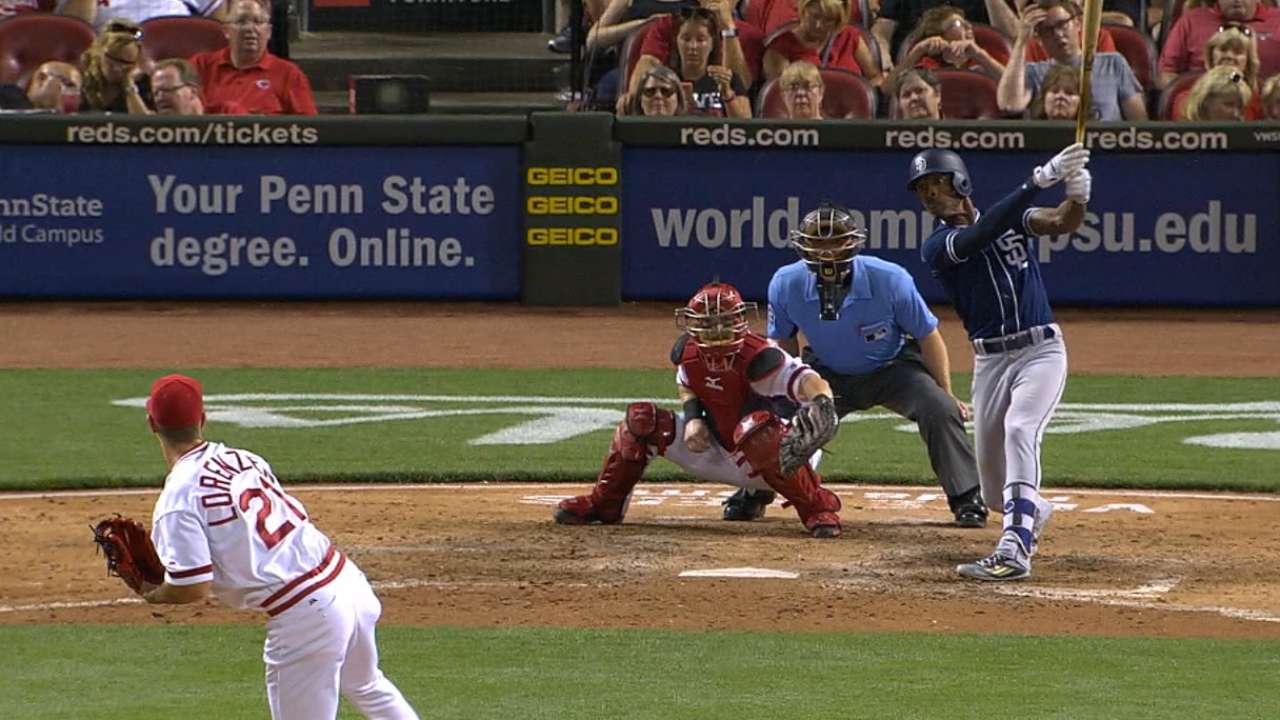 CINCINNATI -- In the ninth inning of the Padres' 13-4 win over the Reds, second baseman Adam Rosales gave the first pitch he saw from JC Ramirez a ride. Reds right fielder Jay Bruce traveled back to the warning track and made the catch a few feet from the wall.
That ball from Rosales died a few feet from making history. Had it traveled over the fence, it would've been the Padres' 14th run of the game, and it would've meant they'd scored a run in every inning Friday night. It would've been the first time since 1999 that a team scored in all nine innings and just the fourth instance since 1900.
• Cast your Esurance All-Star ballot for Myers and other #ASGWorthy players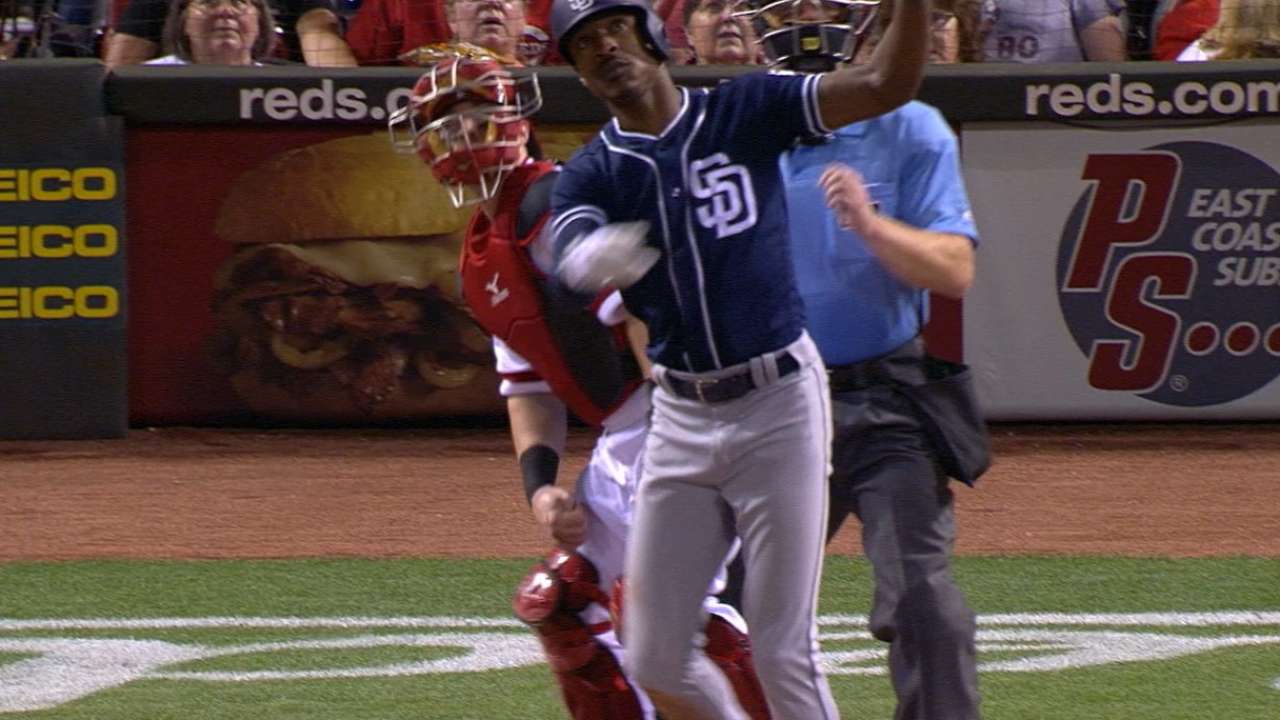 "I was wondering how rare that is, I figured you all would tell me right after the game," Padres manager Andy Green said. "I think Adam Rosales gave it a ride, gave us a shot at it. Came up just a little bit short in right field. Obviously it was a good offensive effort from our club."
Other than missed history, there wasn't much to be disappointed in with the Padres' offensive output. They paired their 13 runs with 15 hits, including four home runs. Every batter in the starting lineup reached base, and every starter but Travis Jankowski and Derek Norris had a hit, but both scored a run.
The offensive showing is a continuation of what's been a stellar month for the Padres at the plate. With a 15-for-41 night, San Diego raised its June average to .286, which leads the National League. Friday was also its fourth game with 10 or more runs this month after having just two over the first two months of the season.
"We've been kind of clicking this month," said left fielder Melvin Upton Jr., who had a pair of two-run homers. "We've run into some good pitching and managed to score some runs. It's just kind of one of those things. You just ride the wave. You come here to win every night and you try to put good ABs together, and we're doing that right now, so hopefully we can continue to do that."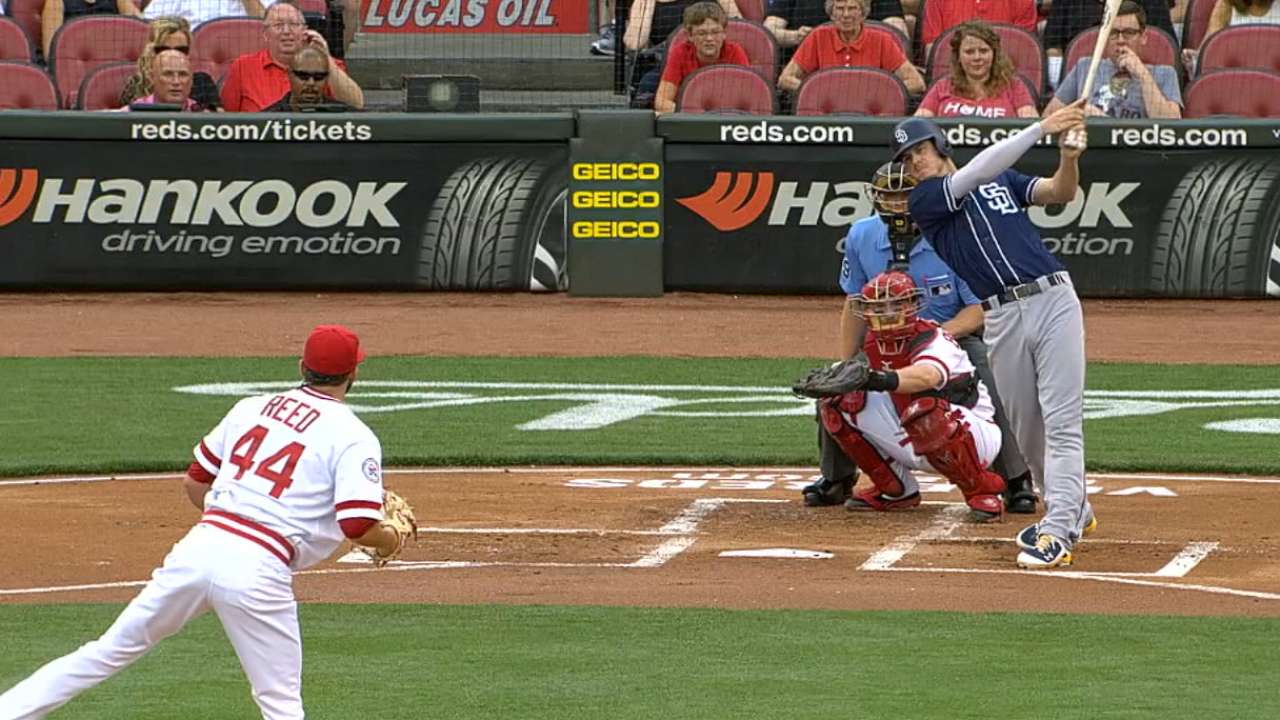 Wil Myers, who has been one of the main catalysts of the offense this month, went 3-for-5 with his 17th homer of the season, a double and a career-high five RBIs. He raised his batting average in June to .349 and has a franchise-record-tying 10 home runs.
Myers is mounting an All-Star-worthy campaign, posting the fourth-best average, second-highest slugging percentage, and third-highest WAR among National League first basemen. However, he isn't among the top-five vote getters.
"I don't really know how [he can make a better case]," Green said. "I don't know how many he drove in today, but those were some really good swings today. The ball he laced for a single was absolutely annihilated, too. That was crushed. He's hitting balls hard all over the ballpark."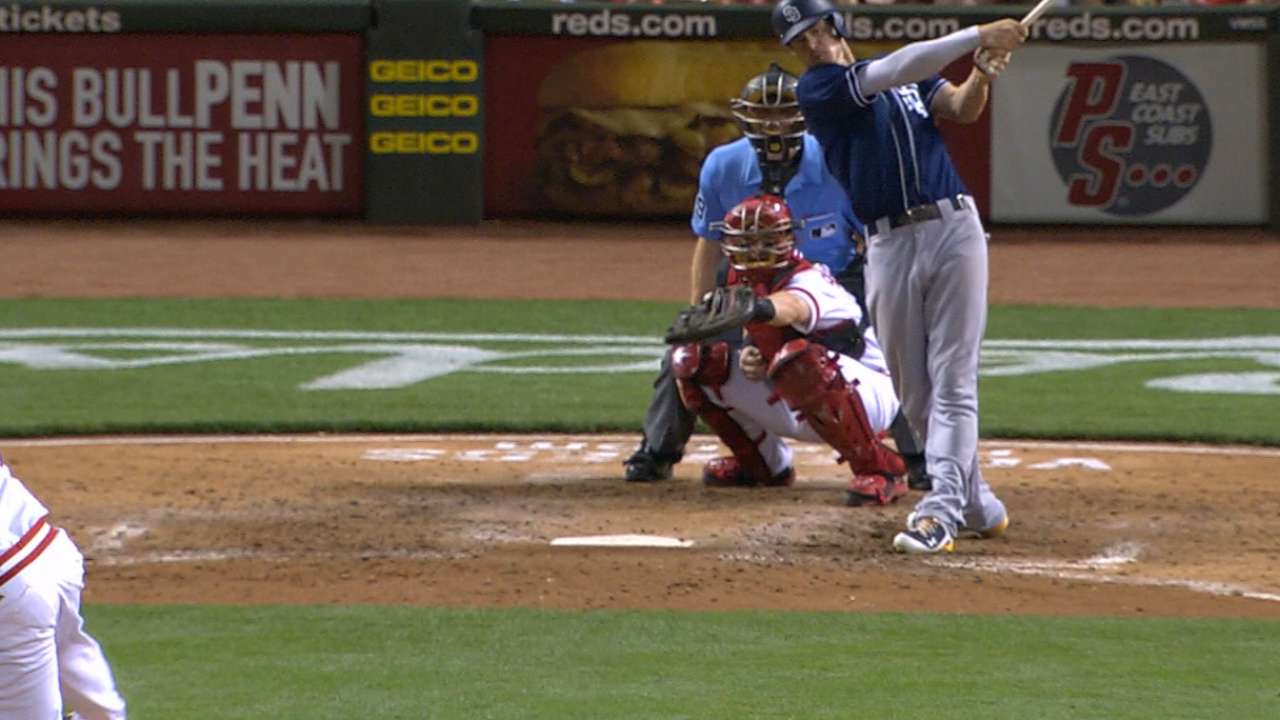 Behind Myers, Upton Jr. had a stellar night, going 3-for-5 with two homers and four RBIs, raising his June average to .279. The Padres are strong believers that hitting is contagious, and they feel like when Myers and Matt Kemp, who's hitting .352 in June, are hitting, the rest of the offense can produce like Upton Jr. did Friday.
"Our lineup has always kind of gone when Matt and Wil swing the bats well," Green said. "They went through a stretch in May where both of them were kind of scuffling offensively. I think they're kind of the catalyst offensively for the rest of the guys. They kind of feed off of what those guys are capable of doing, and those guys have had great months, and then you're starting to get everybody else kicking in."
Cody Pace is a reporter for MLB.com based in Cincinnati. This story was not subject to the approval of Major League Baseball or its clubs.