Like father, like home run: Dad sees Vlad Jr. jack
Blue Jays' No. 5 prospect collects hit in pro debut, goes deep with father in attendance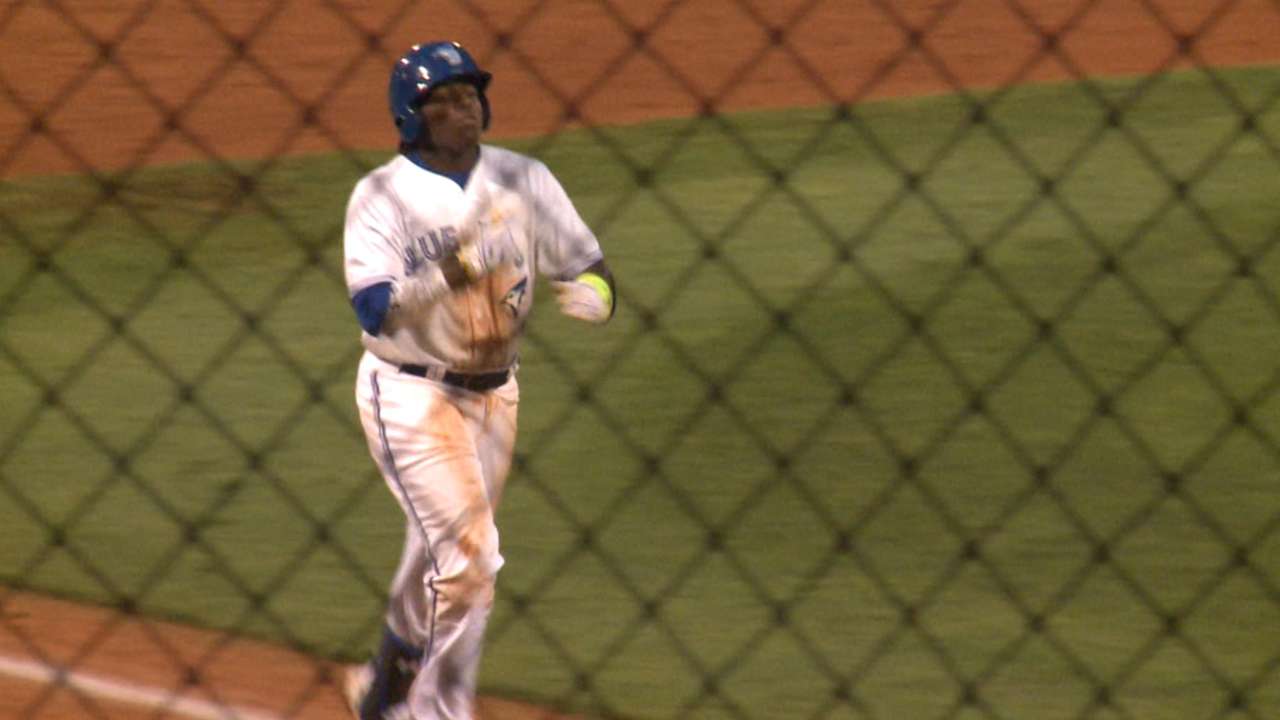 Rain put the highly anticipated professional debut of Vladimir Guerrero Jr. on hold on Thursday night as Rookie-level Bluefield's season opener against Bristol was suspended after three innings. The weather couldn't stop the 17-year-old on Friday, however, as the Blue Jays' No. 5 prospect recorded his first pro hit and, later, his first home run.
On Thursday, Guerrero Jr., the son of former American League MVP and nine-time Major League All-Star Vladimir Guerrero, grounded out to shortstop with two outs in the bottom of the first in his only trip to the plate before the skies opened up.
When the game resumed Friday evening, Guerrero Jr., playing with his father in attendance for a second straight night, grounded out twice more before connecting on his first pro knock in the bottom of the seventh inning, when he hit a two-run single to right field. All together, Bluefield scored seven times in the frame en route to defeating Bristol, 9-4.
• Bluefield defeats Bristol 9-4
"I felt no pressure after yesterday's game and was able to stay focused today," Guerrero Jr. told MLB.com via his translator following the completion of Bluefield's second game. "[Staying focused] was something I watched my dad do growing up, so I was ready for the challenge.
"I always talk to my dad before and after games, even when he's not there watching me. We talked before today and he really didn't have any specific advice. He just encouraged me, mostly," added Guerrero Jr.
I have no words to describe how proud I'm to see the pro debut of my son Vladimir Guerrero, Jr. Thanks God! pic.twitter.com/fWdIeKtnLy

- Vladimir Guerrero (@VladGuerrero27) June 24, 2016
Yet, whatever his father might have said paid huge dividends for Guerrero Jr. in the nightcap between Bluefield and Bristol -- which followed the completion of Thursday's suspended game -- as he connected on his first pro homer.
"It was a moment I've been dreaming of," said Guerrero Jr. about his home run, a go-ahead two-run shot to left field with two outs in the bottom of the third inning. "I got that first one out of the way and hope many more will come. With my dad's help I feel like I can accomplish that."
Thank God for the blessings. I can not describe what I felt when I see my son hit his first professional home run. pic.twitter.com/hmXQ4j2MBI

- Vladimir Guerrero (@VladGuerrero27) June 25, 2016
And even though he had yet to speak with his father in the wake his impressive debut, Guerrero Jr. said that he could sense his father's joy from the stands as he circled the bases and, ultimately, crossed the plate.
"He was really excited for me after I hit the home run," he said, reflecting on the moment. "We'll meet up soon and I'm sure he'll congratulate me."
Guerrero Jr. finished the second game 1-for-3 at the plate as Bluefield fell to Bristol, 4-2, in seven innings. For the day, he was 2-for-7 with four RBIs.
Guerrero Jr. was one of the more sought-after talents available during the 2015 international signing period, ranking seventh on MLBPipeline.com's list of the Top 30 prospects. The Blue Jays invested heavily in the then-16-year-old, giving him a $3.9 million bonus -- the second highest in franchise history -- on July 2.
Like Guerrero Sr., who hit .318 with 449 home runs over 16 seasons, Guerrero Jr. stands out for his huge offensive ceiling. He's a physically strong right-handed hitter who possesses the innate contact skills needed to hit for average and plus raw power that's suited for the middle of a lineup.
While many scouts expected Guerrero Jr. to play left field after signing, the Blue Jays opted to deploy him at third base last fall during instructional league, and he's continued to man the hot corner to begin his career. On Friday, Guerrero Jr., who is listed at 6-foot-1, 200 pounds, committed a pair of errors (one throwing, the other fielding) in the first game but played errorless ball in the nightcap.
Mike Rosenbaum is a reporter for MLB.com. Follow him on Twitter at @GoldenSombrero. This story was not subject to the approval of Major League Baseball or its clubs.