Tanaka, Yankees benefit from Twins miscues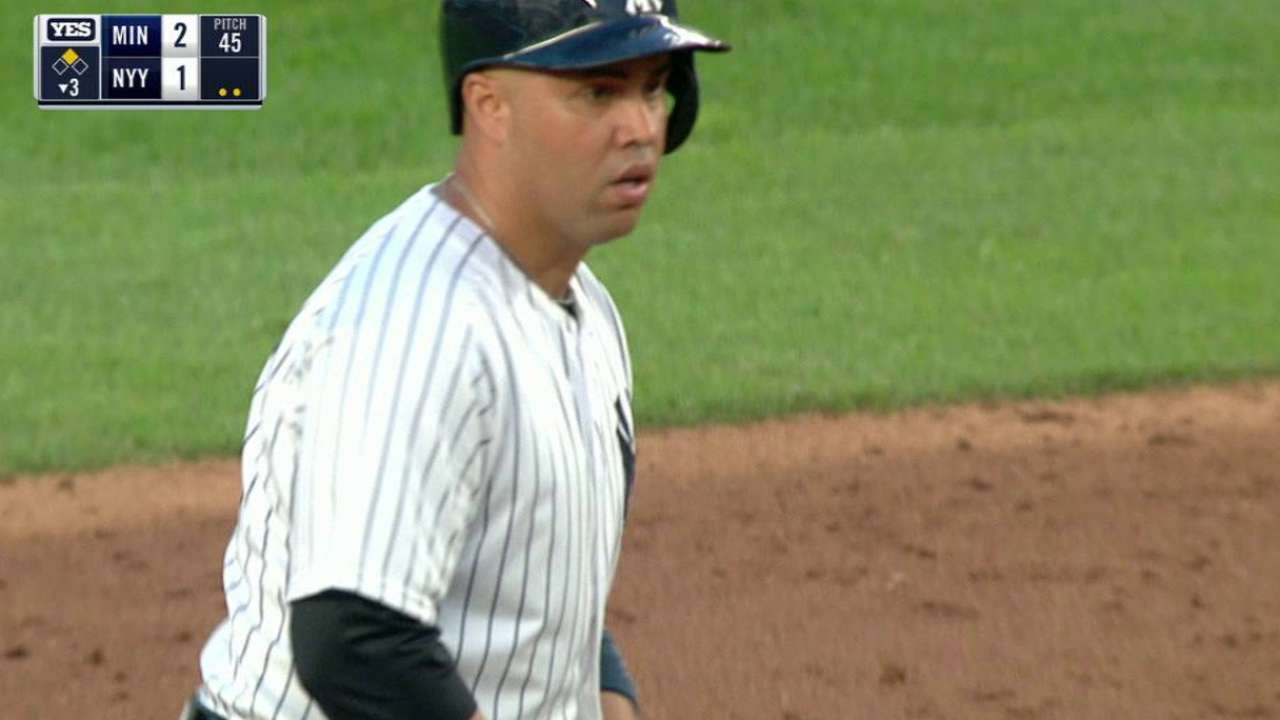 NEW YORK -- Despite an uncharacteristically laborious outing from ace Masahiro Tanaka, the Yankees capitalized on three Twins errors, plating three unearned runs on the way to a 5-3 series-opening victory over Minnesota on Friday at Yankee Stadium.
With the Yankees trailing, 2-0, in the third inning, the veterans stepped up, as Carlos Beltran hit an RBI double and Alex Rodriguez notched an RBI single to knot the score. After the Twins put another run on the board in the fourth, the Yankees struck back with two of their own in the home half following a Joe Mauer fielding error to take the lead for good. Aaron Hicks added an insurance run with an eighth-inning homer against his former club.
"It seems like this year in particular that we've had trouble in getting off the field after we've scored," said Twins manager Paul Molitor. "It really does change the course of how games go when you get another offensive chance with a zero on the board."
Tanaka was shaky after a 1-2-3 first, needing 95 pitches to get through six innings. He allowed seven hits and three runs before handing the game over to the Yankees' three-headed bullpen behemoth of Dellin Betances, Andrew Miller and Aroldis Chapman. The trio promptly went nine-up, nine-down, notching five strikeouts -- including three from Chapman, who at one point threw 10 straight pitches at 100 mph or faster.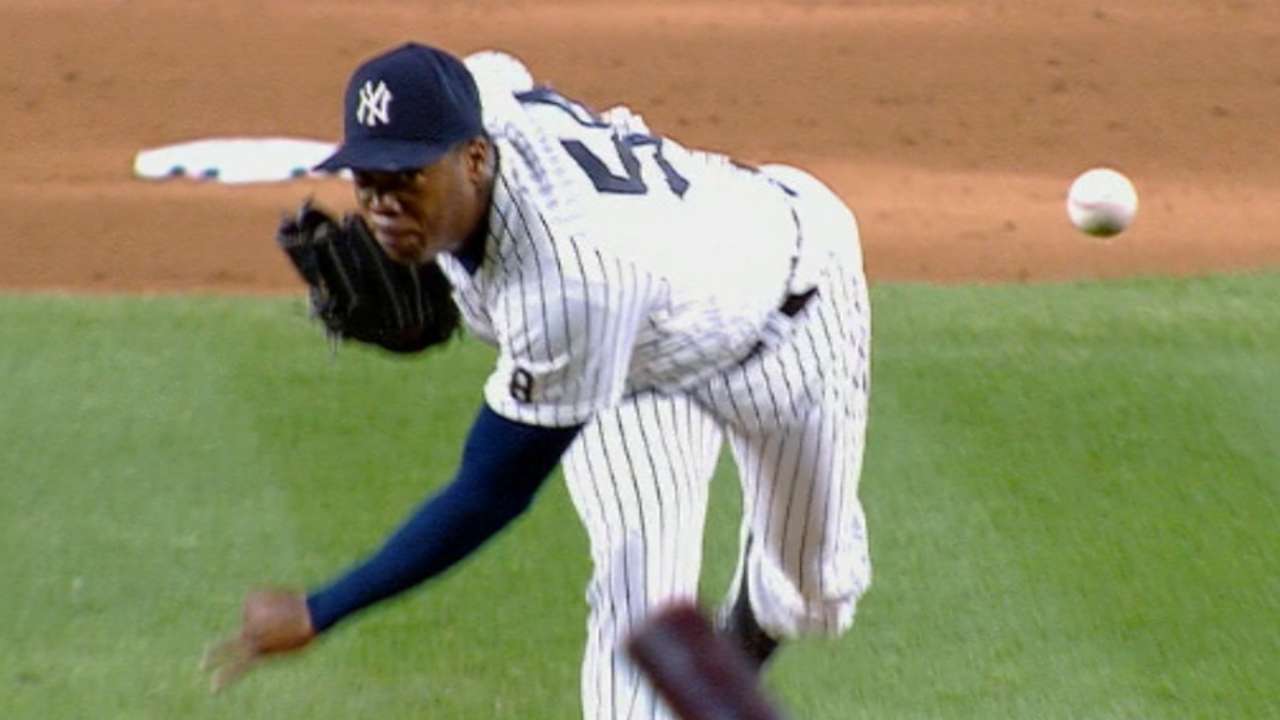 Making his first Major League start since early May, Tommy Milone was unspectacular for Minnesota, but his defense didn't do him any favors. Milone allowed four runs in 3 2/3 innings, but only one was earned.
"From my point of view, I need to do a better job of eliminating those unearned runs," Milone said. "I had a good opportunity there in the [third] inning to get out of it, and I let two score with two outs. That's unacceptable. I've got to do a better job of that."
MOMENTS THAT MATTERED
Making his case: With Mark Teixeira scheduled to return to the big leagues Saturday, the Yankees will need to make a move, and Rob Refsnyder doesn't seem to want to be the man to go. Refsnyder drilled a single into the gap in the fourth inning at a Statcast-estimated 103 mph, plating Didi Gregorius and giving the Yankees a 4-3 lead. The RBI was Refsynder's eighth of the season, just four fewer than Teixeira has in more than double the games played.
"He was staying away from me. I think it was a fastball in. So I just reacted," Refsnyder said. "He did a good job in the first couple of innings keeping us off balance with fastball away and changeup. But he kind of challenged me in there and I was fortunate enough to put a good swing on it." More >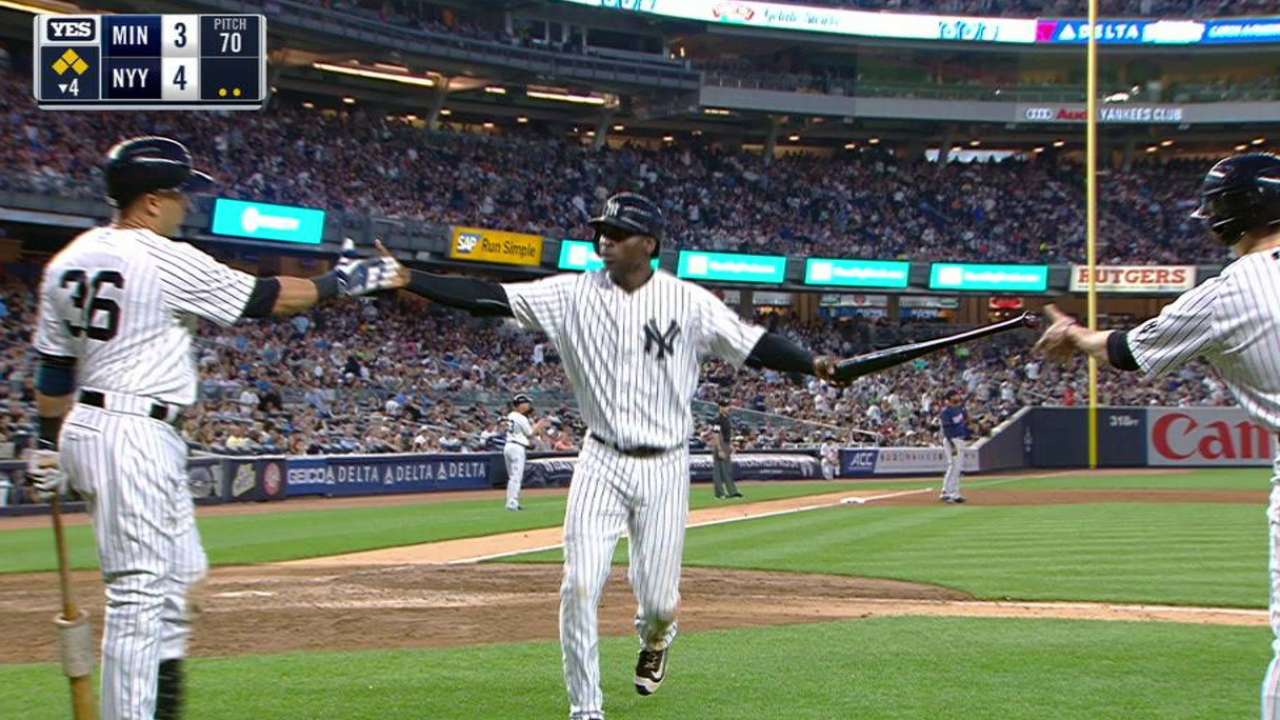 Give 'em the axe: Twins catcher Kurt Suzuki, who has been on fire ever since he reportedly switched to using the "Axe Bat" with an asymmetrical handle full time on May 31, knocked two more hits to raise his June average to .379. He has hit safely in 15 of his last 17 games and is now hitting .274 on the season.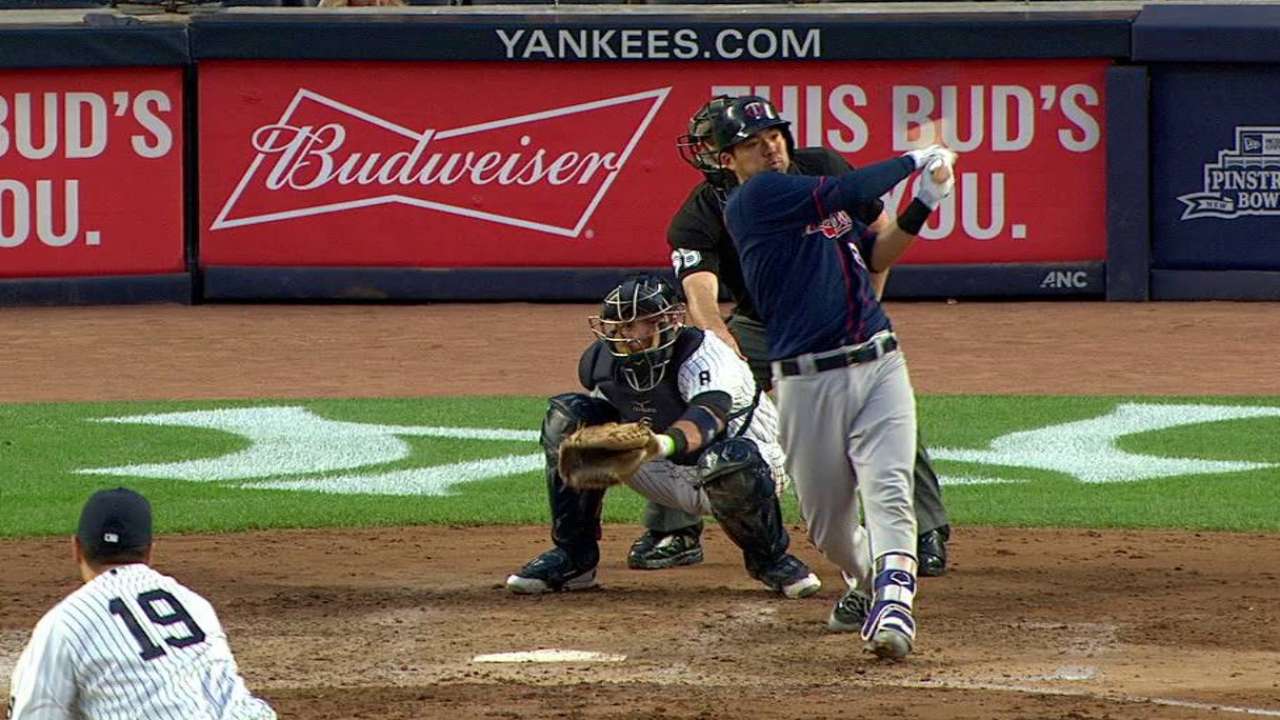 The knock on Tanaka: After dominating the Twins in his last start, Tanaka didn't have his best stuff. And though the right-hander tied his season high with seven strikeouts, he was unable to work into the seventh inning for just the fourth time this season and the first time since mid-May. Friday was the only time this season that Tanaka allowed three doubles in a game, and the first since Sept. 13, 2015.
"I thought he made a couple mistakes with his fastball," manager Joe Girardi said of Tanaka. "He didn't get it where he wanted, but he started locating better. I thought he had really good stuff tonight, actually. But he made a couple of mistakes."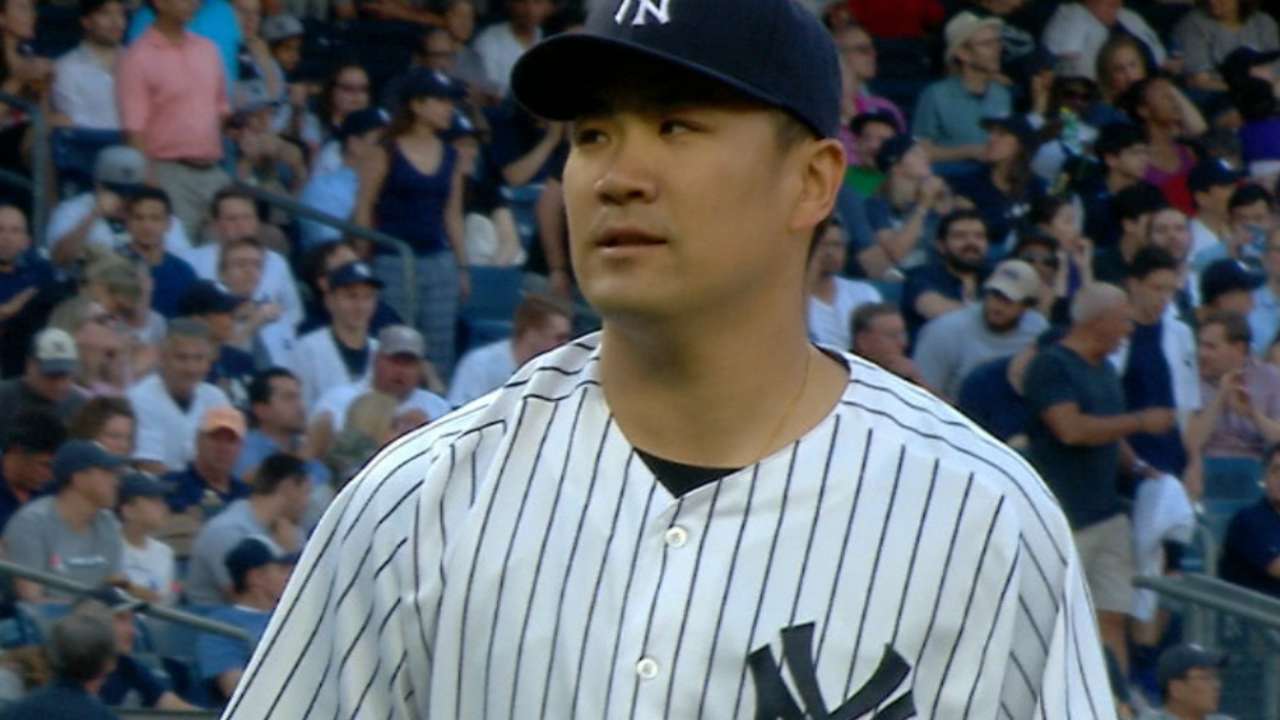 Not-so-gold gloves: For as shaky as the Twins' pitching staff has been this season, this loss fell more on the defense, which tied a season high with the three errors and gave New York the key unearned runs that were ultimately the difference. A fielding error by Eduardo Escobar and a throwing error by Robbie Grossman led to two New York runs in the third, and Mauer's first error of the season in the fourth keyed another two-run inning for the Yankees.
"We didn't play very cleanly," Molitor said. "Obviously, the first misplay extended [the third] inning, and they got a chance to get to the middle of the lineup with two outs. Both Beltran and A-Rod cashed them in." More >
REPLAY REVIEW
The home half of the first inning stopped as soon as it started Friday night. Brett Gardner appeared to lead off the bottom of the first with an infield single, beating out Brian Dozier's shovel throw to first according to first-base umpire Alfonso Marquez. However, the Twins challenged, and after a review of one minute and 25 seconds, the call was overturned.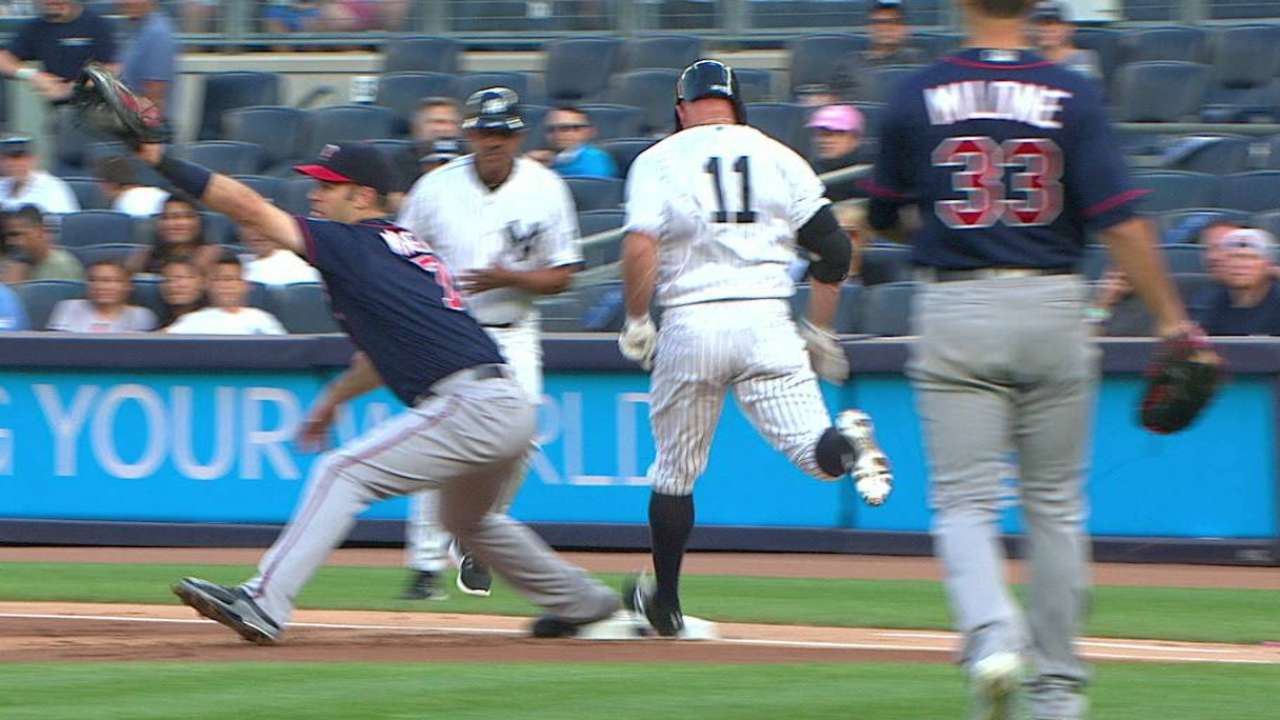 WHAT'S NEXT
Twins: Ervin Santana will seek his second consecutive win over the Yankees when he gets the ball on Saturday at 12:05 p.m. CT for the second game of the series. He tossed 7 1/3 innings against the Bronx Bombers on Sunday, allowing three runs (two earned) on six hits in his longest outing since May 19.
Yankees: Michael Pineda will start vs. Minnesota for the second time in a week, with first pitch at 1:05 ET on Saturday. Last time out, Pineda struck out a season-high nine batters but allowed four runs (three earned) in 5 1/3 innings of a no-decision.
Watch every out-of-market regular-season game live on MLB.TV.
Nick Suss is a reporter for MLB.com based in New York.

Do-Hyoung Park is a reporter for MLB.com based in Minneapolis.

This story was not subject to the approval of Major League Baseball or its clubs.