Bop of the 1st vs. KC: Triple, slam by George!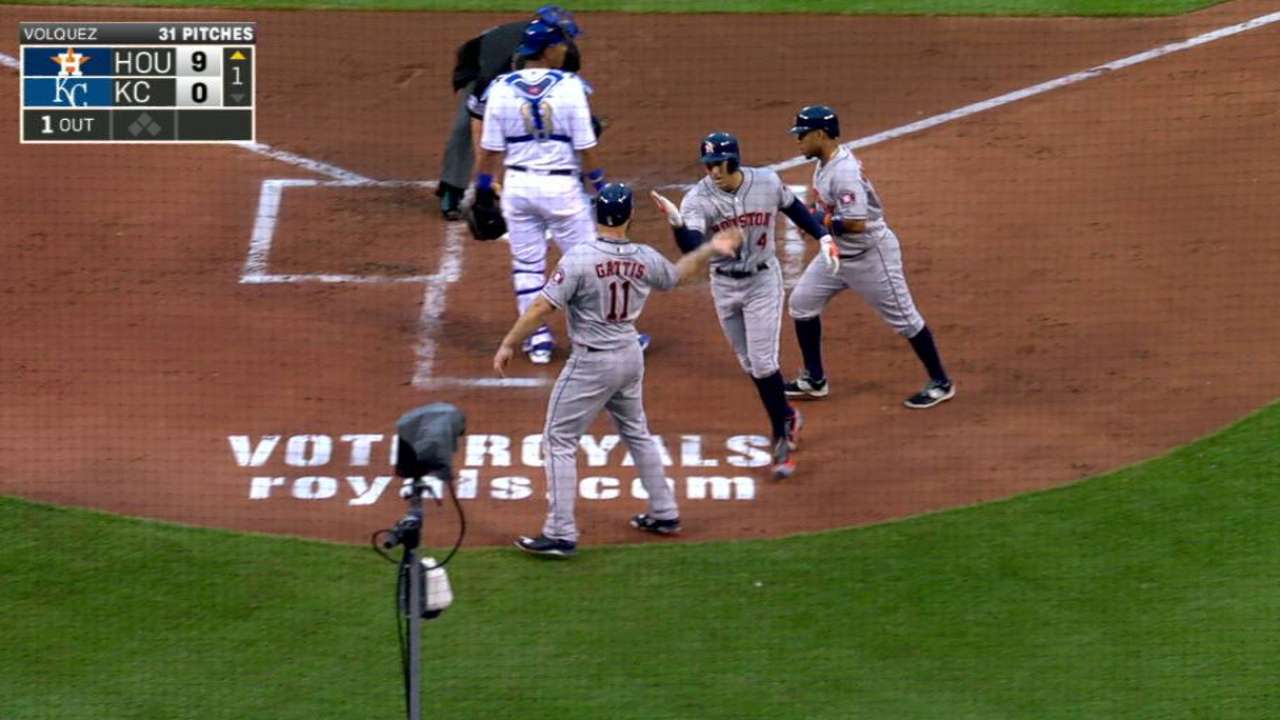 KANSAS CITY -- After getting hit by a pitch on his wrist last year and missing two months of the season, Astros outfielder George Springer exacted some revenge on Royals pitcher Edinson Volquez in Friday night's 13-4 win at Kauffman Stadium.
Springer rocked Volquez for a triple and a grand slam as part of a nine-run first inning for the Astros, who have won a season-high six straight games. Springer is the first player to log a triple and a grand slam in the same inning since Brandon Inge did it for the Tigers in 2004.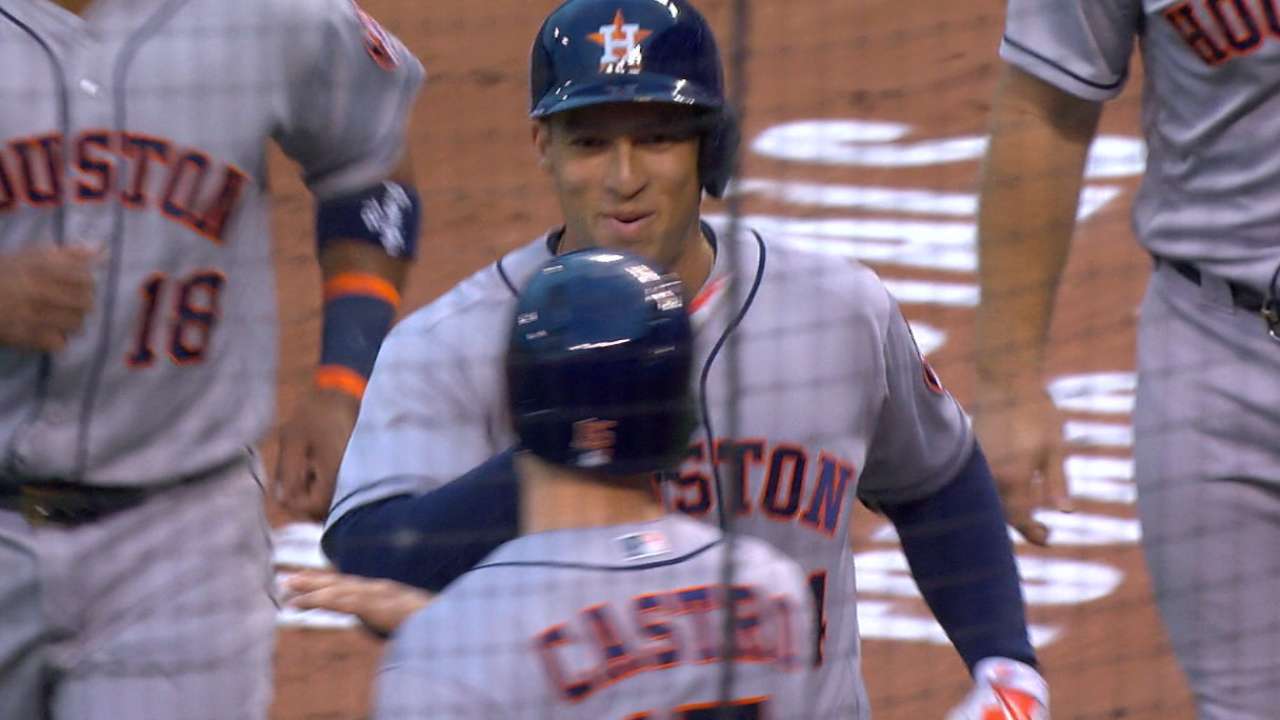 "Just looking for something to hit hard," Springer said of his slam. "The most important thing there is to get the guy in from third base and I was able to hit a breaking ball, and I guess hit it hard enough."
Grand slams mean 40% off pizza
Springer, who finished 3-for-5 with a career-high five RBIs, is the first player in modern Major League history (since 1900) to triple and hit a grand slam in the first inning, according to Elias. He's hit three grand slams this year, which is an Astros record.
"Any time the lineup rolls around, I'm pretty happy about it," manager A.J. Hinch said. "It's a chance for George to do some damage, which is why he's one of our more productive players. You don't see that every often. To have that big a first inning is pretty remarkable."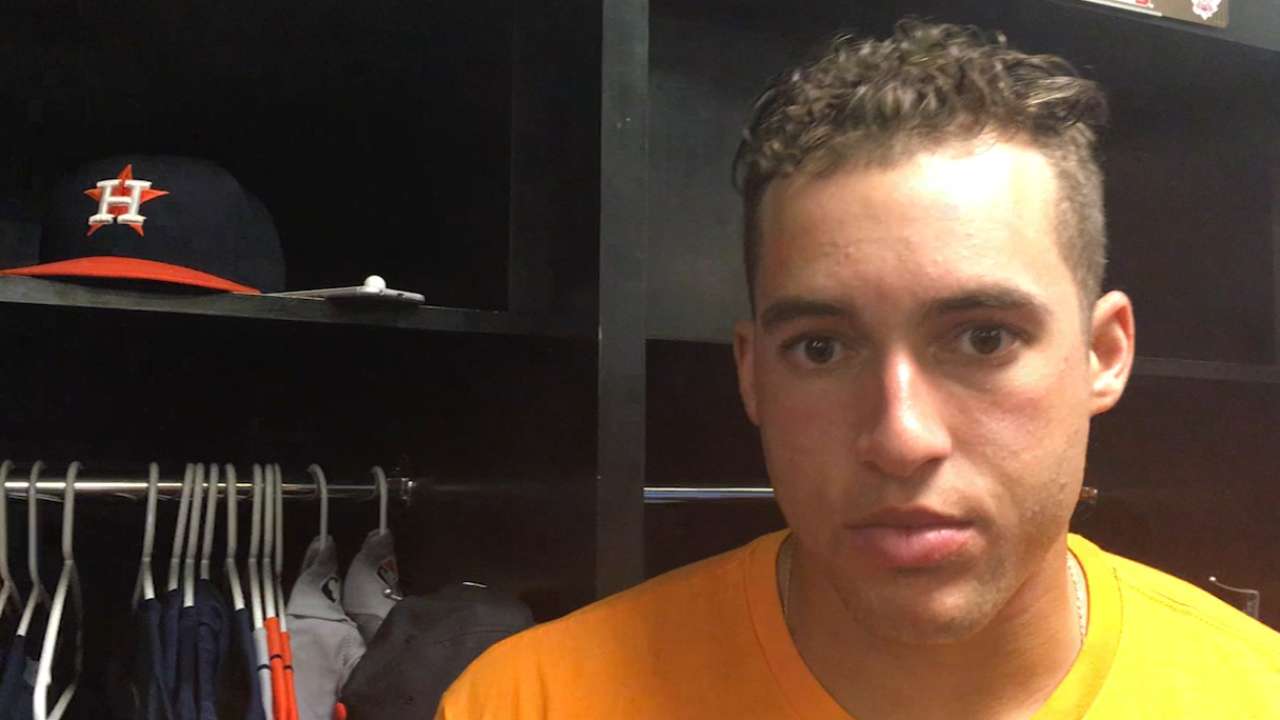 Springer isn't ranked among the Top 15 vote-getters among American League outfielders for the 2016 All-Star Game presented by MasterCard despite ranking in the top three in homers and runs.
• Cast your Esurance All-Star ballot for Springer and other #ASGWorthy players
Springer is the first leadoff hitter to hit a grand slam in the first inning since Seattle's Danny Tartabull on April 16, 1986, according to STATS LLC. Springer drove in his career-high fifth run with a bases-loaded groundout in the second inning.
"The whole story of the game is the first couple of innings and the quality of the at-bats that we put up," Hinch said. "It was a great start to the series, obviously, and really we did a lot of things right that first inning. We took advantage of a mistake on the popup drop, but a lot of singles, a big hit by George, obviously, to separate the game, but we did a good job of tacking on runs -- run after run after run because of the at-bats."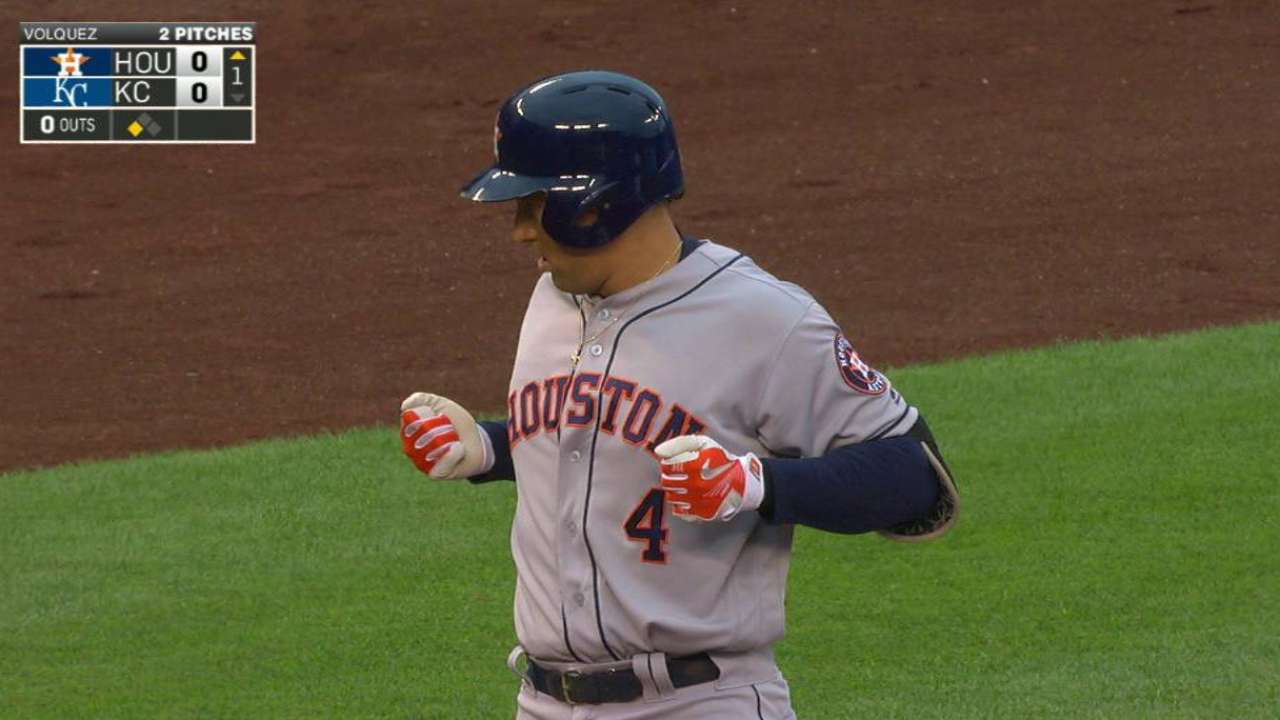 Springer also hit grand slams on April 6 at the Yankees and May 14 at the Red Sox -- both games were losses for the Astros. The only player to hit three grand slams last year was Edwin Encarnacion.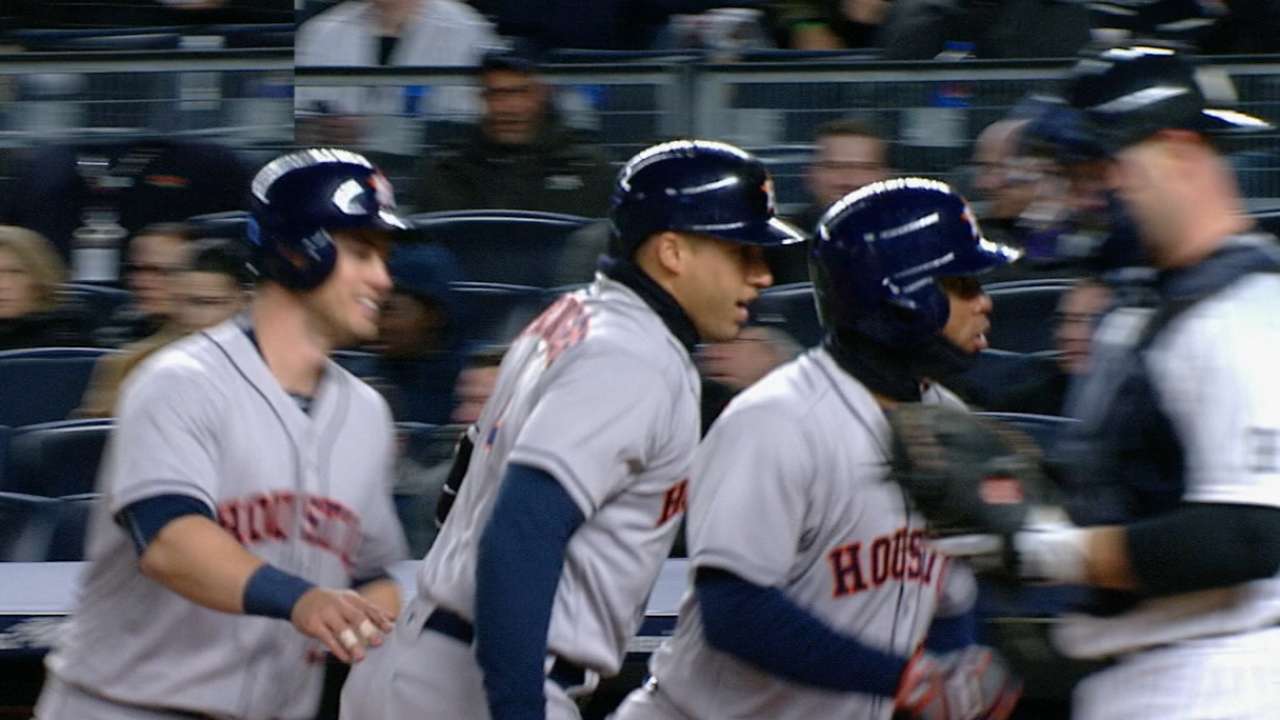 Volquez was tagged for 11 earned runs, which tied the club record for a starting pitcher.
The last time the Astros scored nine runs in the first inning was against the Reds on July 10, 2003, and the last time Houston scored nine runs in any inning was April 9, 2004, against the Brewers.
Brian McTaggart has covered the Astros since 2004, and for MLB.com since 2009. Follow @brianmctaggart on Twitter and listen to his podcast. This story was not subject to the approval of Major League Baseball or its clubs.