Farrell flouts convention, maneuvers Sox to win
Boston avoids first sweep of season thanks to manager's decisions
BOSTON -- In order to avoid a four-game sweep at the hands of the White Sox at Fenway Park on Thursday, Red Sox manager John Farrell made some unconventional decisions.
Closer Craig Kimbrel pitched two full innings for the first time in more than five years. Travis Shaw played the outfield, on a bum leg, for just the second time in his professional career. And the Red Sox played without a backup catcher from the seventh inning on.
"Very much so," Farrell said when asked if he felt an extra sense of urgency. "We're staring at a four-game sweep at home, and that's never a good thing. You find a way to pull out all the stops."
Boston mustered an 8-7 win in 10 innings, as Xander Bogaerts hit a broken-bat single to bring home Mookie Betts and end the game. Bogaerts said the team felt a sense of desperation after three tough losses to start the series.
"Things were so close in those games and fell on their side," Bogaerts said. "It was great that it was on our side today."
Initially, Farrell's decision to send Kimbrel out for the 10th inning after an eight-pitch ninth appeared set to backfire. Kimbrel walked two batters and surrendered a single, and the White Sox had the bases loaded with nobody out.
But the fireballer dug deep, inducing a popup and two strikeouts to set up the dramatic finish.
"I said I wanted to go back out if we didn't score [in the ninth]," Kimbrel said. "Our bullpen, we've been pitching a lot, and I felt like only throwing eight pitches, I needed to go back out and do a little bit more work."
Shaw, meanwhile, was expected to be available only as a pinch-hitter Thursday after leaving Wednesday's game with tightness in his right shin.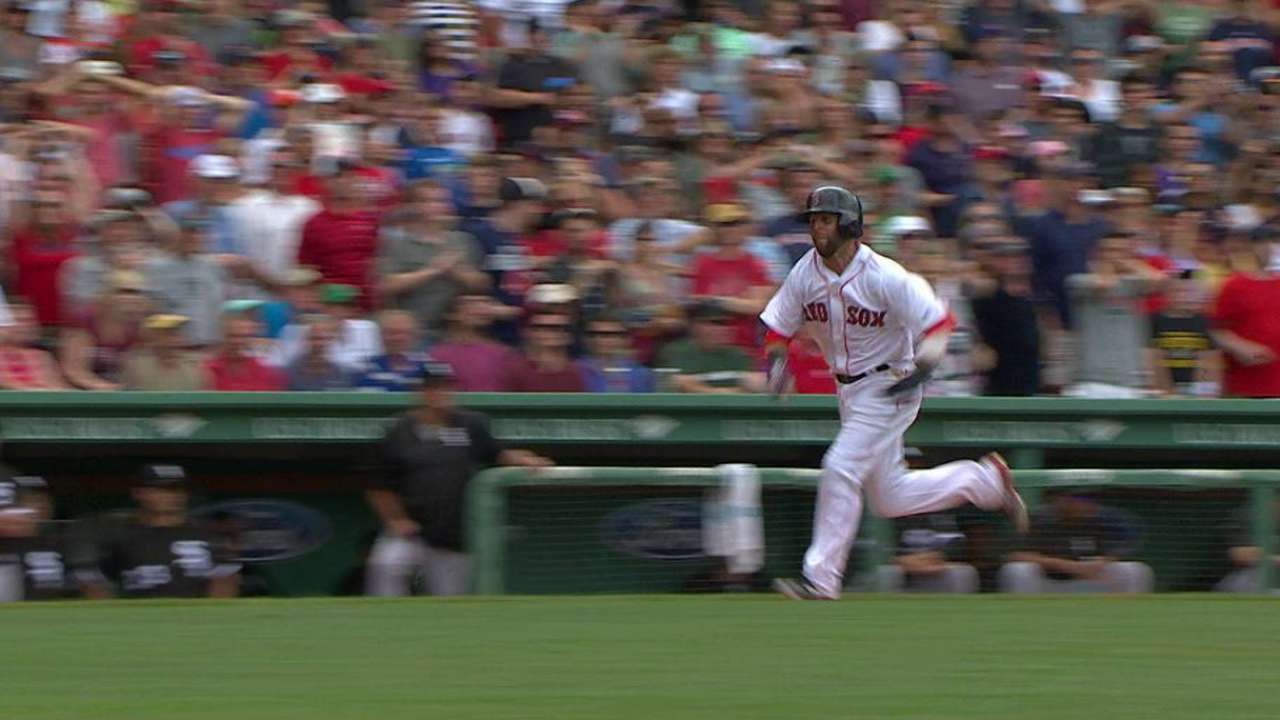 Shaw did pinch-hit in the seventh, driving in a run with a sacrifice fly. But with Chris Young having exited the game with a strained right hamstring, Farrell needed Shaw to play left field -- where Shaw had most recently played in Spring Training.
With the bases loaded in the eighth, Shaw caught a shallow fly ball and made a strong throw to the cutoff man to hold the runner at third.
"They asked me if I was OK with it, and it felt good enough," Shaw said. "I think that was kind of an emergency situation type thing. … He didn't run, so apparently the scouting report is out."
Perhaps the riskiest move Farrell made was to use Sandy Leon as a pinch-hitter for fellow catcher Christian Vazquez in the sixth. Boston trailed 4-3 with runners on the corners and one out against White Sox right-hander Matt Albers, who is tougher on righties than lefties.
Farrell decided to swap in the switch-hitting Leon for the right-handed-hitting Vazquez -- leaving infielder Marco Hernandez as his emergency catcher -- and Leon came through, ripping a game-tying single up the middle.
The 27-year-old is 11-for-21 (.524) on the year.
"Felt like that was a chance to get the matchup that was in our favor," Farrell said. "It worked out."
The Red Sox will now fly to Texas to face the Rangers on the heels of a 4-6 homestand. That might not be what they hoped for, but they leave Boston having avoided their first four-game losing streak, and they still are yet to be swept this season.
"We did some things that, you know what, you do what you can with what you have in the moment," Farrell said. "We kept battling, kept digging, kept finding a way to push a run across."
Thursday's victory was certainly a mood-changer.
"Big win for us," said Shaw. "Happy flight."
Aaron Leibowitz is a contributor to MLB.com. This story was not subject to the approval of Major League Baseball or its clubs.