McConnell headlines Day 2 of Tournament of Stars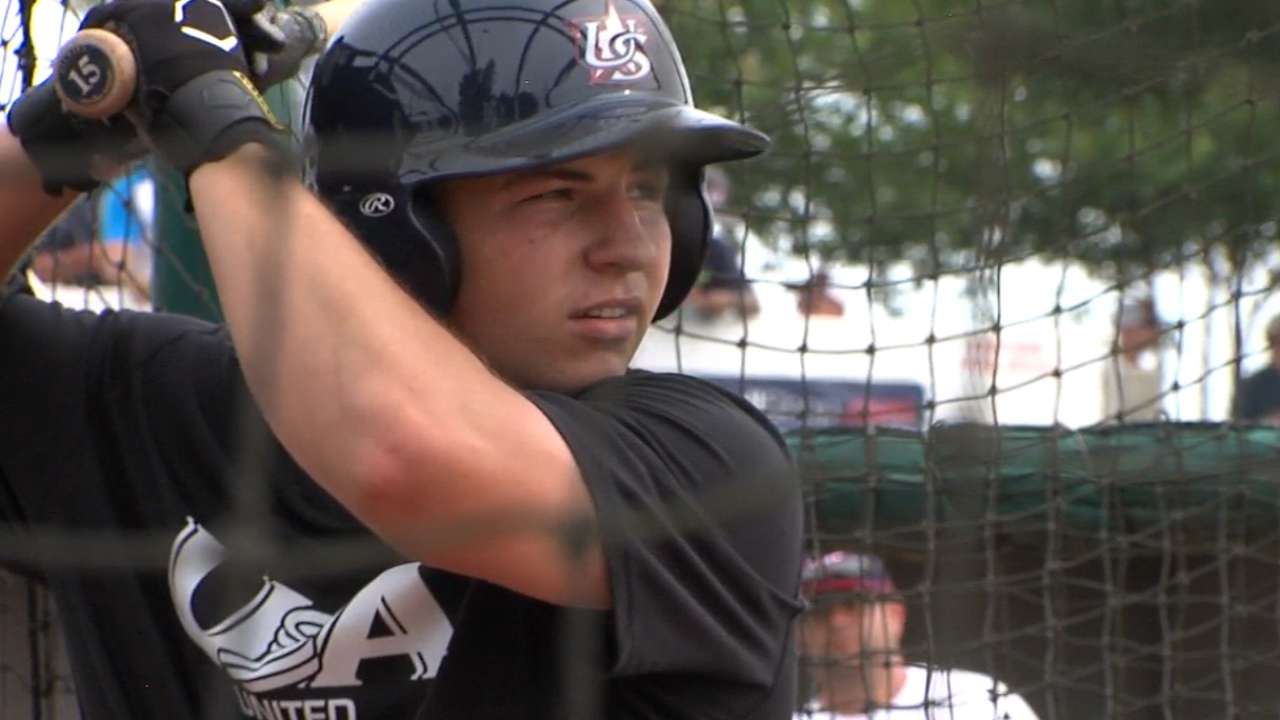 CARY, N.C. -- Team Brave defeated Team United 6-2 to open Day 2 of USA Baseball's Tournament of Stars, but it was United infielder Brady McConnell (Merritt Island HS, Fla.) whom scouts took notice of for his play on both sides of the ball.
McConnell, a fast-twitch athlete listed at 6-foot-2, 169 pounds, started the game 0-for-2 before his bat came to life. In the bottom of the fifth inning, he ripped an opposite-field rope down the first-base line off Brave right-hander Alex Scherff, then scorched a ball down the third-base line for another double in the eighth inning off right-hander Kyle Hurt. Despite his lean and narrow frame, McConnell has some of the best bat speed in the field and projects to have above-average raw power as he matures. He also made a fantastic play at second base when Brave's Anthony Servideo hit a ground ball up the middle, prompting McConnell to range right and make an off balance jump-throw for the out. With solid actions and above-average arm strength, he has a chance to play shortstop as a pro and looks like one of the five best high school prospects in the country at this early juncture.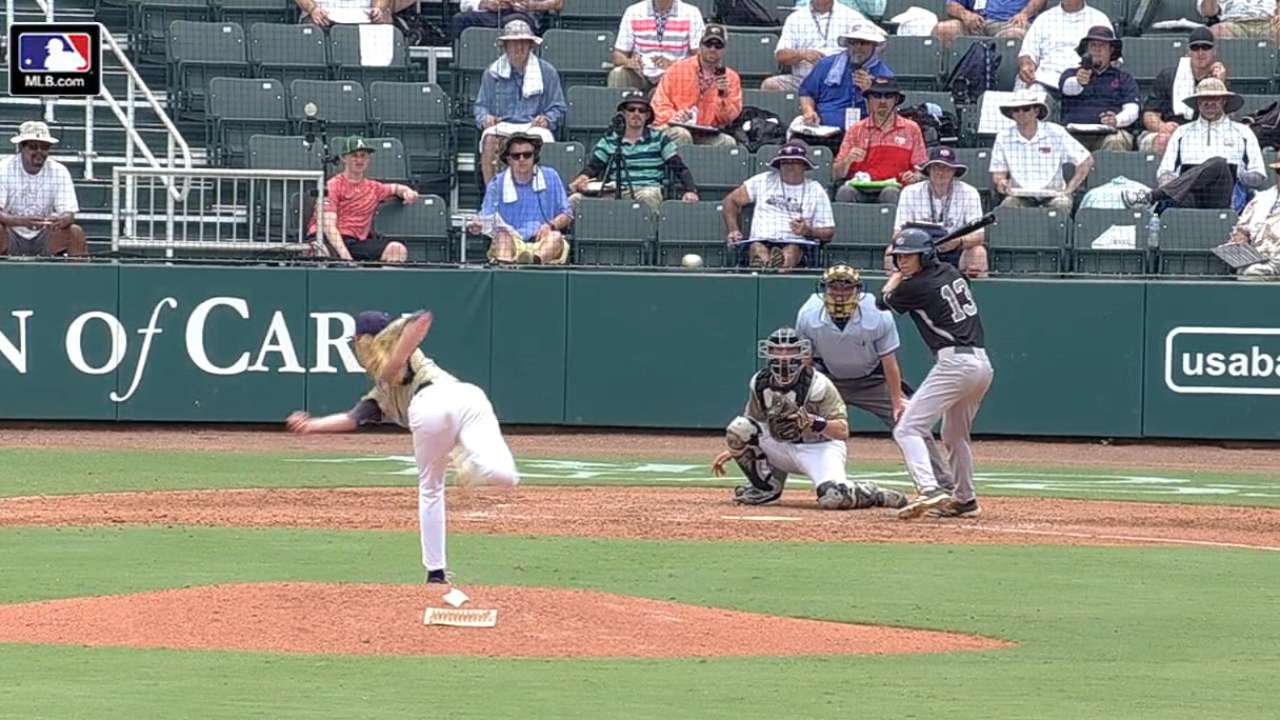 On the winning side, Brave center fielder Mike Siani also stood out in multiple phases. He showed a quick bat with a flatter path when he ripped a single to his pull side off United starter C.J. Van Eyk. He also made an outstanding play defensively when he ranged left to make a diving catch on a deep fly ball from United's Danny Zimmerman that left him with at least one hole in his pants. Siani combines the advanced instincts he showed on Thursday with above-average speed and plus arm strength, giving him a chance to stick in center at the next level.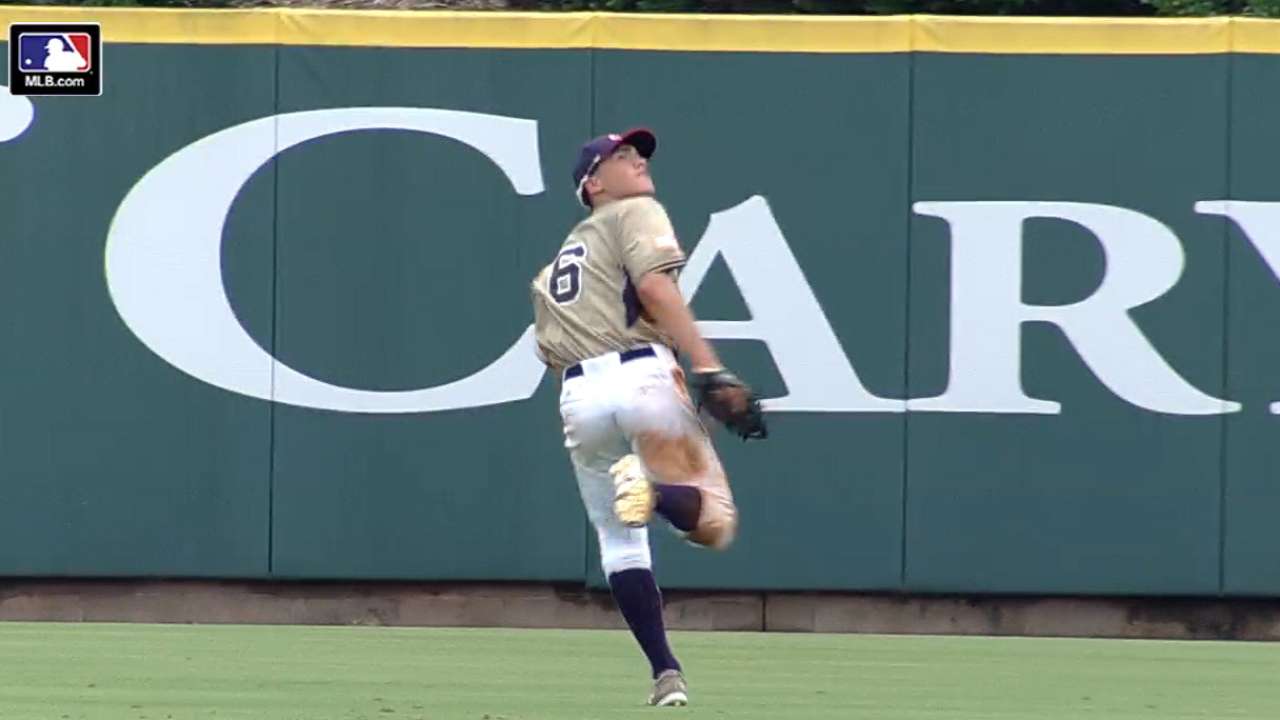 Hurt has a good starting pitcher's look at 6-foot-2, 189 pounds with a fluid motion and more strength coming. He worked 90-92 mph with his fastball in his three-inning stint, mixing in a 75-77-mph changeup with good drop and a mid-70s curveball, notching two strikeouts along the way.
Scherff worked two scoreless innings, running his fastball up to 94 mph with a 77-78-mph slider and an 83-84-mph changeup. His command is a question mark and his delivery -- which features a high-back elbow -- isn't the fluid motion you'd like to see from a potential starter, so he might be a better fit in the bullpen as a pro.
Right-hander C.J. Van Eyk threw the first three innings for United, pairing an 88-92-mph fastball with a 76-79-mph curveball that accounted for four of his five strikeouts. His feel to pitch is a strength.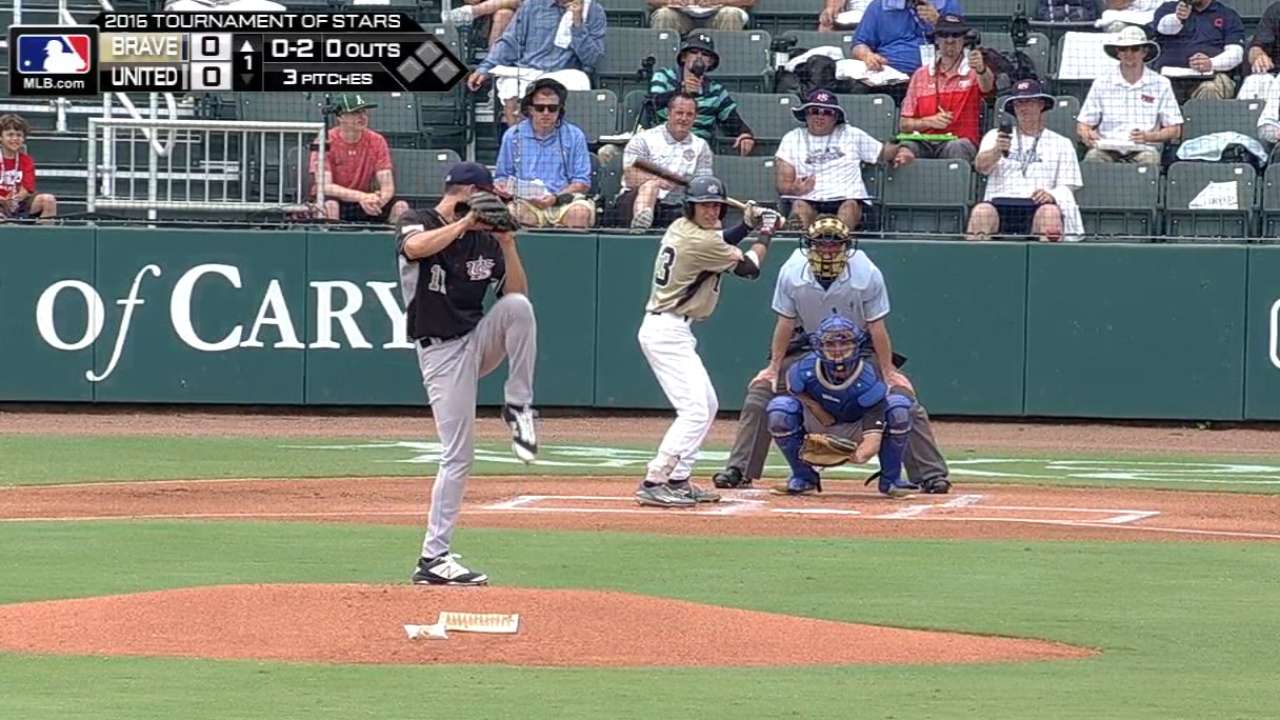 Right-hander Sam Carlson also showed well for United, working three scoreless frames by filling up the zone with a three-pitch mix. His fastball ranged from 89-91 mph, and he worked in a 78-82-mph changeup and a 77-78-mph curveball, the latter of which he used to frontdoor two right-handed hitters for called third strikes.
Pitchers take spotlight in Pride's win over the Stars
The second game of Thursday's pool play featured plenty of physicality on the mound as Team Pride defeated Team Stars, 3-1.
Both right-hander Nick Storz and left-hander Mitchell Stone appeared in the game for Team Pride, each of whom are among the largest human beings here in Cary, N.C. Storz is listed at 6-foot-6, 242 pounds, while Mitchell goes 6-foot-10, 247 pounds.
Storz -- a two-way prospect with mammoth raw power at the plate -- couples an 89-91 mph fastball with solid feel to pitch. His 75-78 mph curveball flashes late bite, though it needs more consistency. He has an easy motion and surprising rotational athleticism for a player of his size. He struck out one in two hitless innings.
Stone is behind Storz in terms of development as a pitcher, but he's huge and left-handed, which never fails to get a scout's attention. His fastball ranged from 87-90 mph, and his 71 mph curveball was a slow roller that needs a lot of tightening. He stranded four runners in his two scoreless frames, striking out three.
In defeat, Stars outfielder Sam Hall continued showing that he's among the most polished hitters in the field. After going 1-for-2 with two RBIs on Wednesday, he again went 1-for-2 on Thursday and drew two walks. Listed at 6-foot-1, 182 pounds, Hall is an unassuming athlete who has an advanced feel to play the game. He's also shown one of the better hand paths here, consistently squaring up balls in game action and batting practice.
Jesse Burkhart is a contributor for MLB.com. This story was not subject to the approval of Major League Baseball or its clubs.