MLB.com Columnist
Mike Petriello
Low-profile Astros 'pen is now baseball's best
5.5 percent walk rate is lowest of any bullpen since 1947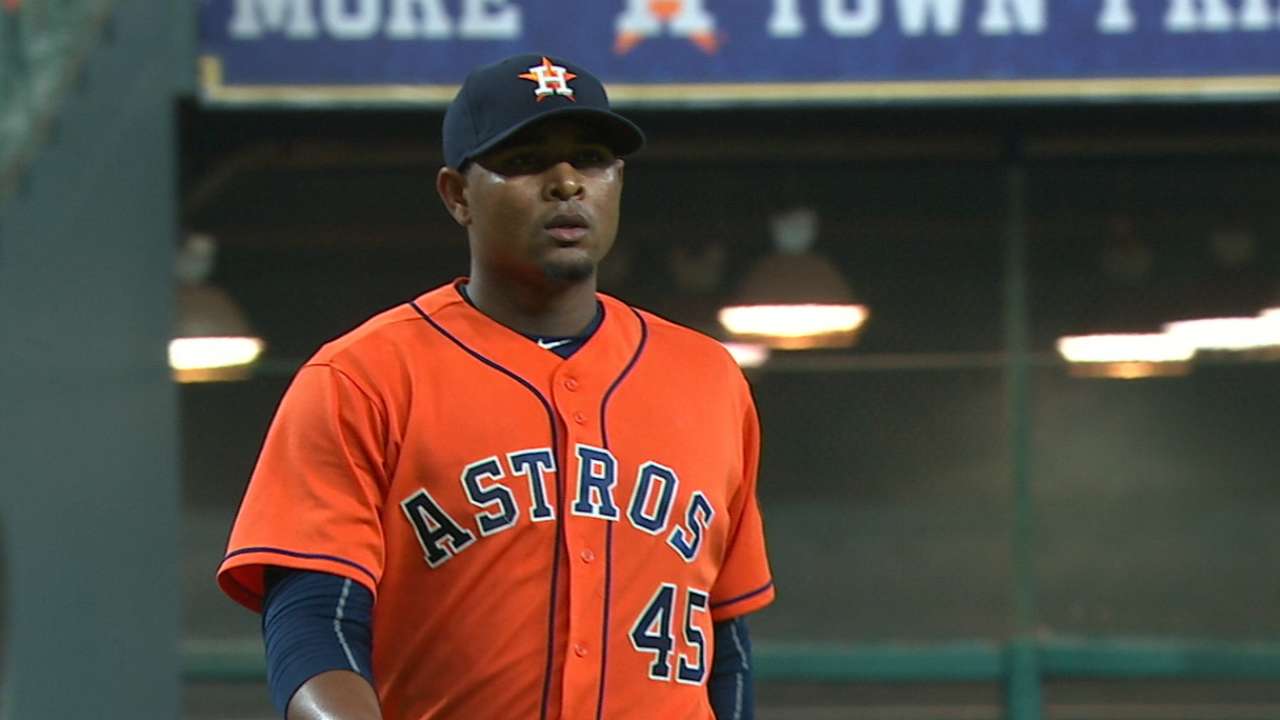 The Astros' bullpen doesn't feature a name like Craig Kimbrel or Wade Davis or Aroldis Chapman. Their highest-paid reliever (Scott Feldman) was a starter for most of his career before being bounced from the rotation at the end of April. Their presumed closer (Luke Gregerson) was removed from the role just a few weeks ago. They have two pitchers who were simply cut loose for nothing in recent years by Arizona (Will Harris, Tony Sipp).
Meet the mostly anonymous Houston bullpen -- but also, meet the best bullpen in baseball, especially over the past 30 days.
Now, saying anything is the best anything is immediately going to require some evidence, particularly with Chapman, Andrew Miller and Dellin Betances laying waste to the American League in New York. So far this year, the Astros have the sixth-best bullpen ERA (3.22, all stats entering Thursday), but while that's good, we can do a lot better than just pure traditional ERA, which is subject to issues with defense and scoring calls.
At 3.08, the Astros have the best Fielding Independent Pitching bullpen in the game. (FIP is an ERA estimator that relies on strikeouts, walks, and home runs, to eliminate items pitchers can't control.) They have the lowest walk rate in baseball, at just 5.5 percent, and even that terribly undersells them, because that's the lowest (!) bullpen walk rate in 1,700 bullpen seasons since baseball integrated in 1947, above the 1984 Royals. They also have 2016's third-highest strikeout rate, at 26.8 percent, and for context, realize that those strikeout and walk rates are roughly the same as Jon Lester's.
It's not just overall performance, either. It's about the situational performance, because despite the early struggles of Ken Giles and the sometimes high-profile Gregerson blown saves, the Astros' relievers have been at their best in the biggest spots. We can measure that with a metric called Win Probability Added, which accounts for "clutch" performances based on game situation, because (for example), a run-scoring single in a tie game is more important than a three-run homer in a blowout.
The Astros, so far, rank well. Real well.
Bullpen Win Probability Added, 2016
1. Astros -- 4.96
2. Royals -- 4.39
3. Orioles -- 3.77
4. Mets -- 3.07
5. Yankees -- 2.62
That can be read as "the Astros' bullpen has added more than four wins due to performance in leveraged spots," and that's important since for relievers, timing often matters just as much as talent.
How is all of that possible, that this group could be better than New York's near-historic back end? Because as elite as the Yankees' trio is, the grab bag of 13 other relievers New York has tried have ranged from questionable to disappointing. Put another way, the Yanks' "big three" has a 2.39 ERA and a 1.39 FIP in 83 innings; everyone else -- names like Luis Cessa, Phil Coke and Nick Goody -- has a 5.11 ERA and a 4.93 FIP in 183 innings. That's more than twice as many innings coming from pitchers who simply haven't performed.
Meanwhile, the relatively stable Houston 'pen has received contributions from all corners. Harris, claimed off waivers from the D-backs in 2014, has a 1.56 ERA in 100 games with the Astros, thanks to high strikeout and grounder rates on his curve and cutter. Chris Devenski, acquired as the player to be named in 2012's long-forgotten Brett Myers trade, has a 0.61 ERA in 29 2/3 innings as a reliever, thanks in part to a changeup that former teammate Mark Appel referred to as "almost a trick pitch." Feldman, who'd been carrying a 4.58 ERA in the rotation, now has a 2.08 ERA as a reliever, in no small part due to the fact that his velocity has jumped.
Take Michael Feliz, signed as an international free agent more than six years ago and now striking out hitters at an elite 35-percent rate, thanks to an unhittable slider that's allowed just a .088 batting average. Or Sipp, who has 148 whiffs in 128 innings as an Astro, or Pat Neshek, who joined his fifth team in six years when he arrived in Houston last year, and has struck out a batter per inning while limiting walks. Even Giles, who struggled badly early, has turned it around, following up a 9.00 ERA April with a 3.60 since, and Gregerson has his highest strikeout rate since 2010.
And while there were some bumpy moments in the early going, particularly with Giles, the relievers have really brought their "A" game over the past 30 days. Over the past month, Houston's relievers have a 2.31 ERA, second only to the Dodgers, and a 2.67 FIP, the best in baseball. For the past month, they've basically been pitching like Rich Hill, and Hill was a slam-dunk All-Star selection before he was injured.
It's not necessarily fair to expect they'll keep this up all season, of course. A stat like Win Probability Added is more of a descriptive stat than a predictive one, and we've seen most of this same group stumble down the stretch as recently as last year. But if you listen to Morgan Ensburg, who played for the Astros from 2000-07 and is currently a coach in the Houston system, there may be even more help on the way, in the form of the almost completely unknown James Hoyt .
Woke up this morning to see if anything changed. Nope, James Hoyt is still the best pitcher in our entire organization including MLB team

— Morgan Ensberg (@MorganEnsberg) June 23, 2016
Hoyt, a 29-year-old Idaho native, was signed for $500 prior to 2013 by the Braves after spending years in independent baseball, then was shipped to Houston in the Evan Gattis deal. At 6-foot-6 and 230 pounds, MLBPipeline.com says he has "two plus pitches in his fastball and slider," and he's struck out 130 in 85 Triple-A innings as an Astro.
It's almost not fair that Houston has him available when they want him, and it says a lot about the production the Astros have received that they haven't needed him yet. It's a really, really good bullpen -- even if the names don't quite stop traffic. It's a big part of how this team got back in the race.
Mike Petriello is an analyst for MLB.com and the host of the Statcast podcast. He has previously written for ESPN Insider and FanGraphs. This story was not subject to the approval of Major League Baseball or its clubs.