MLB.com Columnist
Tracy Ringolsby
#ASGWorthy: Desmond's bounceback key to Rangers' success
Late signing, position change don't faze athletic veteran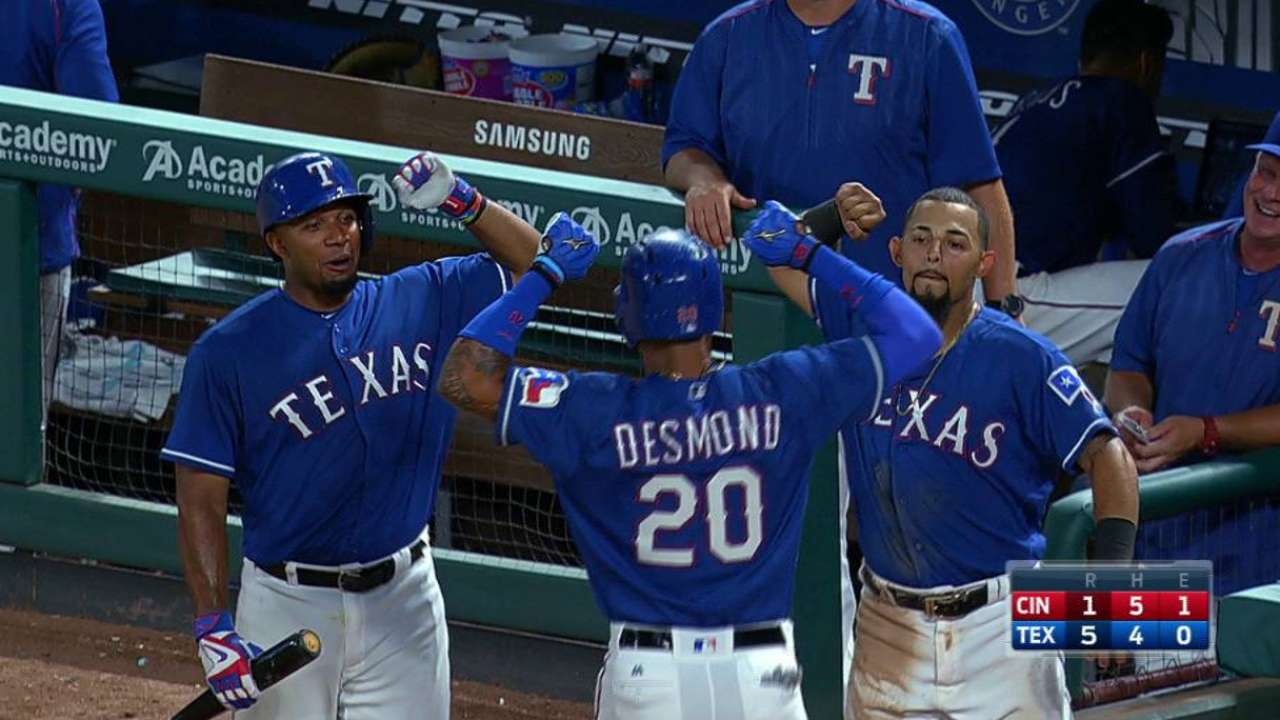 Ian Desmond is not into history.
He may have been drafted by the Expos and debuted at shortstop with the Nationals after the franchise moved to Washington, D.C. He may have been seemingly frozen out on the free-agent market in the offseason, not agreeing to terms with the Rangers until Feb. 29, after Spring Training began.
That, however, is old news.
He sees no reason to talk about it.
His focus is on today and tomorrow.
And he is quick to point out if any of those issues of the past are brought up that, "We talked about that three months ago."
He's now a center fielder for the Texas Rangers, a worthy All-Star candidate, and a critical part of the Rangers being in first place in the American League West.
• Cast your Esurance All-Star ballot for Desmond and other #ASGWorthy players
The Rangers are 10 games ahead of the second-place Astros, despite a rotation that has never been at full strength and currently has three projected members on the disabled list (Yu Darvish, Derek Holland and Colby Lewis).
"It is something I want to do," Desmond said of the move to the outfield, where he had made one start and one other defensive appearance in his six previous big league seasons.
"The Rangers were open-minded enough to let me make the switch," said Desmond. "They believe in my ability to make the transition."
The Rangers are reaping the rewards.
Desmond woke up Thursday leading AL outfielders in average (.316) and doubles (19). He also has 10 home runs and 13 steals, and his 47 RBIs were fifth among AL outfielders. He had the seventh-best slugging percentage (.518) and sixth-best OBP (.367) of AL outfielders.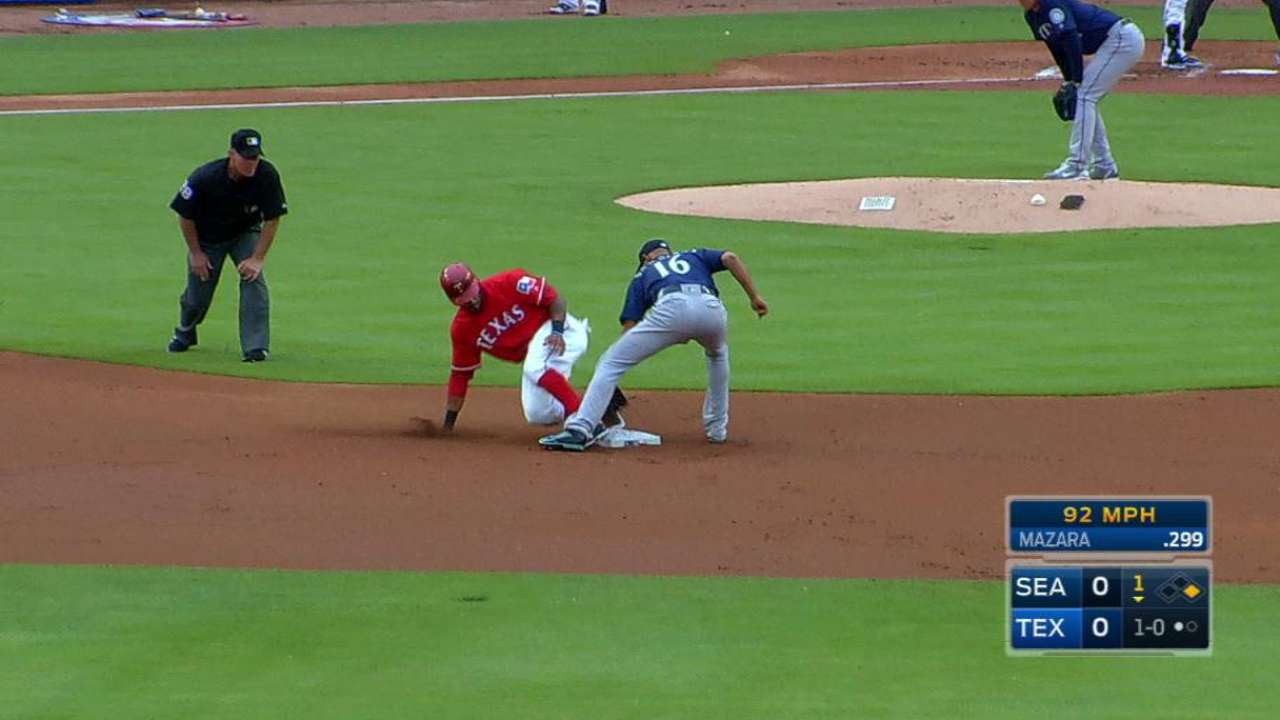 Defensively, his 2.59 Range Factor ranks second in the AL to the 2.75 of the Royals' Lorenzo Cain.
Impressed?
So are the Rangers.
"We knew the physical talent was there," said Rangers manager Jeff Banister. "Even though he [was] an All-Star shortstop [in 2012], he has played center field like a natural center fielder."
And, said Banister, there is more.
"His leadership qualities are off the charts," said Banister. "He is a complete student of the game. The things he sees and challenges me with during a game in the dugout. ... Runners at first and third. ... Double steal. ... No-doubles defense. ... He has great insight into the game."
Banister was impressed with how Desmond embraced the changes -- first, from shortstop to left field, and then, a month into the season, from left field to center field.
"To make those changes at this stage of his career, " said Banister, "and have the athletic ability to do that along with the desire. ...
"He is the type of player you want to have on your team. He brings the speed element, power, the ability to hit the ball the other way, and athleticism.
"For all those seasons, in the offseason he was on our board as a player we liked. Everyone in the organization thought he could play the outfield if he wanted to. When he was still out there [at the start of Spring Training] and he said he would [play the outfield], we decided to make a push."
Oh, and there's one other reason.
Desmond was an ideal bounce-back candidate.
He was coming off a season in which he hit a career-low .233. His 62 RBIs were the second-lowest total of his first six full seasons. And he led National League shortstops with 27 errors.
Desmond was, however -- as Banister pointed out -- an athlete.
And Desmond was far from over the hill. He won't turn 31 until Sept. 20, an age that means he should be in his prime.
Desmond was also driven. That's why he welcomed a position change. It's why he never pouted about signing a one-year, $8 million deal that was a $3 million pay cut from a year earlier.
What Desmond doesn't welcome is sympathy. He is where he is, and he wants to be the best he can be. No whining. No excuses.
"Let's talk about the team," Desmond said. "We're in first place in the AL West. We are playing well. We are in a good spot right now. That's the thing that is important."
The Rangers are quick to point out that all those things are due in part to the addition of Desmond.
Tracy Ringolsby is a columnist for MLB.com. This story was not subject to the approval of Major League Baseball or its clubs.