Bauer goes the distance as Tribe sweeps Rays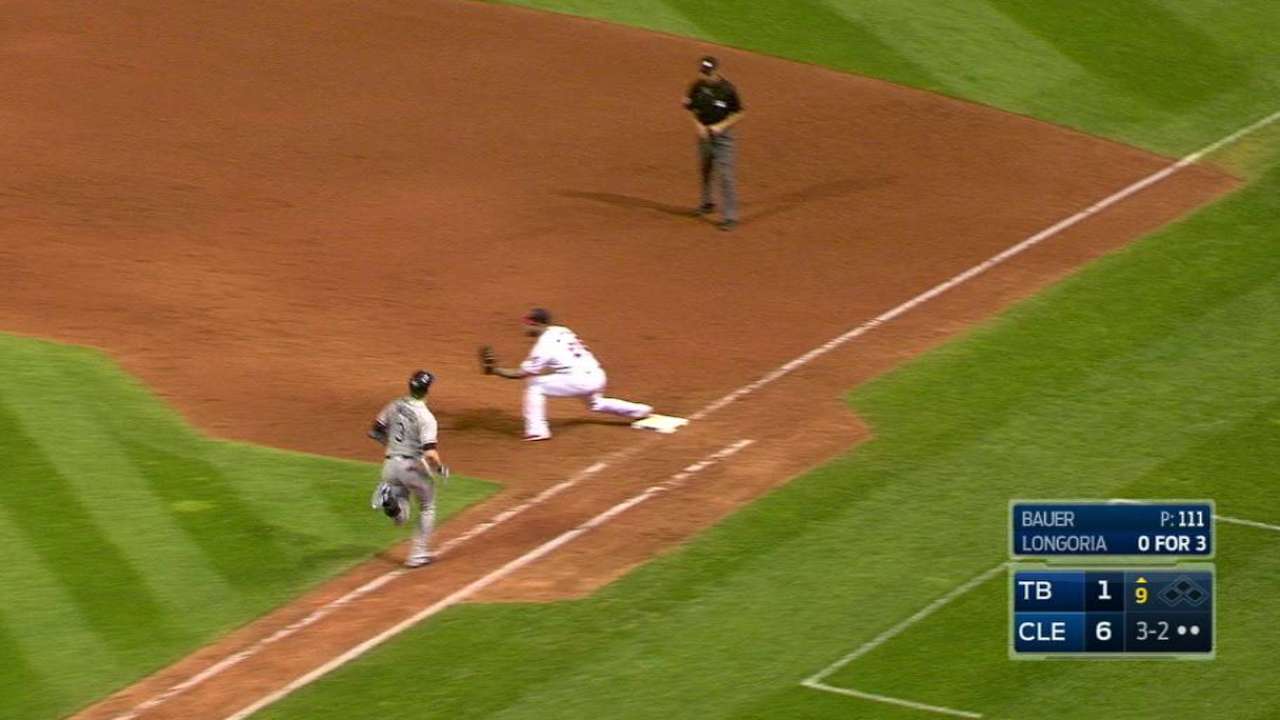 CLEVELAND -- The Indians completed a three-game sweep over the Rays with a 6-1 win on Wednesday night at Progressive Field. With the victory, Cleveland finished off an undefeated six-game homestand, while Tampa Bay dropped its seventh consecutive contest. The Indians also finished June with an 11-0 record at home, marking the first undefeated calendar month of at least 10 games in club history.
Following Corey Kluber's shutout on Tuesday night, right-hander Trevor Bauer tossed a complete game of his own. It was his first of the season and second of his career (July 28, 2015 vs. KC). Bauer allowed just three hits, one of which came on a leadoff single in the first. After that, Bauer retired the next 16 batters.
• Tribe caps perfect month in Cleveland
"Trevor was a little upset he gave up a run," Indians pitching coach Mickey Callaway said, "just because we didn't give up a run the night before. It's a really good atmosphere for those guys right now. They're really pulling for each other and trying to outdo each other, which is great."
Rays righty Chris Archer was handed the loss after going six innings, surrendering four runs on six hits. Three of those runs came against Archer in the first inning highlighted by a two-run blast from second baseman Jason Kipnis. Archer allowed three total runs (two earned) in 5 1/3 innings on April 14 against Cleveland.
Tampa Bay's lone run came on an infield single from Corey Dickerson in the seventh. The Rays finished with a total of five runs in the three-game set. Cleveland's Carlos Santana went 2-for-3 with two RBIs to provide enough run support for Bauer. The Tribe amassed a total of 19 runs in the series.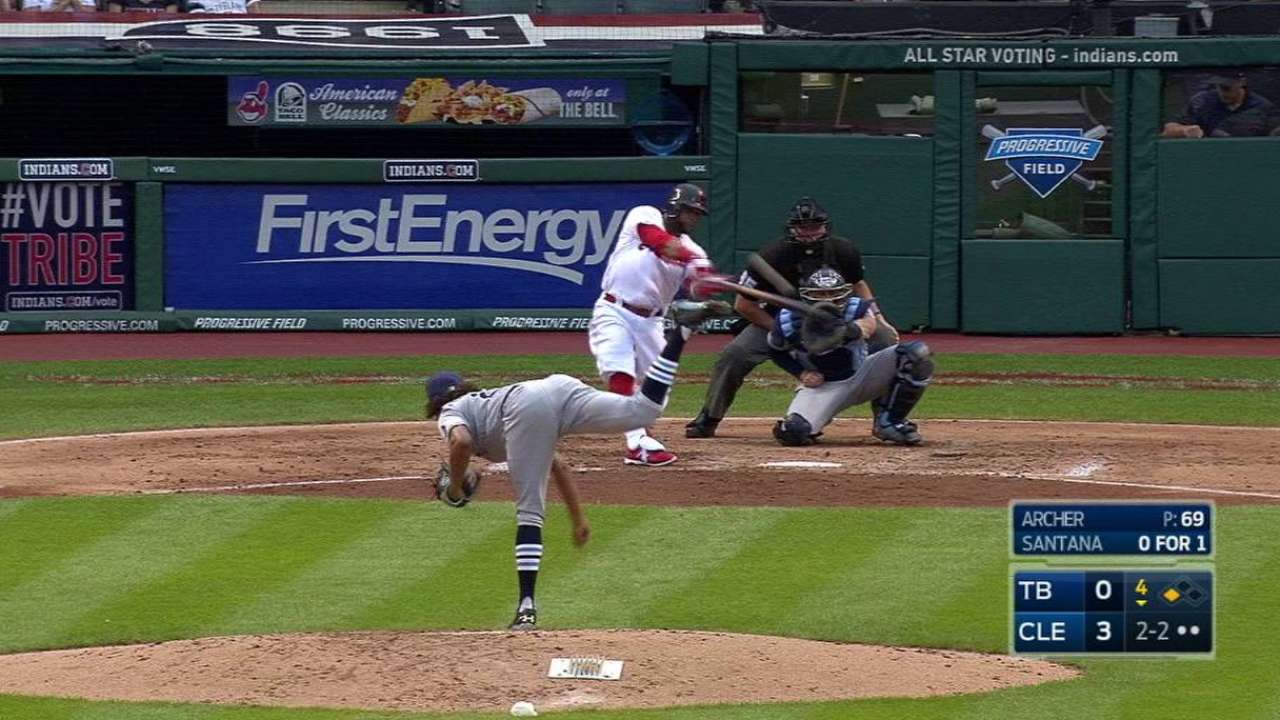 "Same script as last night," Rays manager Kevin Cash said. "Very similar. Their guy pitched very well. We fell behind early. Just couldn't get anything going."
MOMENTS THAT MATTERED
Kip knock: Kipnis got the Tribe going in the first with one swing of the bat. He blasted a two-run shot to straightaway center off a 1-2 fastball from Archer. Per Statcast™, the ball traveled an estimated 415 feet from the plate with an exit velocity of 101 mph. Later in the inning, Jose Ramirez plated Francisco Lindor from second on an RBI single to center, completing a three-run frame.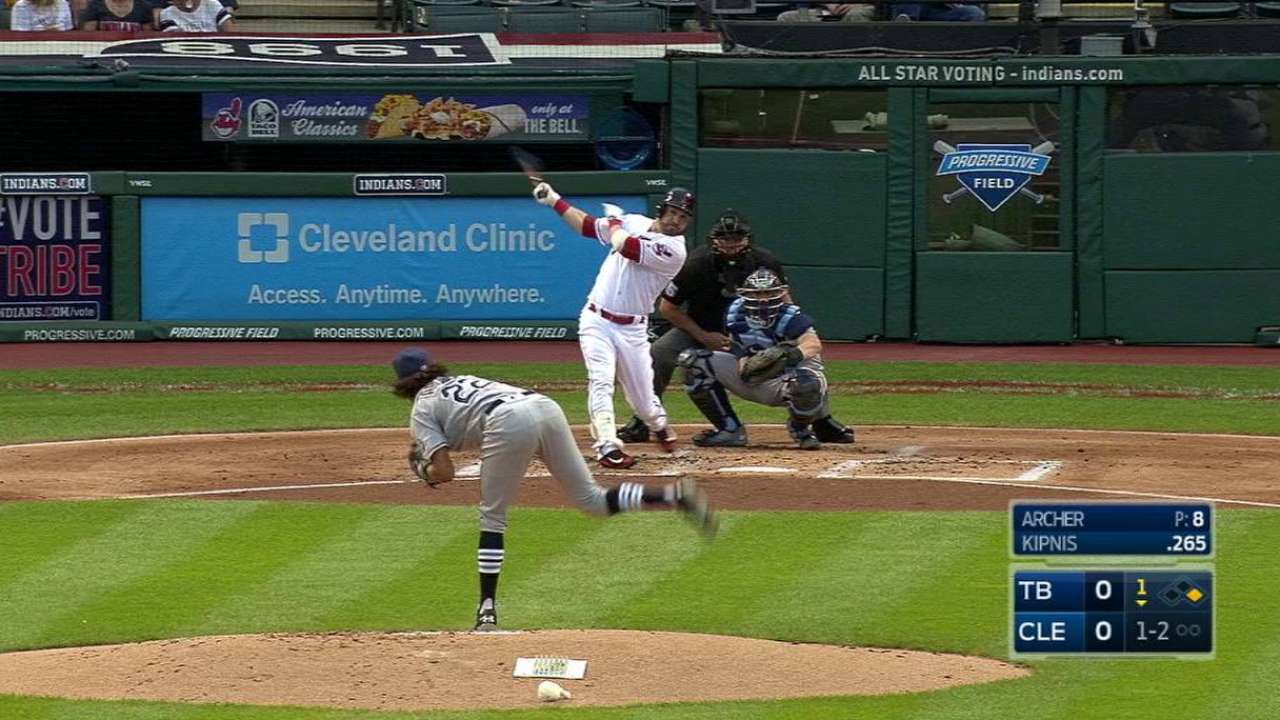 First-inning blues: Talk about Archer's first-inning troubles is beginning to sound like a broken record, but the problem won't go away. Archer allowed three runs on two hits and two walks in the first on Wednesday, moving his first-inning ERA to 10.69 for the season. More >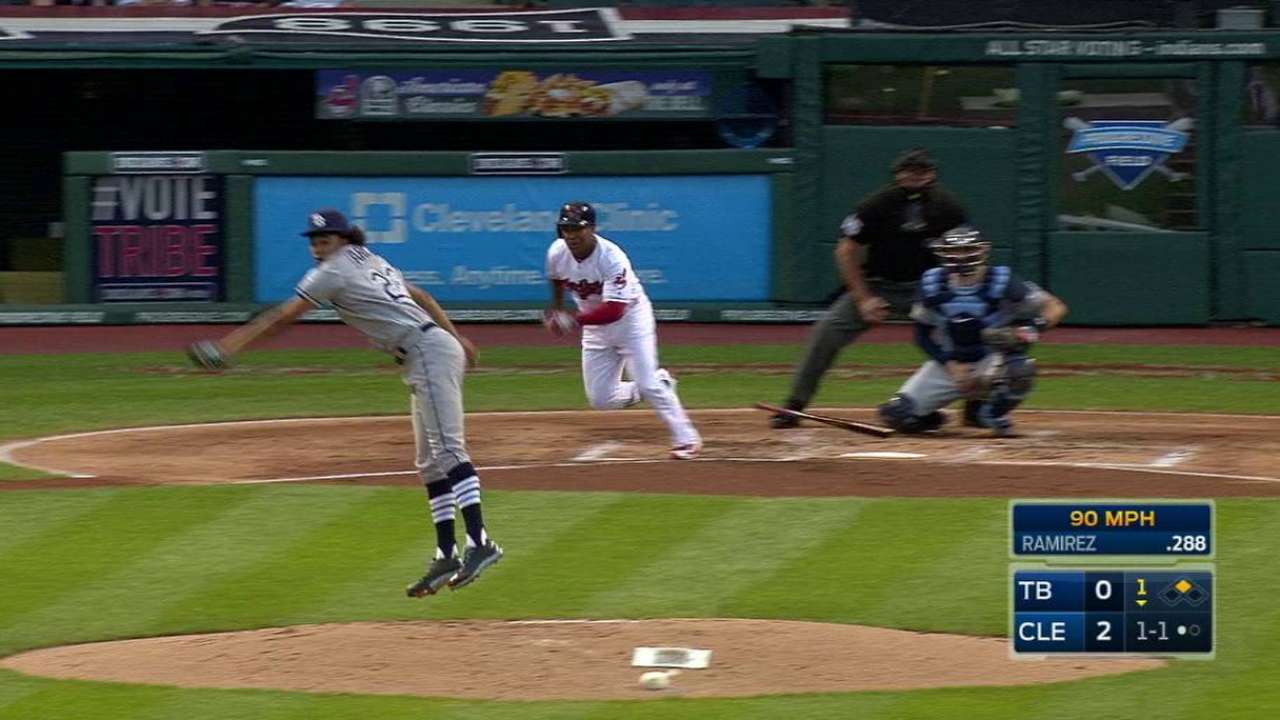 Frankie wizardry: Lindor flashed his glove in the seventh when he ranged to his right to snag a grounder from Dickerson. Brad Miller ended up scoring on the infield single, snapping an 18-inning scoreless drought for the Rays. But because Lindor kept the ball from going to the grass, he was able to throw out Logan Morrison, who was forced to retreat to third after initially looking to score.
"That was a heck of a play," Indians manager Terry Francona said. "It's 4-1. It's going to be 4-2. If you look back now, it's easy to forget. That was a nice play athletically to get there, and then to have the wherewithal [to throw it to third]. And then he kind of waited for [Juan] Uribe to get back there to make the play. That was a nice play."
Haunting RISP: The Rays were 1-for-2 with runners in scoring position on Wednesday night, which showed marked improvement over their recent results. In the Rays' previous seven games, they had gone 5-for-54 with runners in scoring position, which included a streak of 0-for-20 during the weekend series against the Giants. Sadly for the Rays, the tail end of Dickerson's hit that drove home a run in the seventh saw Morrison get thrown out retreating to third base. When you're in a funk, you're in a funk.
QUOTABLE
"It's nice to win at home, I can tell you that. Fans come out and support us. We had a really good crowd tonight. To hear the excitement of them getting loud in the ninth was really cool." -- Bauer, on the home streak
"I'm looking forward to it. ... If that helps us reset, that's a good word, because we probably do need to think about resetting some things." -- Cash, on the Rays having an off-day on Thursday
SOUND SMART WITH YOUR FRIENDS
The Indians tossed consecutive complete games with three or fewer hits for the first time since Aug. 21-22, 1977.
The Rays dropped their seventh consecutive game, tying a season-long losing streak. It was also the fourth time the team has gotten swept this season and the seventh time being swept in Cleveland in the team's history. At eight games under .500, the Rays have tied their low-water mark for the 2016 season.
WHAT'S NEXT
Rays: Matt Moore (3-4, 4.90 ERA) makes his 15th start as the Rays begin a four-game series against the Orioles at Oriole Park at Camden Yards beginning at 7:05 p.m. ET on Friday. Moore has gone at least six innings in three consecutive starts. He is 4-5 with a 3.84 ERA in 11 career appearances against Baltimore.
Indians: Right-hander Danny Salazar (8-3, 2.23 ERA) will take the mound for the Tribe in Friday's series opener against the Tigers at 7:10 p.m. ET at Comerica Park. This month, Salazar has a 3-0 record with a 1.77 ERA and 24 strikeouts in three starts. Opposing teams are hitting just .183 off him this season.
Watch every out-of-market regular-season game live on MLB.TV.
Shane Jackson is a reporter for MLB.com based in Cleveland.

Bill Chastain has covered the Rays for MLB.com since 2005.

This story was not subject to the approval of Major League Baseball or its clubs.