Davis losing playing time to surging Refsnyder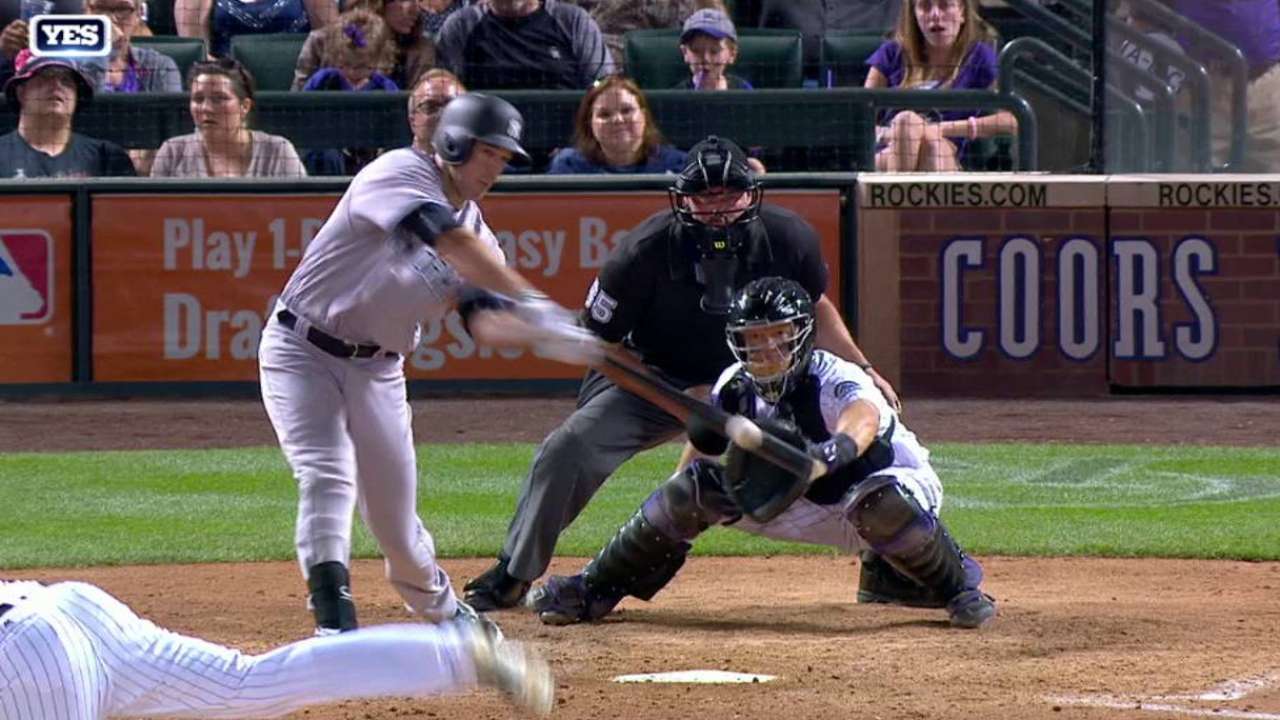 NEW YORK -- The Yankees signed Ike Davis with designs upon using a platoon at first base, but for the second straight game on Wednesday, manager Joe Girardi opted to start Rob Refsnyder at first base against a right-handed starter.
Girardi has been pleased with Refsnyder's play -- particularly his bat, as he entered Wednesday with eight hits in his last 17 at-bats. That has taken precedence over giving at-bats to the more experienced Davis, even though Davis hits from the left side of the plate.
"His at-bats have been good," Girardi said of Refsnyder. "I think he's an outstanding baserunner. You look at the things that he's done. He's moved up on balls in the dirt; the double yesterday. I just like the way that he's playing, and it's why I'm sticking with him right now."
Refsnyder's emergence, coupled with Mark Teixeira's ongoing rehab with Triple-A Scranton/Wilkes-Barre, could signal that time is running short for Davis to make an impact on the roster. Davis signed a $1.5 million contract with the Yanks on June 13, but is 3-for-14 in six games.
Teixeira went 0-for-3 with a sacrifice fly in the RailRiders' 9-2 victory over Toledo on Tuesday. He was expected to serve as the RailRiders' DH on Wednesday, then play first base again on Thursday. If all goes well, the Yankees have said they plan to activate Teixeira for Saturday's game against the Twins.
The 25-year-old Refsnyder -- the Yankees' No. 9 prospect, according to MLB Pipeline -- has been transitioned into something of a utility player. He has played first base, second base and right field at the big league level this year, and was also seeing duty at third base in the Minors.
"I think there were always some questions where he fit defensively," Girardi said. "I don't think they were ever looking at a bat that necessarily hit 30, 35 home runs. So it was kind of, 'OK, where do we fit him in?' And I think that's been part of it.
"I think people have felt that he's needed to improve on his defense at second base, and now that we're moving him around -- first, second and right -- he's getting more opportunities. I think his versatility has actually helped him."
Worth noting
• Jacoby Ellsbury reported that he felt better on Wednesday, one day after being held out of the lineup with flu-like symptoms.
Bryan Hoch has covered the Yankees for MLB.com since 2007. Follow him on Twitter @bryanhoch, on Facebook and read his MLBlog, Bombers Beat. This story was not subject to the approval of Major League Baseball or its clubs.