NL All-Star races to be decided in final days
Five Cubs in position to start; close totals at catcher, shortstop, outfield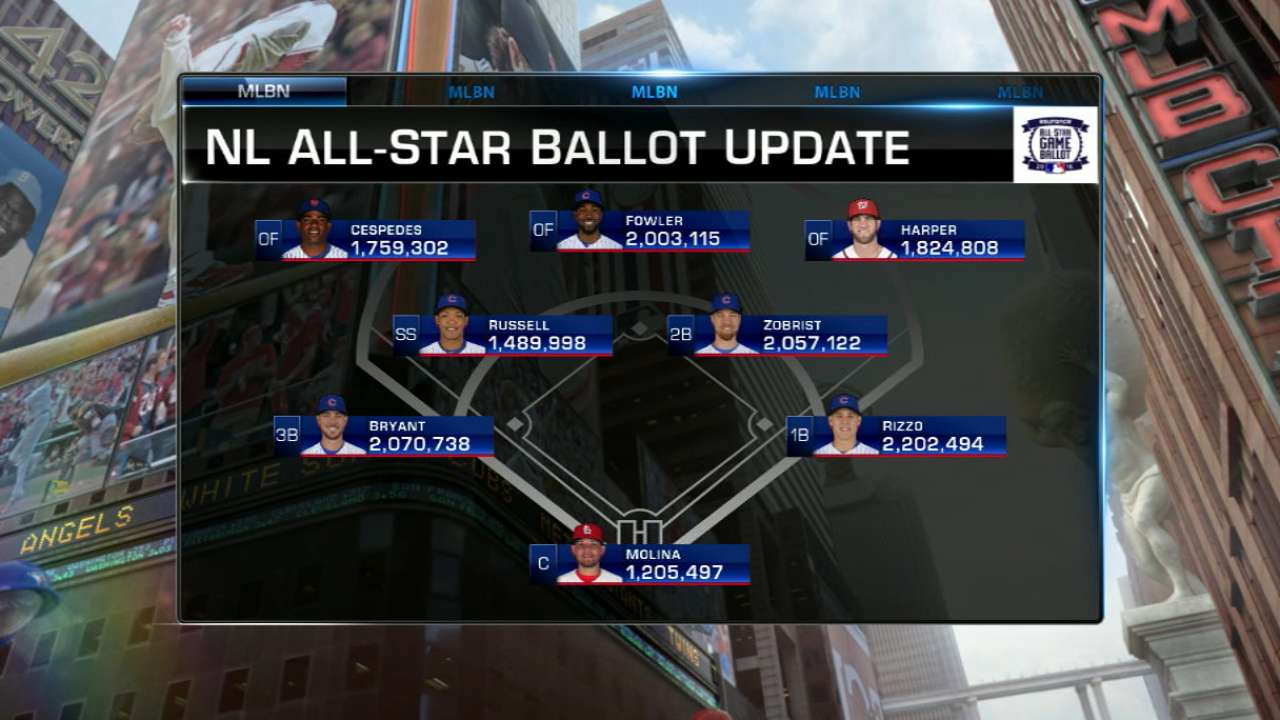 • Cast your Esurance All-Star Game Ballot for #ASGWorthy players
Fans can cast their votes for starters until 11:59 p.m. ET on June 30 at MLB.com and all 30 club sites -- on computers, tablets and smartphones -- exclusively online using the 2016 Esurance MLB All-Star Game Ballot. You can submit up to five ballots in any 24-hour period. In other words, Friday will be the last day that anyone with all 35 ballots still remaining can ensure they are all used up.
• American League All-Star voting update
Molina's lead over Buster Posey of the Giants tightened only slightly in the past week, with the margin now just 75,413 votes entering the heaviest voting volume of a campaign that started in late April. Molina and Posey have combined to win each of the past four and six of the past seven fan elections as the NL's starting catcher in the Midsummer Classic, and Molina is on track to extend his MLB-leading active streak of seven straight selections.
Keep an eye on Washington's Wilson Ramos, though, because he actually outvoted both of those catchers since last week's update. Ramos -- whose slash line of .333/380/.549 and his .929 OPS lead all NL backstops -- drew 298,882 votes this past week, compared to 274,071 for Posey and 272,197 for Molina. Is there enough time to truly enter the mix?
The left side of the infield is still a matter of Cubs holding off Rockies.
Russell, who extended his lead from 282,041 votes last week to 379,996 now, is bidding to join Don Kessinger as the only Cubs shortstops to earn a fan-elected start. Kessinger won in 1970, the year voting returned to the fans, as well as in '72. It's a battle of rookies behind Russell, as Colorado's Trevor Story is still in second place but drew fewer votes in the past week than Corey Seager of the Dodgers. Seager leapfrogged Brandon Crawford of the rival Giants for third place.
It's Bryant and Nolan Arenado of the Rockies in the homestretch at third base, with both looking for a second consecutive All-Star selection. Like Russell, Bryant extended his lead in the past week, growing his margin from 463,376 to 527,223. Bryant, who could join Hall of Famer Ron Santo (1973) as the only Cubs third baseman to earn a fan election, entered Wednesday hitting .270 with 17 home runs, 48 RBIs, 16 doubles and an NL-best 52 runs. Arenado holds the Major League lead with 21 homers and leads the NL with 60 RBIs, to say nothing of his .995 fielding percentage that leads all NL third basemen.
At second base, arguably the deepest position on the overall ballot, Joe Panik of the Giants overtook Neil Walker of the Mets for third place but it looks like a two-horse race between a pair of All-Star and World Series veterans each currently in his first year with a new team. Zobrist leads Daniel Murphy of the Nationals by 483,232 votes, up about 5,000 from a week ago. Murphy still leads the Majors in batting and OPS+, but Zobrist is an on-base machine for the runaway NL Central leaders and tops all NL second basemen with 48 runs scored.
Fowler was placed on the 15-day disabled list by the Cubs on Monday because of a strained right hamstring, so it remains to be seen whether that might impact his voting support in the final days. He is still on track to give the Cubs five starting position players at Petco Park.
Milwaukee's Ryan Braun has a history of making late All-Star voting surges, and as of now he is close behind fourth-place Jason Heyward of the Cubs in the outfield. Braun returned to left field this season after two seasons in right, and entering Wednesday he had no errors and is tied for the MLB outfield lead with eight assists. Meanwhile, he is hitting .319 and leading all NL left fielders with a .917 OPS.
The Cubs have all four of the top vote-getters on the NL side so far -- led by Rizzo and followed in order by Bryant, Zobrist and Fowler.
The NL All-Star team will have eight fan-elected starters via the fan balloting program, while the AL All-Star team will have nine fan-elected starters (including a designated hitter). Pitchers and reserves for both squads -- totaling 25 for the NL and 24 for the AL -- will be determined through a combination of Player Ballot choices and selections made by the two All-Star managers, Ned Yost from the Royals and Terry Collins from the Mets.
Fans may also receive the ballot by texting VOTE to 89269 (USA) or 101010 (Canada). Or text VOTA for a ballot in Spanish. Message and data rates may apply. Up to five messages. No purchase required. Reply STOP to cancel. Reply HELP for info.
Following the announcement of the 2016 All-Stars, be sure to return to MLB.com and cast your 2016 Esurance MLB All-Star Game Final Vote for the final player on each league's All-Star roster. On Tuesday, July 12, watch the 2016 All-Star Game presented by MasterCard live on FOX, and during the game visit MLB.com to submit your choice for the Ted Williams Most Valuable Player Award presented by Chevrolet via the 2016 MLB All-Star Game MVP Vote.
The 87th All-Star Game, in San Diego, will be televised nationally by FOX, in Canada by Rogers Sportsnet and RDS, and worldwide by partners in more than 160 countries via MLB International's independent feed. ESPN Radio and ESPN Radio Deportes will provide national radio coverage of the All-Star Game. MLB.com, MLB Network and SiriusXM will also provide comprehensive All-Star Week coverage. For more information, please visit allstargame.com.
NATIONAL LEAGUE ALL-STAR BALLOTING LEADERS
CATCHER
1. Yadier Molina, Cardinals: 1,205,497
2. Buster Posey, Giants: 1,130,084
3. Wilson Ramos, Nationals: 899,063
4. Miguel Montero, Cubs: 733,945
5. Jonathan Lucroy, Brewers: 618,896
FIRST BASE
1. Anthony Rizzo, Cubs: 2,202,494
2. Brandon Belt, Giants: 839,188
3. Paul Goldschmidt, D-backs: 681,773
4. Adrian Gonzalez, Dodgers: 577,666
5. Brandon Moss, Cardinals: 357,903
SECOND BASE
1. Ben Zobrist, Cubs: 2,057,122
2. Daniel Murphy, Nationals: 1,573,890
3. Joe Panik, Giants: 517,480
4. Neil Walker, Mets: 434,604
5. Josh Harrison, Pirates: 376,549
THIRD BASE
1. Kris Bryant, Cubs: 2,070,738
2. Nolan Arenado, Rockies: 1,543,515
3. Matt Carpenter, Cardinals: 606,986
4. Matt Duffy, Giants: 459,153
5. David Wright, Mets: 313,671
SHORTSTOP
1. Addison Russell, Cubs: 1,489,998
2. Trevor Story, Rockies: 1,110,002
3. Corey Seager, Dodgers: 703,230
4. Brandon Crawford, Giants: 692,640
5. Zack Cozart, Reds: 449,278
OUTFIELD
1. Dexter Fowler, Cubs: 2,003,115
2. Bryce Harper, Nationals: 1,824,808
3. Yoenis Cespedes, Mets: 1,759,302
4. Jason Heyward, Cubs: 1,271,107
5. Ryan Braun, Brewers: 1,045,953
6. Jorge Soler, Cubs: 859,654
7. Carlos Gonzalez, Rockies: 780,290
8. Andrew McCutchen, Pirates: 673,640
9. Starling Marte, Pirates: 667,096
10. Stephen Piscotty, Cardinals: 584,807
11. Hunter Pence, Giants: 572,806
12. Matt Holliday, Cardinals: 481,454
13. Charlie Blackmon, Rockies: 442,459
14. Gregory Polanco, Pirates: 400,353
15. Angel Pagan, Giants: 378,731
Mark Newman is enterprise editor of MLB.com. Read and join other baseball fans on his MLB.com community blog. This story was not subject to the approval of Major League Baseball or its clubs.