Roark tips hat after strong start goes south
Nats' offense offers little support, finishing 1-for-10 with RISP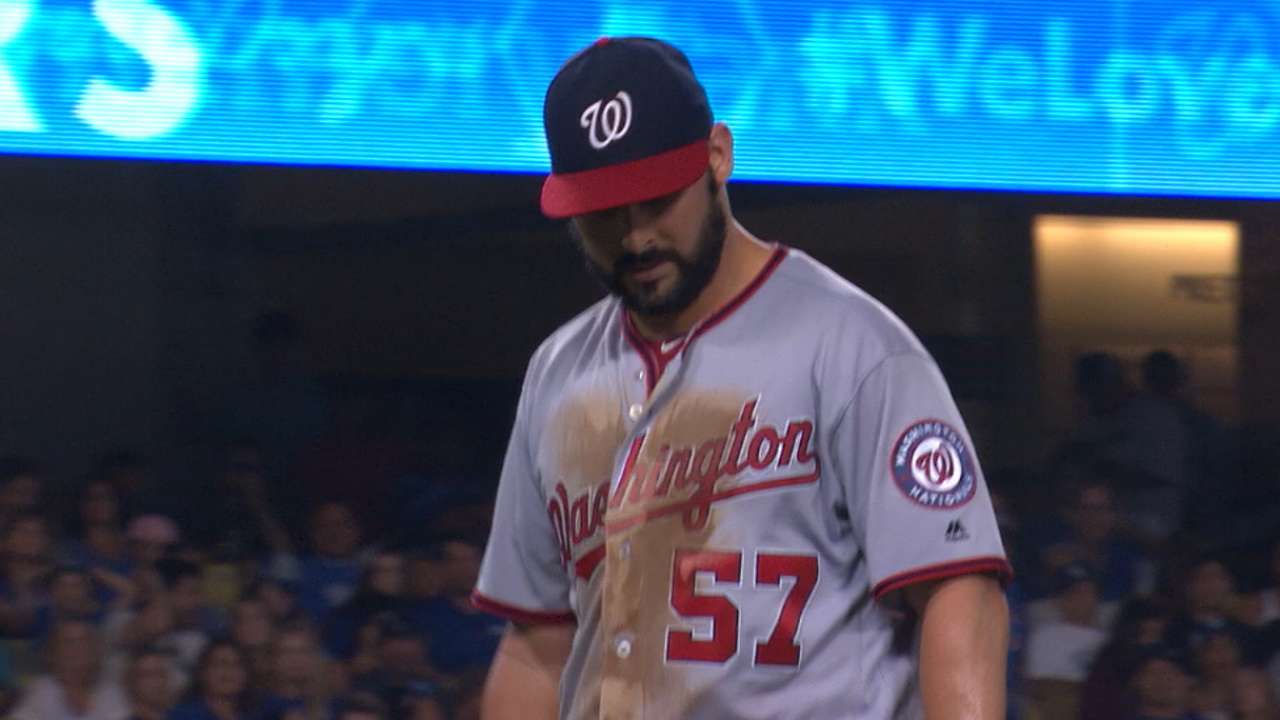 LOS ANGELES -- Through the first seven innings Tuesday night against the Dodgers, Nationals right-hander Tanner Roark was putting together one of his best performances of the season.
He generated weak ground-ball outs. He located his pitches on the corners for called strikes. He worked efficiently and maintained a quick rhythm. But with two on in the eighth inning, Roark threw a fastball that caught too much of the plate against Dodgers catcher Yasmani Grandal, who hammered it over the wall in center field for a three-run homer to lead the Dodgers to a 3-2 victory.
"Bad execution on the pitch," Roark said. "Nothing you can do, tip your hat."
Still, it would have been hard to fault Nationals manager Dusty Baker for sticking with Roark up until that point.
Roark needed just 81 pitches through the first seven innings and had not yet completed his third time through the Dodgers' lineup. The Nats' bullpen had been taxed the past few days and a few relievers could have used a break. Not to mention the fact that Grandal began the game hitting .180/.303/.333 with just one homer in June.
"Shoot, [Roark] only had fewer than 100 pitches at that time," Baker said. "So you know Tanner, he wasn't tired. It wasn't hot. He just made a mistake and we didn't hit with runners in scoring position."
The home run spoiled an otherwise strong outing from Roark. He allowed three runs on six hits with five strikeouts and one walk in 7 1/3 innings.
And the Nationals' offense provided little help for its starter. The Nationals hammered 11 hits and took two walks and yet their only runs came via solo home runs from Bryce Harper and Danny Espinosa. The Nationals had opportunities for more offense, but went 1-for-10 with runners in scoring position.
"It's good that we generated them," Espinosa said. "It's not easy to hit with runners in scoring position. Pitchers really bear down. It's not an easy job. But to see the hits stack up, that's a good sign."
Baker added: "You just think, put some more out there and we'll get them in. We had runners in scoring position the first four innings or something like that. We just couldn't get the hit."
Jamal Collier covers the Nationals for MLB.com. Follow him on Twitter at @jamalcollier. This story was not subject to the approval of Major League Baseball or its clubs.