Tigers find way to pull out win in close game
Club had been 0-8 when trailing after six innings, 3-5 when tied after seven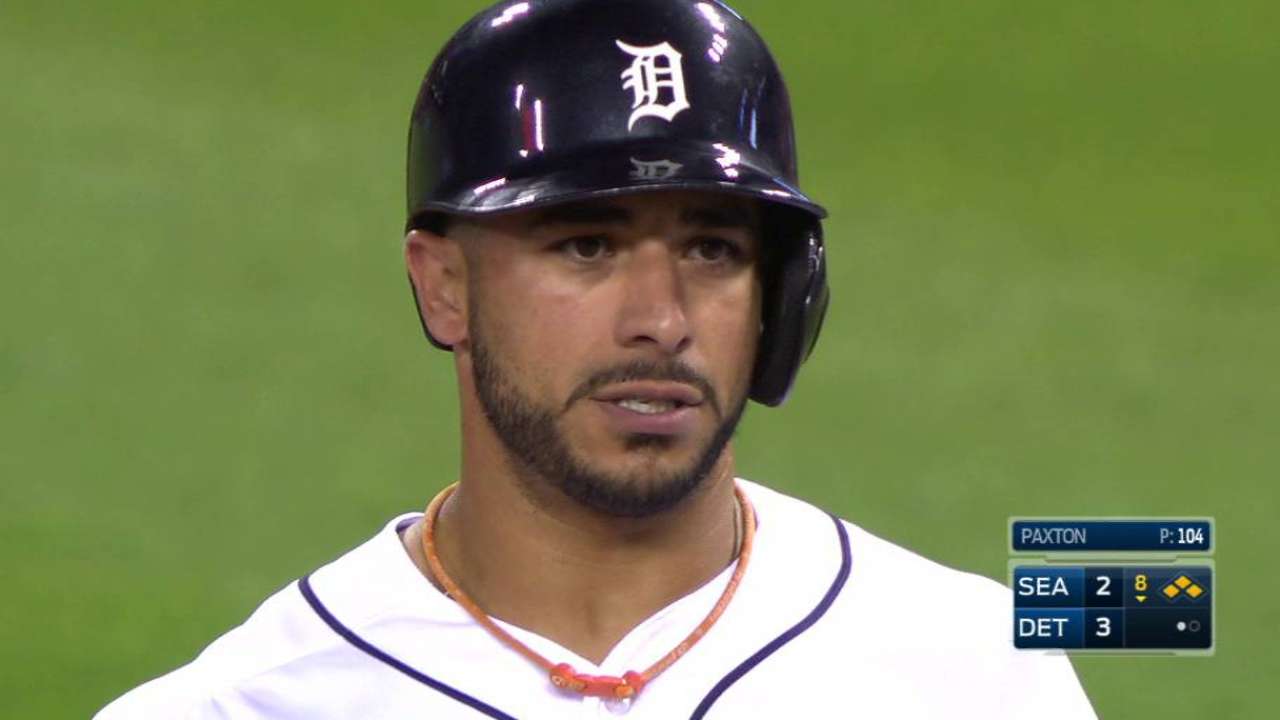 DETROIT -- The first two-strike pitch Mariners starter James Paxton gave Mike Aviles before his go-ahead single was a cutter on the outside corner, which Aviles fouled off. Paxton followed it by daring Aviles to hit a 100-mph fastball over the plate.
It was Paxton's 103rd pitch. Aviles fouled that off, too.
"Paxton, even with 110 pitches, was still throwing 100 mph," manager Brad Ausmus marveled after the Tigers' 4-2 win. "But Aviles had an excellent at-bat. It doesn't always have to be pretty, but we say it a lot in baseball: You have to find a way to get it done. And he did."
He did it on a 99-mph heater off the plate. Catcher Chris Iannetta was reaching across his body for it when Aviles swung and connected with the end of his bat.
"That's just baseball," Paxton said. "I made the pitch I wanted, and normally that's a great result, but it turns into a terrible outcome for us."
The ball traveled halfway down the first-base line. Andrew Romine traveled all the way home from third. Aviles was safe at first.
"That was a great pitch," Mariners manager Scott Servais said, "and Aviles just hit a dribbler into the perfect spot. There's nothing you can do."
It was the kind of positive outcome the Tigers have needed in close games all season. They were 0-8 until Tuesday when trailing after six innings and 3-5 when tied after seven.
They won a back-and-forth battle with Seattle on home runs Monday. This time, on a night when Kyle Seager's two-run homer off Justin Verlander accounted for all the Mariners' scoring, the Tigers plated three of their four runs on singles.
Nick Castellanos' eighth-inning double to the wall in right-center was the Tigers' only extra-base hit, and it didn't score a run. All it did was move Victor Martinez -- whose one-out single started the rally -- from first to third, setting up a sacrifice-fly situation and a second consecutive night for Ausmus to decide whether to lift one of his big bats for a pinch-runner.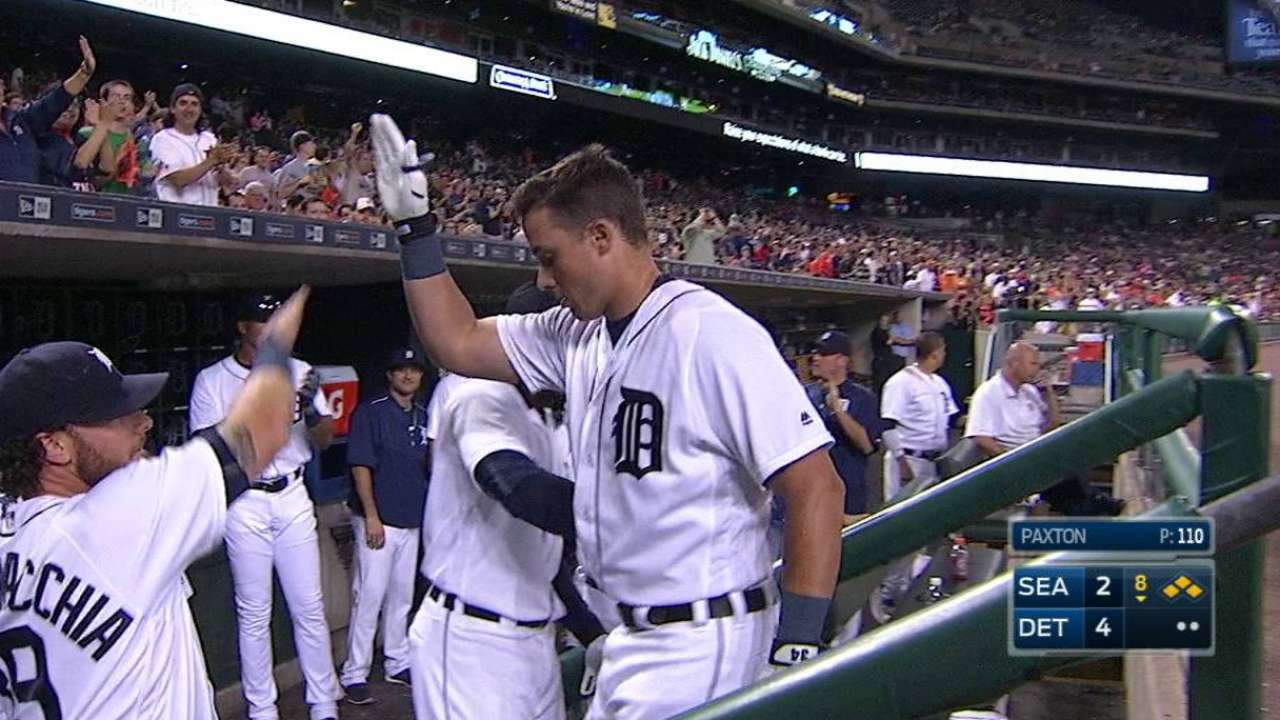 "It's a tough decision," Ausmus said. "If it was the ninth inning, I probably would've run for him at first. But in the eighth inning, just looking at the lineup, he could've come back up in the ninth in a tie game, bases loaded, and I still want his bat there. If he had gotten to second in the eighth inning, I would've run for him. Obviously [I did] at third.
"It's a tough decision. It really is."
He did it knowing the Mariners would walk Monday's hero, Justin Upton, and set up an out at every base. He would take his chances with Aviles, who got the start over rookie slugger Steven Moya as a right-handed bat against the lefty Paxton.
"This time," Ausmus said, "our offense found a way."
Jason Beck has covered the Tigers for MLB.com since 2002. Read Beck's Blog, follow him on Twitter @beckjason and listen to his podcast. This story was not subject to the approval of Major League Baseball or its clubs.