Betts takes lead in 4-way charge for third OF spot in AL
Red Sox right fielder, Trumbo, Cain, Bautista separated by about 133,000 votes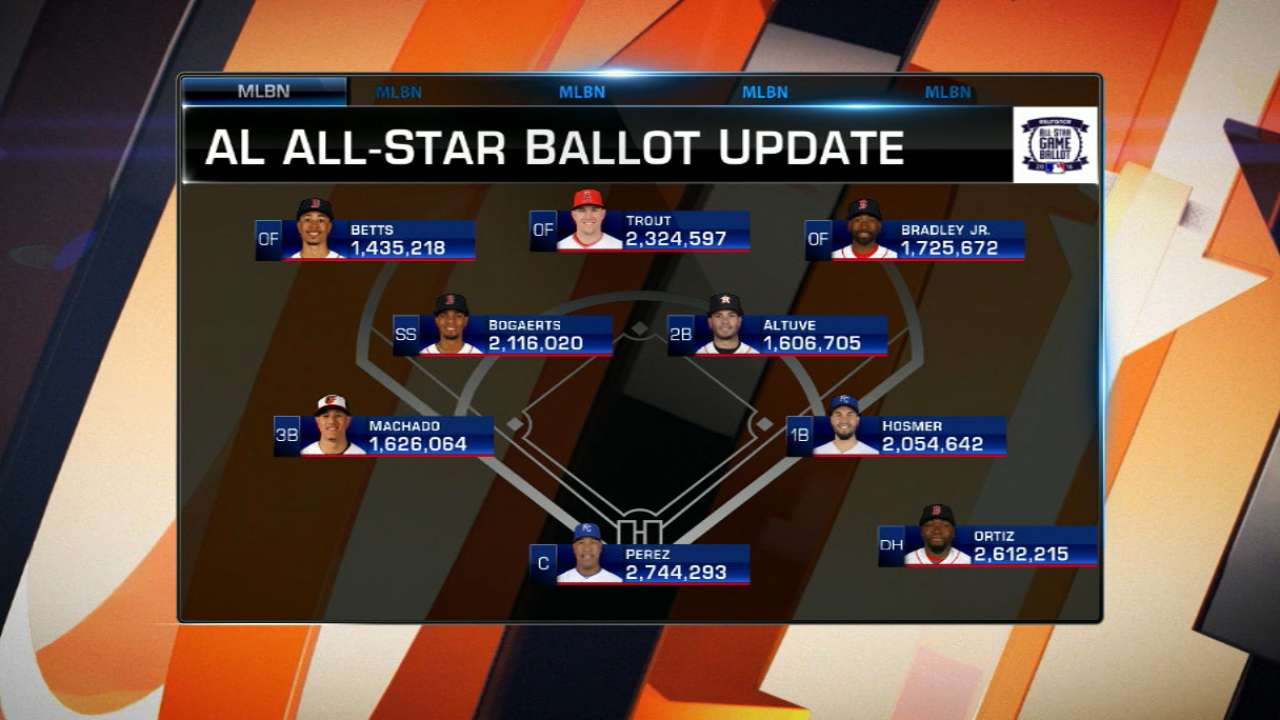 Mookie Betts of the Red Sox has moved into the third starting American League outfield spot as that race tightened in the past week, and the Blue Jays' Jose Bautista is also making a big charge despite going on the disabled list with an injured right big toe, as a mere 133,097 votes separate four candidates for that final spot as we hit the homestretch of the 2016 Esurance MLB All-Star Game Ballot.
Mike Trout of the Angels (2,324,597 votes) and Jackie Bradley Jr. of the Red Sox (1,725,672) continue to hold the first two outfield spots in the latest AL update announced on Tuesday by Major League Baseball. They are now joined by Betts (1,435,218), the R.B.I. 16 cover player, as only nine days remain to use up those 35 allotted ballot submissions and help decide starters for the 87th All-Star Game presented by MasterCard on July 12 at Petco Park in San Diego.
• Cast your Esurance All-Star Ballot for #ASGWorthy players
It could be one of the most compelling finishes in recent All-Star balloting history. Consider these vote totals in just the past week: Trout (511,866), Bradley Jr. (402,743), Betts (365,306), Bautista (345,961), Mark Trumbo of the Orioles (297,475) and Lorenzo Cain of the Royals (256,732). Cain not only fell out of the starting outfield positioning for the first time in this past month of weekly updates, but also dropped behind Trumbo, who remains in fourth.
• National League All-Star voting update
Salvador Perez of the Royals remains the top AL vote-getter with 2,744,293 votes at catcher, and other leaders include his teammate Eric Hosmer (2,054,642) at first base, Jose Altuve of the Astros (1,606,705) at second base, Manny Machado of the Orioles (1,626,064) at third base, Xander Bogaerts of the Red Sox (2,116,020) at shortstop, and Boston's David Ortiz -- in line for his 10th and final selection -- with 2,612,215 votes at designated hitter. National League leaders will be announced on Wednesday.
Fans can cast their votes for starters at MLB.com and all 30 club sites -- on computers, tablets and smartphones -- exclusively online using the 2016 Esurance MLB All-Star Game Ballot. You can submit up to five ballots in any 24-hour period. So once Friday arrives, it will be the last day that anyone with all 35 ballots remaining can ensure they are all used before the voting closes at 11:59 p.m. ET on June 30.
Considering the historic volume of voting that typically occurs in the final week of professional sports' largest All-Star balloting program, anything is possible in the outfield race. Bautista is tied with Detroit first baseman Miguel Cabrera for the longest active AL All-Star selection streak at six.
Prior to Monday's game against the White Sox, in which he went hitless, Betts had reached base in 20 straight games, batting .356 (31-for-87) with five doubles, a triple, six home runs, 15 RBIs, 20 runs and a 1.056 OPS. Betts leads the Majors with 61 runs and tops all leadoff hitters in homers (15), RBIs, hits, extra-base hits and total bases (157).
He and Bradley are bidding to become the first pair of Red Sox outfielders to earn fan-elected starting assignments since Johnny Damon and Manny Ramirez in 2005.
Bautista's Toronto teammate, Josh Donaldson, moved past Kansas City's Mike Moustakas (out for the season) for second place behind Machado at third base. Donaldson was just named AL Player of the Week after batting .444 (12-for-27) with 11 runs scored, four doubles, a triple, three homers and nine RBIs over seven games. Machado had 179,443 more votes than Donaldson after the Week 1 update, 309,578 more after Week 2, 479,611 more last week, and now has 513,318 more in the fourth update.
The AL All-Star team will have nine elected starters via the fan balloting program, while the NL All-Star team will have eight fan-elected starters. Pitchers and reserves for both squads -- totaling 25 for the NL and 24 for the AL -- will be determined through a combination of Player Ballot choices and selections made by the two All-Star managers, Ned Yost of the Royals and Terry Collins of the Mets.
Fans may also receive the ballot by texting VOTE to 89269 (USA) or 101010 (Canada). Or text VOTA for a ballot in Spanish. Message and data rates may apply. Up to five messages. No purchase required. Reply STOP to cancel. Reply HELP for info.
Following the announcement of the 2016 All-Stars, be sure to return to MLB.com and cast your 2016 Esurance MLB All-Star Game Final Vote for the final player on each league's All-Star roster. On Tuesday, July 12, watch the 2016 All-Star Game presented by MasterCard live on FOX, and during the game visit MLB.com to submit your choice for the Ted Williams Most Valuable Player Award presented by Chevrolet via the 2016 MLB All-Star Game MVP Vote.
The 87th All-Star Game, in San Diego, will be televised nationally by FOX, in Canada by Rogers Sportsnet and RDS, and worldwide by partners in more than 160 countries via MLB International's independent feed. ESPN Radio and ESPN Radio Deportes will provide national radio coverage of the All-Star Game. MLB.com, MLB Network and SiriusXM will also provide comprehensive All-Star Week coverage. For more information, please visit allstargame.com.
AMERICAN LEAGUE ALL-STAR BALLOTING LEADERS
CATCHER
1. Salvador Perez, Royals: 2,744,293
2. Matt Wieters, Orioles: 807,958
3. Russell Martin, Blue Jays: 672,466
4. Brian McCann, Yankees: 506,781
5. Blake Swihart, Red Sox: 353,901
FIRST BASE
1. Eric Hosmer, Royals: 2,054,642
2. Miguel Cabrera, Tigers: 1,481,445
3. Chris Davis, Orioles: 724,788
4. Hanley Ramirez, Red Sox: 642,754
5. Justin Smoak, Blue Jays: 523,900
SECOND BASE
1. Jose Altuve, Astros: 1,606,705
2. Robinson Cano, Mariners: 1,004,620
3. Dustin Pedroia, Red Sox: 868,746
4. Omar Infante, Royals: 807,443
5. Ian Kinsler, Tigers: 553,205
THIRD BASE
1. Manny Machado, Orioles: 1,626,064
2. Josh Donaldson, Blue Jays: 1,112,743
3. Mike Moustakas, Royals: 943,582
4. Adrian Beltre, Rangers: 765,268
5. Nick Castellanos, Tigers: 619,547
SHORTSTOP
1. Xander Bogaerts, Red Sox: 2,116,020
2. Alcides Escobar, Royals: 1,150,576
3. Troy Tulowitzki, Blue Jays: 814,544
4. Elvis Andrus, Rangers: 642,180
5. Carlos Correa, Astros: 552,670
OUTFIELD
1. Mike Trout, Angels: 2,324,597
2. Jackie Bradley Jr., Red Sox: 1,725,672
3. Mookie Betts, Red Sox: 1,435,218
4. Mark Trumbo, Orioles: 1,408,195
5. Lorenzo Cain, Royals: 1,403,617
6. Jose Bautista, Blue Jays: 1,302,121
7. Alex Gordon, Royals: 938,759
8. Paulo Orlando, Royals: 804,904
9. Ian Desmond, Rangers: 688,464
10. Carlos Beltran, Yankees: 654,659
11. Kevin Pillar, Blue Jays: 635,801
12. Michael Saunders, Blue Jays: 573,229
13. Adam Jones, Orioles: 531,790
14. Melky Cabrera, White Sox: 436,974
15. J.D. Martinez, Tigers: 379,731
DESIGNATED HITTER
1. David Ortiz, Red Sox: 2,612,215
2. Kendrys Morales, Royals: 861,030
3. Edwin Encarnacion, Blue Jays: 756,672
4. Victor Martinez, Tigers: 651,191
5. Nelson Cruz, Mariners: 634,210
Mark Newman is enterprise editor of MLB.com. Read and join other baseball fans on his MLB.com community blog. This story was not subject to the approval of Major League Baseball or its clubs.