Manfred honored at Harlem RBI event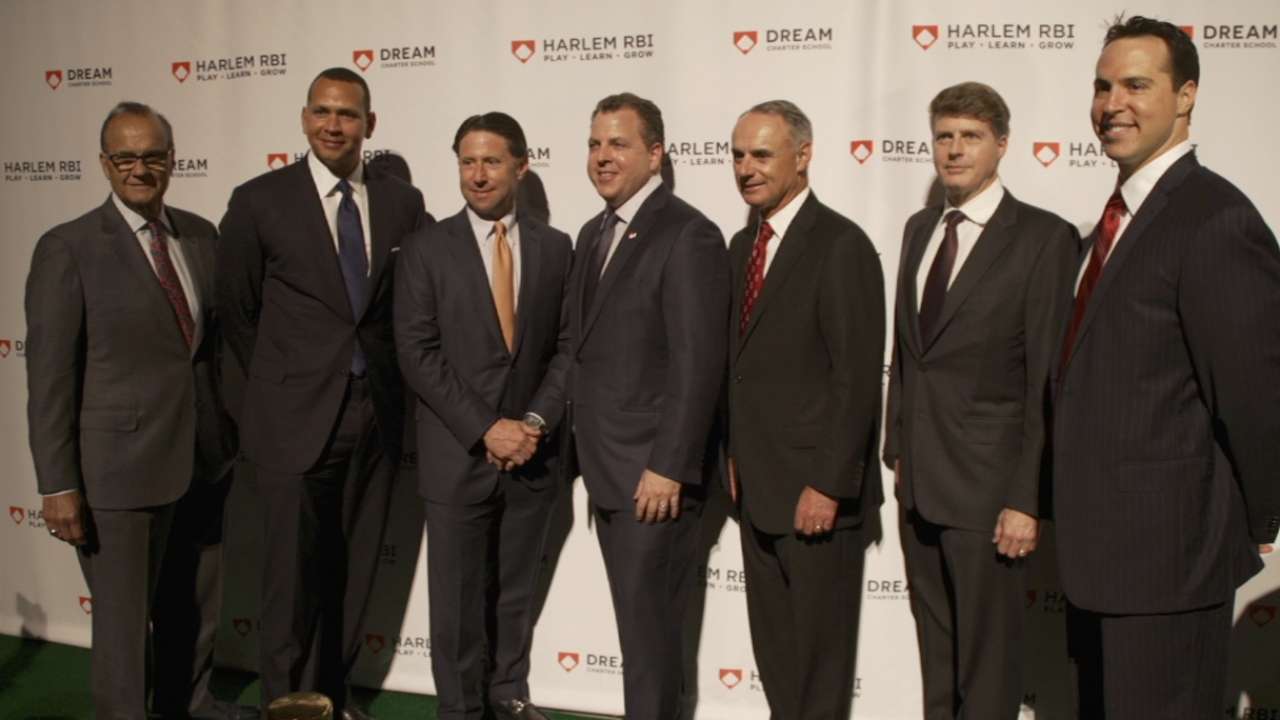 NEW YORK -- It's not just baseball. That point was made repeatedly on Monday night at a fundraiser celebrating the 25th anniversary of the Harlem Reviving Baseball in Inner Cities (RBI) program.
The "Bids for Kids" event raised $5 million for RBI programming and for the Dream Charter School.
Commissioner Rob Manfred, who has stressed youth initiatives since taking office in January 2015, was honored for Major League Baseball's contributions to the program. And a long list of luminaries -- including Yankees owner Hal Steinbrenner, Mets COO Jeff Wilpon, Yankees stars Alex Rodriguez and Mark Teixeira, and Hall of Fame manager Joe Torre -- were on hand both to recognize Manfred's efforts and to support the program.
"It is a tremendous honor to be recognized by Harlem RBI. They are a model organization within our Reviving Baseball in Inner Cities program that places a major emphasis on education and character development," said Manfred. "They have made a positive impact in the lives of thousands of young people who love our game."
RBI is an MLB youth outreach program designed to increase participation and interest in baseball and softball among underserved youth, encourage academic participation and achievement, increase the number of talented athletes prepared to play in college and the Minor Leagues, promote greater inclusion of minorities into the mainstream of the game and teach the value of teamwork.
Manfred was reminded of how effective the Harlem RBI program has been when he was on site recently.
"It's the quality and depth of their program," Manfred said. "They teach the game to kids the right way. They teach baseball values. Teamwork. Perseverance. They have a tremendous focus on education. I visited their charter school last week. They just do a phenomenal job. And the best testament to that is the number of Harlem RBI alums that you see when you go visit that school."
Torre, now MLB's chief baseball officer, became aware of Harlem RBI when he managed the Yankees.
"They do a great job," Torre said. "I know the Commissioner; since he took over about a year and a half ago, one of the first things he really put a spotlight on was young people. Because if we're going to have baseball fans years down the road, they're going to have to understand the game. Whether they're just getting a chance to watch it or play it. And it's going to serve them well, because it's an enjoyable game when you know what you're looking at."
Torre also recognizes that's only part of what makes the emphasis on youth so crucial.
"Education is a big part of it," he said, "and having somebody put an arm around their shoulder and care about what their future looks like. To me that's the name of the game. And if we can use our experience and our celebrity of baseball to get a young person's attention, it's worth anything you have to do to get that."
Steinbrenner noted how Harlem RBI has grown.
"It started with a small little office, and now you go there and you see the Dream [Charter] School, the charter school and the facility they built right where that original baseball field was, and it's a tremendous complex now," Steinbrenner said. "We've come a long ways. It's all about the betterment of young boys and girls, whether it's Harlem RBI or Boys & Girls Club or any other organization that gives these kids the kind of life skills that, if they just work hard, will allow them to be successful and eventually be contributors to this country.
"There's a lot of competition out there. There are a lot of other sports. But baseball is still right up there as far as kids and Little League and programs like that. We all played it. Rob has taken on a lot of initiatives, but there are several youth initiatives. He's been tremendous, and that's going to continue so we can keep kids interested all through life. That's the key."
Added Rodriguez: "I've been involved in the Harlem RBI in the past, and I'm especially excited to be involved in the Bronx. A lot of these kids grow up in the shadow of Yankee Stadium. And I want them to have more than just a view of a great stadium. I want baseball to be a part of their lives. And I think with RBI and our partnership, they're going to get more of that.
"The main mission for baseball is to recruit the youngsters. I started playing baseball when I was 3 or 4 years old. My father taught me. Once we get kids involved in baseball, they'll find out they don't want to play another sport. I'm very biased, but I think getting them engaged early is very important.
"I think we have the leadership. I'm going to make the prediction that in the next five or 10 years, baseball is going to be No. 1 again. I really feel that way. Already Rob and [MLB Chief Operating Officer] Tony Petitti have made some incredible movement forward."
Paul Hagen is a reporter for MLB.com. This story was not subject to the approval of Major League Baseball or its clubs.