Bullpen of the Week: Marlins reel in outs
Miami relievers keep team in the NL East hunt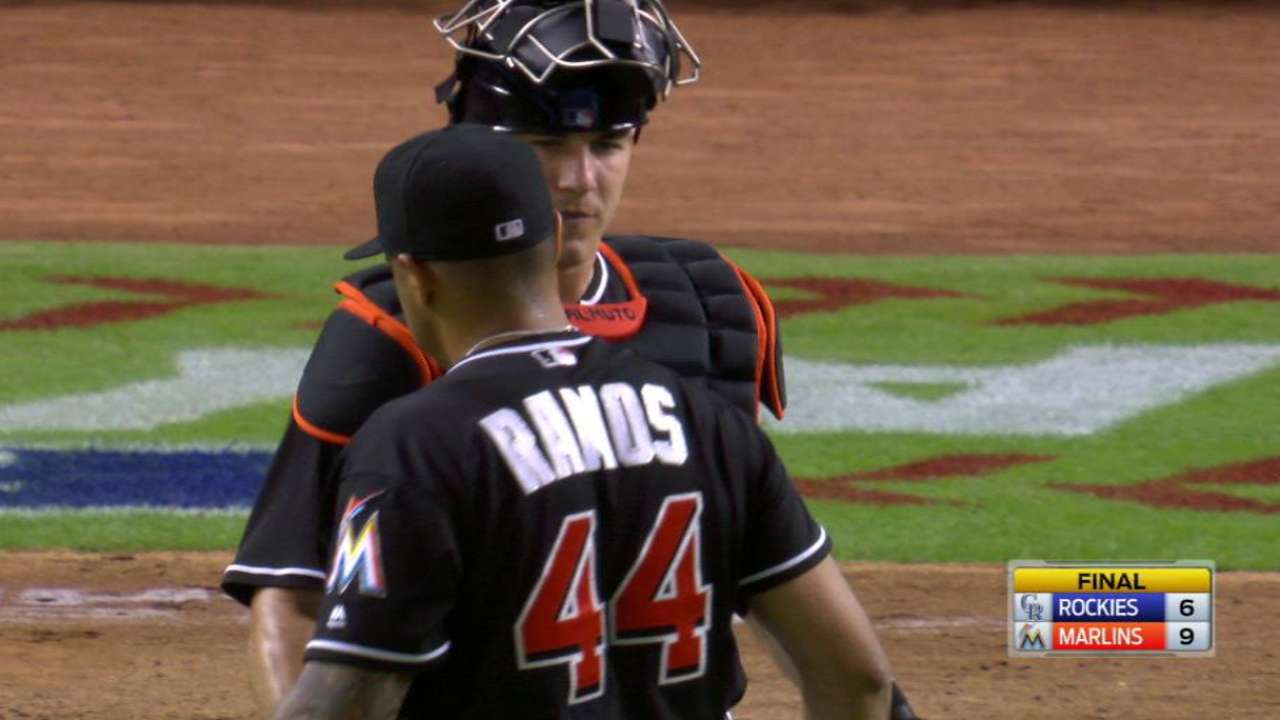 Few prognosticators would have expected the Miami Marlins to hold sole possession of second place in the National League East 11 weeks into the season.
The Marlins' strong bullpen has been a major reason for them staying afloat. Marlins relievers certainly proved that this week, when they allowed just one earned run in 22 1/3 innings of work and helped the team win five of six games. A performance like that made Miami's relievers worthy of the Bullpen of the Week Award presented by The Hartford.
BULLPEN OF THE WEEK WINNERS
As part of the MLB Prevailing Moments program, each Monday throughout the 2016 season, MLB.com is honoring the "Bullpen of the Week presented by The Hartford." An industry-wide panel of MLB experts, including legendary stats guru Bill James, constructed a metric based on James' widely renowned game-score formula, to provide a weekly measurement of team-bullpen performance.
Here's how the Bullpen Rating System is compiled for each week. For reference, a weekly score of 100 is considered outstanding:
• Add 1.5 points for each out recorded
• Add 1.5 points for each strikeout
• Add 5 points for a save
• Subtract 2 points for each hit allowed
• Subtract 4 points for each earned run allowed
• Subtract 2 points for each unearned run allowed
• Subtract 1 point for each walk
• Subtract 5 points for a blown save
The Marlins' bullpen ran away from the rest of the pack, scoring 131 points while striking out 23 batters and allowing just five walks and five hits this past week. Closer A.J. Ramos was particularly stellar, allowing just one hit while collecting three scoreless saves and tying the Mets' Jeurys Familia for the Major League lead with 22.
Miami's bullpen displayed an ability to withstand adversity and succeed despite unexpected circumstances. Here's a look at their biggest obstacle:
The unexpected: Starter Wei-Yin Chen's struggles continued Saturday against the Rockies, when he allowed six earned runs on seven hits and two walks within the first 17 batters he faced. After just 2 1/3 innings, Chen's day was done.
Miami's bullpen, which came on in the sixth inning in the team's win the day before, was now charged with getting the final 20 outs of the game down 6-3.
How they prevailed: A combination of five Marlins relievers shut down the Rockies' potent lineup, allowing just two walks and one hit over the final 6 2/3 innings of the game. Right-hander Dustin McGowan worked 2 2/3 scoreless frames to earn his first win since April 11, 2015, Mike Dunn, Kyle Barraclough and David Phelps each earned a hold and Ramos struck out two batters in a scoreless ninth. Ramos has now converted 30 consecutive save opportunities dating back to last season.
Bolstered by their bullpen, the Marlins' offense roared back with two runs in the third inning and four more in the fifth to secure the 9-6 come-from-behind win.
The Los Angeles Dodgers placed second in the BRS standings this week with 95 points. The Dodgers' bullpen is boasting a 3.08 ERA on the season, passing the Mets on Sunday for the lowest bullpen ERA in the NL.
Matt Kelly is a reporter for MLB.com based in New York. Follow him on Twitter at @mattkellyMLB. This story was not subject to the approval of Major League Baseball or its clubs.