Contreras to get first start Monday vs. Cards
CHICAGO -- Cubs catcher Willson Contreras, who homered on the first pitch of his first career at-bat Sunday, will make his first Major League start Monday against the Cardinals at Wrigley Field.
Manager Joe Maddon had previously said Contreras would start either Sunday or Monday. After looking at the lineups, Maddon decided to have Miguel Montero catch Kyle Hendricks on Sunday against the Pirates, pairing Contreras with veteran right-hander John Lackey on Monday.
"I think John is pretty much predetermined where a catcher can follow his lead," Maddon said. "I think John's almost a perfect first guy for Contreras to catch."
Contreras made his Major League debut when he caught the ninth inning of Friday's 6-0 win against the Pirates. He hit a two-run home run in his first big league at-bat when he pinch-hit for Hendricks on Sunday in the sixth inning.
Chicago recalled Contreras Friday, and though he is being eased into the Majors, Maddon again expressed he has complete confidence in Contreras, who is expected to eventually bring an offensive spark to the catcher position. Contreras was hitting .350 with nine home runs and 43 RBIs in 54 games with Triple-A Iowa.
"You'll see him more often, I promise you that," Maddon said.
La Stella, Soler still recovering
Jorge Soler and Tommy La Stella again worked out on the field before Sunday's game, but there is no official word on the injuries for either player.
Maddon said La Stella is ahead of Soler, and La Stella has said he felt fine after recovering from a right hamstring strain. La Stella is eligible for reinstatement from the disabled list Thursday, though he will likely complete a Minor League rehab assignment before returning to the Cubs.
Soler, dealing with a left hamstring strain, is eligible for reinstatement Wednesday, but is not expected to be ready.
Baez growing at the plate
Cubs utility player Javier Baez got plenty of attention for his stellar swim-slide into second base and equally impressive sliding stop at third base in Saturday's 4-3 win against the Pirates, but Maddon also said he's seeing Baez become a more complete player.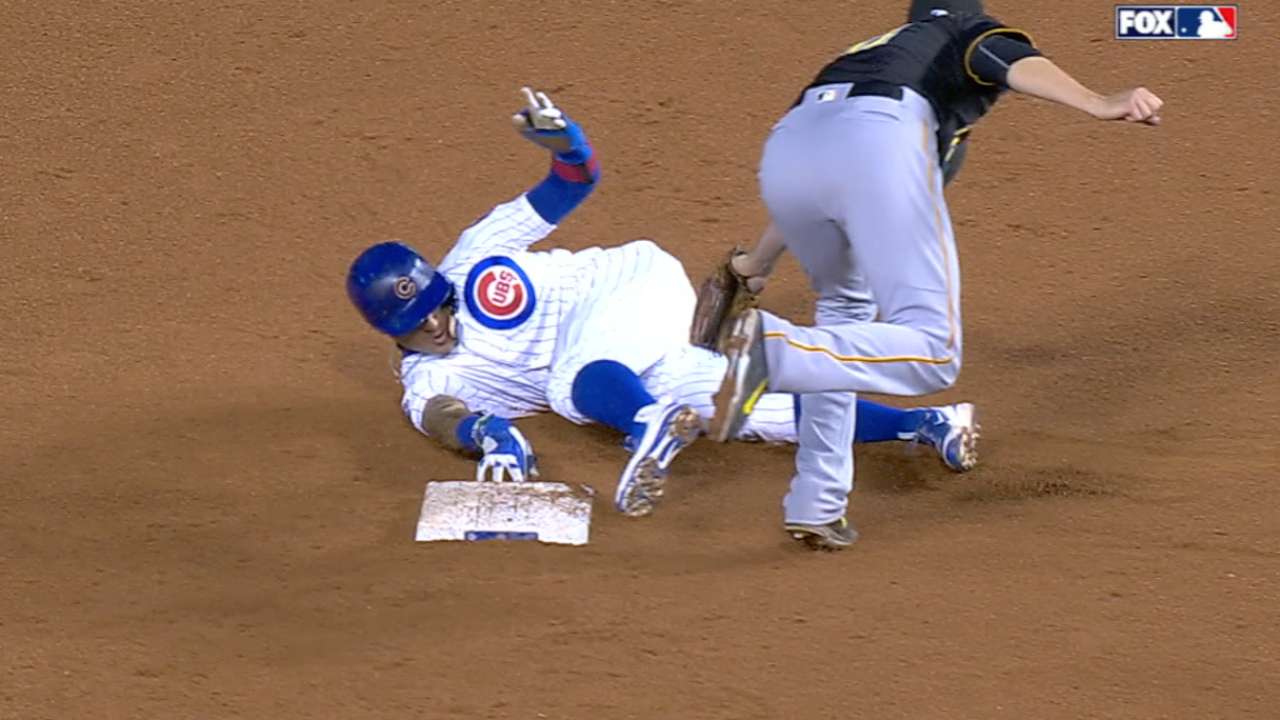 Baez has been known for a while as a premium defender and exciting baserunner, but plate discipline is an area that has inhibited his offensive game. This season, Baez is hitting .254 with five home runs and 18 RBIs, and 12 of those RBIs have come in the past 14 games.
"He's making significant strides already regarding not going up there swinging out of control," Maddon said. "I think he's competing better. He understands it better at the plate. The moment he arrives at the plate like he is defensively -- the maturity he shows on defense -- you're going to see that eventually show up at home plate, and then you're really going to like this whole thing."
Cody Stavenhagen is a reporter for MLB.com based in Chicago. This story was not subject to the approval of Major League Baseball or its clubs.