Brewers' defense backs solid outing by Garza
All three outfielders contribute great plays as starter goes six strong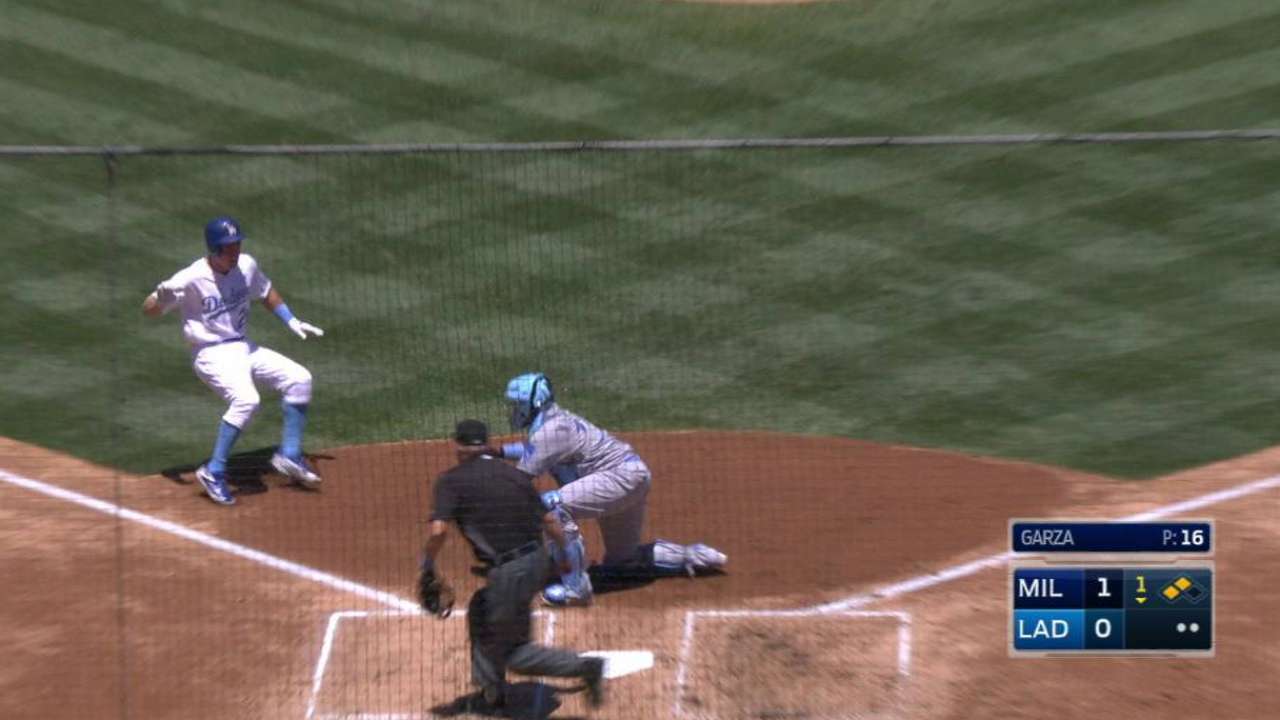 LOS ANGELES -- Every time Matt Garza found a hotspot in the early innings Sunday, on a scorching Dodger Stadium afternoon in his second start off the disabled list, a Brewers outfielder was there to provide relief.
Ryan Braun, Kirk Nieuwenhuis and Ramon Flores turned in defensive highlights in that order, helping Garza put together a promising start in a 2-1 loss to the Dodgers. With those assists, Garza navigated six scoreless innings on 70 pitches before his outing was cut short by an offensive opportunity in the top of the seventh.
"They really picked me up a lot," Garza said. "Those guys, they came to play. When I made a mishap, they were there to clean up my mess. The defense was on point today."
That was true from the very first inning, when the Dodgers put runners at second and third with nobody out, and Garza was able to escape with a 1-0 lead intact. He struck out dangerous Justin Turner, then induced an Adrian Gonzalez flyout to shallow left field.
Braun made the catch and appeared surprised when Chase Utley, the runner at third, broke for home. Even with an off-balance throw, catcher Martin Maldonado received the baseball with several steps to spare, ending the inning.
"I ran behind Maldy and was going, 'Two! Two! Two!'" said Garza, indicating he believed the play would be at second base, where Corey Seager was rushing to get back to the bag. "Then I see Utley take off and I was like, 'What the heck?' I'm just glad we got out of it."
The other two-thirds of the Brewers' outfield aided Garza's effort in the third inning.
First was center fielder Kirk Nieuwenhuis, who ranged 94.8 feet at a top speed of 18 mph, according to Statcast™, to take away a hit from Utley on a fly ball to left-center field, then threw back to the infield to nearly double-up Dodgers pitcher Maeda at first base.
The next batter was Seager, who lined a single to right fielder Ramon Flores. With Maeda chugging for third, Flores made an on-target, 89.9 mph, 250-foot throw to third baseman Aaron Hill, who applied a tag in time to end the inning.
"[Garza] was really good; our defense was outstanding today," manager Craig Counsell said. "Braun's play. Flores made an unbelievable throw. Our outfield defense really helped out today."
Garza would have continued pitching had the Brewers not threatened at the plate in the seventh, putting two runners aboard with one out. Counsell inserted pinch-hitter Jonathan Lucroy, who hit a comebacker for an inning-ending double play.
Kiké Hernandez homered off Will Smith in the eighth to tie the game, and Yasmani Grandal worked a bases-loaded walk from Tyler Thornburg in the ninth for a Dodgers win.
For Garza, however, it was progress after missing the first two and a half months of the season with a lat injury.
"It's a step, a progression," Garza said. "Like I've said, I'm enjoying the moment and embracing the opportunity to be out there. The time off put my outings in perspective."
Adam McCalvy has covered the Brewers for MLB.com since 2001. Follow him on Twitter @AdamMcCalvy, like him on Facebook and listen to his podcast. This story was not subject to the approval of Major League Baseball or its clubs.