deGrom 'frustrated' despite quality start
High pitch count limits righty to six innings in loss on 28th birthday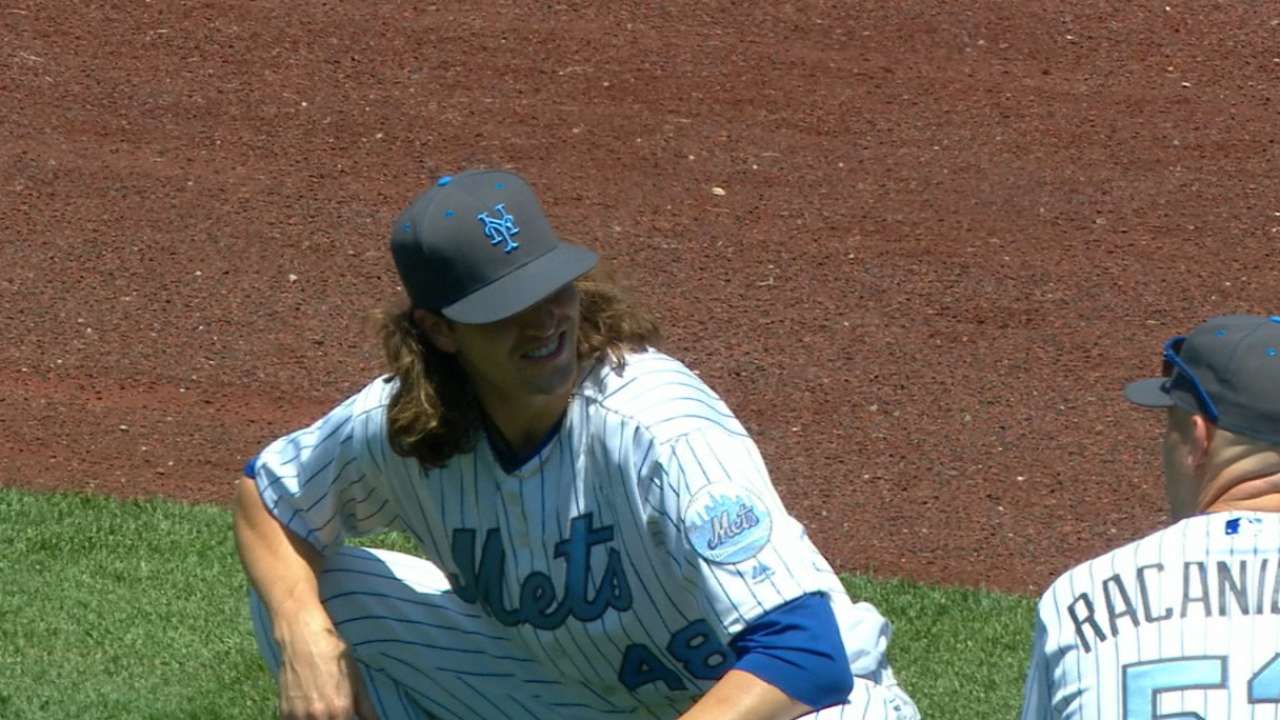 NEW YORK -- Jacob deGrom handed the ball to Mets manager Terry Collins and exited New York's 6-0 loss to the Braves on Sunday still searching for his first win since April 30.
The Mets could only muster one hit during Julio Teheran's shutout that clinched a series sweep for Atlanta, but the right-hander knew he wasn't at the top of his game either.
"I'm more frustrated with myself about today," deGrom said. "I didn't put us in a very good position to win. I want to go deeper in ballgames, and it doesn't help when you are [around] 100 pitches after six innings."
For the third consecutive start, deGrom didn't reach the seventh inning, as he threw 98 pitches over six innings while allowing three runs on five hits.
The pitch count struggles came into play early when the right-hander needed 38 pitches to get through two innings, filling the count to four of the seven batters he faced.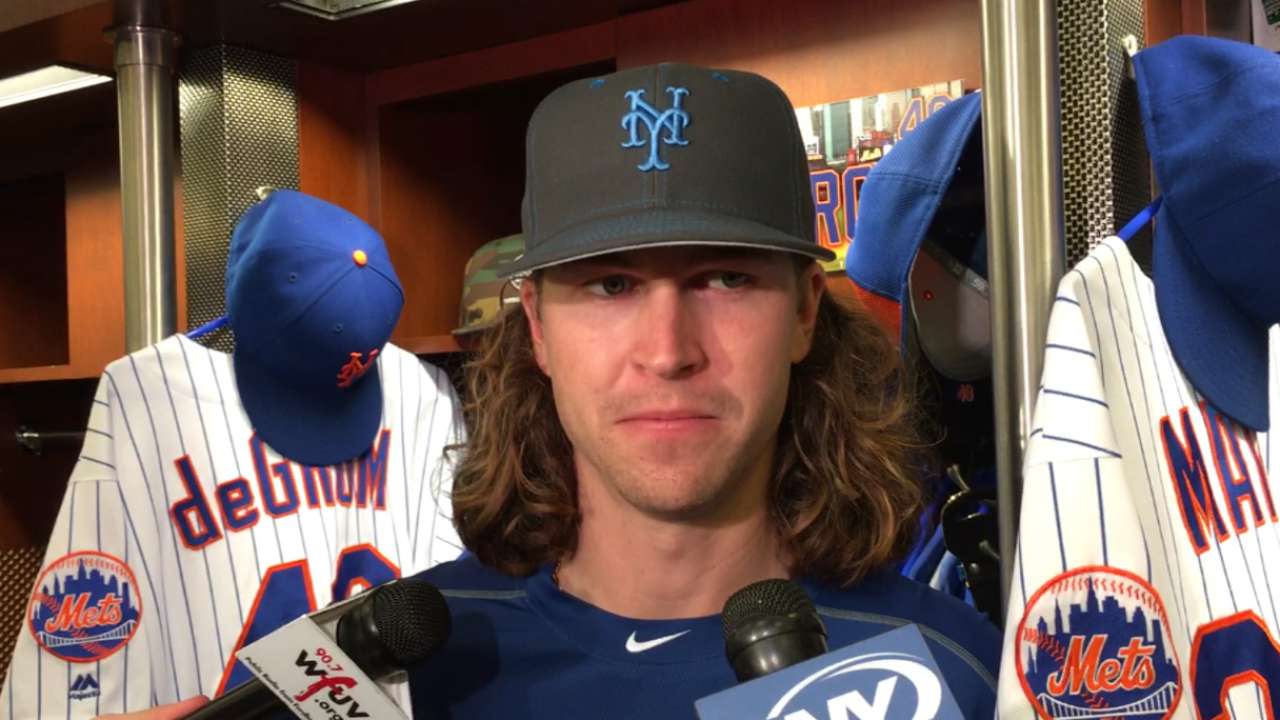 "A lot of 3-2 counts," deGrom said. "The first two batters of the game went 3-2. I haven't been able to put people away when I want to, so I think there is still some work to be done."
Other issues surfaced in the third inning. deGrom, who turned 28 years old Sunday, managed to record two outs via a sacrifice bunt and a fly ball after hitting Erick Aybar to lead off the inning, but surrendered three consecutives singles to Ender Inciarte, Freddie Freeman and Nick Markakis to give the Braves a 2-0 lead.
"It's frustrating," deGrom said. "Just a bad pitch that ended up hitting the leadoff guy. Julio gets a bunt down, and then a fly ball, and then I couldn't make a pitch to get the third out. It's just one of those days."
Markakis added another run to deGrom's line in the sixth when he drove an 82-mph changeup over the fence in right-center field.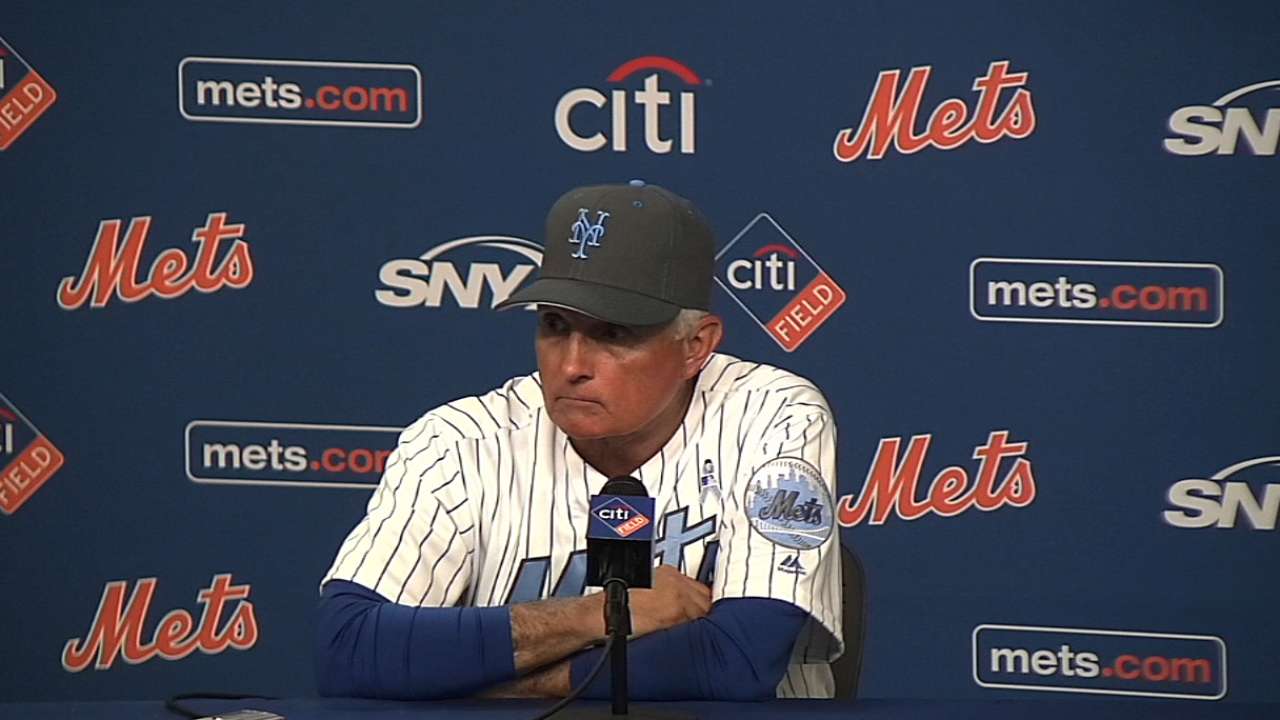 While deGrom was not sharp, the Mets' offense has done little to help him out. Over his last five starts, New York has provided a combined eight runs of support for the right-hander, who is 0-3 despite a 2.81 ERA during that stretch.
"It's disappointing, but we are going to go through these rough times, and that is part of the sport," said outfielder Michael Conforto, who picked up the Mets' only hit with a single in the third.
An uncharacteristic weekend of pitching did not help the Mets, who allowed 15 runs to the team ranked second-to-last in the Major Leagues in runs, and Collins and deGrom know that.
"We have not pitched well in the last three games," Collins said. "We haven't made pitches that we normally make, and it came back to haunt us. … When it comes to our starting pitchers, they are great because they make pitches, and we didn't make them [this series]."
Troy Provost-Heron is a reporter for MLB.com based in New York. This story was not subject to the approval of Major League Baseball or its clubs.