Rockies preaching situational hitting
MIAMI -- Rookie Trevor Story's fifth-inning walk, during a mostly ineffective Friday night, provided a small bit of evidence that the Rockies have heeded manager Walt Weiss and are finding a sustainable situational hitting approach.
Story's 17 home runs going into Saturday's 9-6 loss to the Marlins elicits an "oh, yeah," but his 96 strikeouts draw a "yeah, but..." But on Friday night, he held off on a close, 2-2 pitch from Adam Conley (who thought he had a strikeout) and didn't chase ball four.
Story's successful plate appearance was a little something in an inning that saw the Rockies manage their only hit, on Carlos Gonzalez's two-out double, and score their only run, when Ryan Raburn was hit by a Conley pitch, in a 5-1 loss.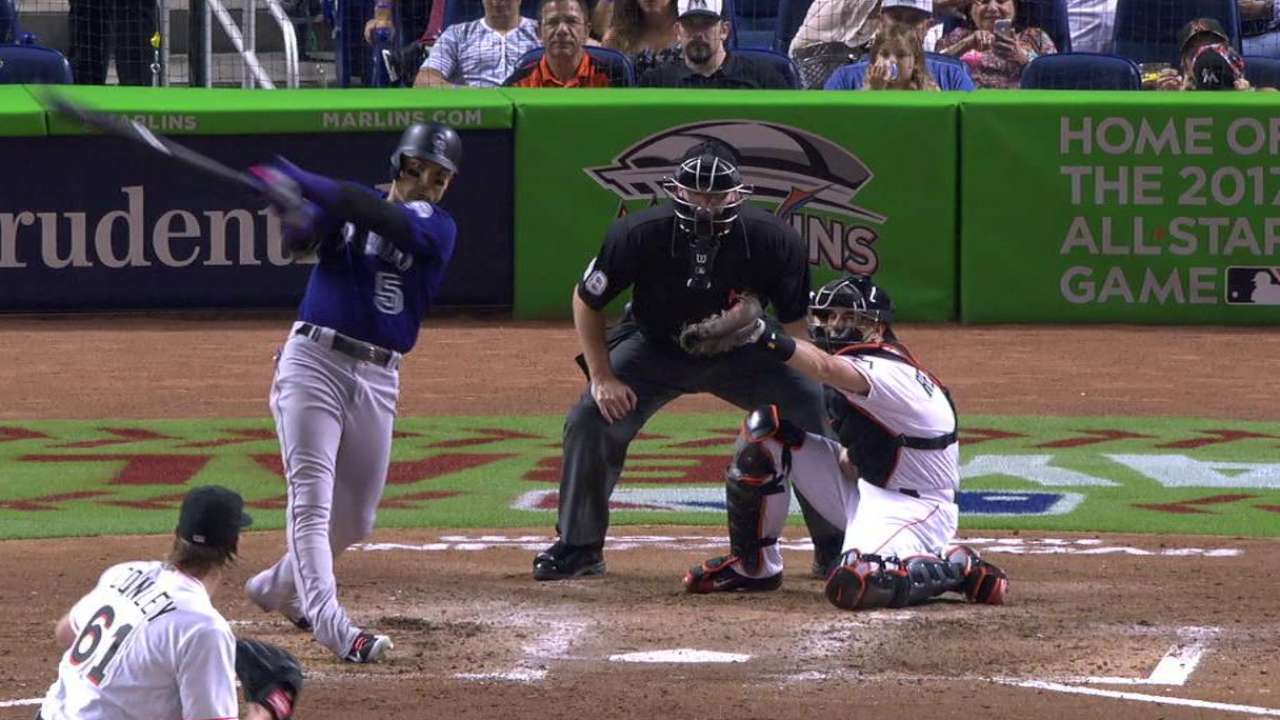 On Saturday in the Rockies' six-run third inning, Nick Hundley's three-run double and two other hits -- plus a pitch that hit Story and Mark Reynolds' bases-loaded walk -- all came with two strikes.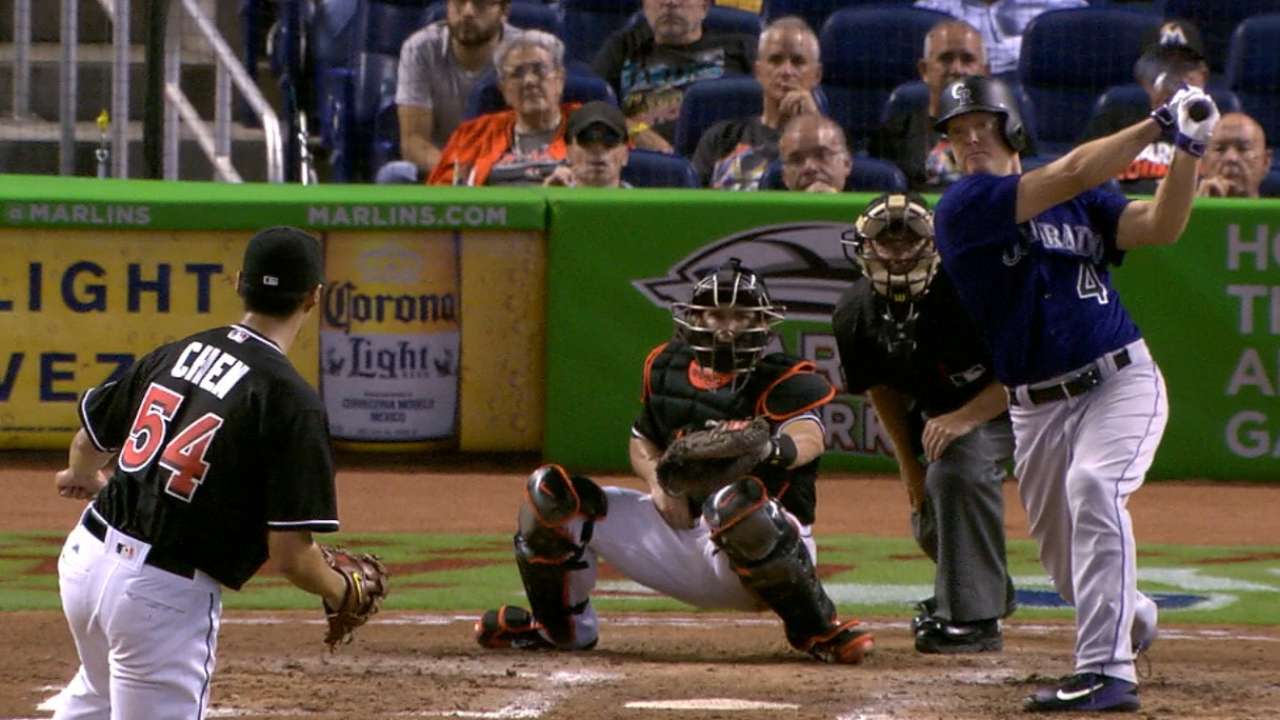 Weiss had grown tired of hitters forgetting the scoreboard, the count or where runners are, falling into I-must-get-a-hit tunnel vision. So he convened a meeting before the Rockies' two-game home sweep of the Yankees earlier this week. It paid off with a steady stream of production the first game and assembly-line production in their one big inning in the second game.
Conley and the Marlins' bullpen stymied the Rockies on Friday, but Weiss said the club is beyond questioning all it holds dear because of a rough night in the opener of a road trip.
"We don't address it every game -- certain patterns, maybe -- but we've performed pretty well on the road this year," Weiss said before Saturday's game. "Historically, we've had trouble scoring runs here."
This week's meeting was a tricky one. Weiss and hitting coach Blake Doyle understand that even in specific situations, one approach doesn't fit all. That's especially true of a lineup that features aggressive swingers Nolan Arenado, Gonzalez and Story, who entered Saturday with a combined 52 homers.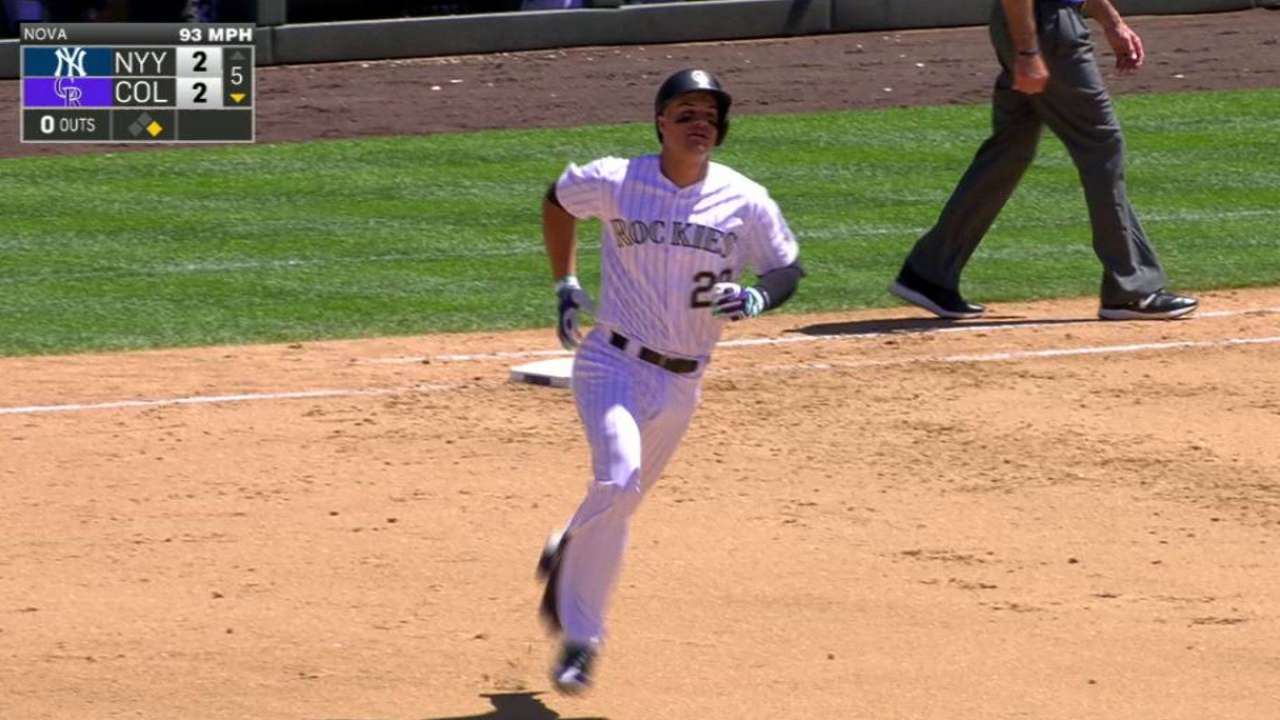 The trick is to heed situations, such as with two strikes, without changing what is their "A" swing. They reject the thinking that hitters should make a physical change, such as spreading out or choking up the way some youth coaches may teach.
"It's something we've talked about for the last three years," Doyle said. "I don't like to talk about a two-strike approach, as much as 'less effort.' The guys don't want to change any swings, but you take a little less effort in order to control the bat barrel better."
It's especially challenging for Story, who has nearly half his homers with two strikes. Story said he's working on shortening the beginning of his swing with two strikes, but still taking a healthy cut. Story said he is using key words in situations when contact becomes as important as damage.
"A lot of times, less is more," Story said. "I take a deep breath and say, 'Shoot 'em,' meaning shoot the ball up the middle. That's just a mental key for me that keeps me short. I don't consciously think about staying long through the ball, because that's my swing. But I stay short to it, let it travel a little longer, and hopefully put it in play."
While the meeting was team-wide, the message was for each player to incorporate situational thinking into his own style.
"If you ask CarGo about his two-strike approach, maybe him shortening up would be worse for him because he starts getting out on his front foot, so staying with his approach helps him see the ball better," Arenado said. "DJ [LeMahieu], his approach is whatever it is. If someone feels confident with two strikes, that's all that matters, because hitting with two strikes is hard to do."
Thomas Harding has covered the Rockies since 2000, and for MLB.com since 2002. Follow him on Twitter @harding_at_mlb, listen to podcasts and like his Facebook page. This story was not subject to the approval of Major League Baseball or its clubs.