MLB.com Columnist
Mike Bauman
Ventura, Fulmer bring the heat in Kansas City
KANSAS CITY -- This is the kind of stuff that baseball has to offer: two terrific young pitchers showing their stuff and putting up zeros on a hot, hot night.
It is not officially summer yet, but the game time heat index was 99 degrees at Kauffman Stadium on Friday night. The pitchers involved brought their own heat; Yordano Ventura of the Royals reaching 99 mph, Michael Fulmer of the Tigers touching 97.
But these two weren't just muscling up for a radar gun audition. Ventura, 25, and Fulmer, 23, displayed command of a variety of pitches, along with demonstrating the kind of pitching fortitude that separates the exceptionally good from the rest of pitching humanity.
The Royals won the game, 10-3, pounding on the Detroit bullpen for nine runs after Fulmer left the game. But anybody watching had to be struck by the fact that both Ventura and Fulmer offered genuine reasons for optimism on the part of their teams; short-term optimism, medium-term optimism, and because of their ages and ability, long-term optimism.
Fulmer entered with a 7-1 record and a 2.52 ERA. He had not lost a decision since May 5. Then again, he had not given up a run since May 21.
Friday night, Fulmer set a Detroit record for consecutive scoreless innings by a rookie pitcher with 33 1/3. That streak ended with two outs in the sixth, when Royals catcher Salvador Perez turned a first-pitch slider into a monster home run to left and a 1-0 Kansas City lead. That was the first and last run that Fulmer would allow. Two walks later, his work was done.
"That slider, he commanded it so well, it's a nasty slider and he really does a good job of keeping it down and away, down and away," Royals manager Ned Yost said. "I'm thinking to myself: 'Man, this kid never makes a mistake with it.' He got one over the plate to Salvy to give us the one-run lead. But he was fantastic."
Tigers manager Brad Ausmus, asked what had been the key to Fulmer's remarkable success this year, replied:
"The development of his changeup and his growing comfort with the big league atmosphere. You just watch how he reacts to tough situations."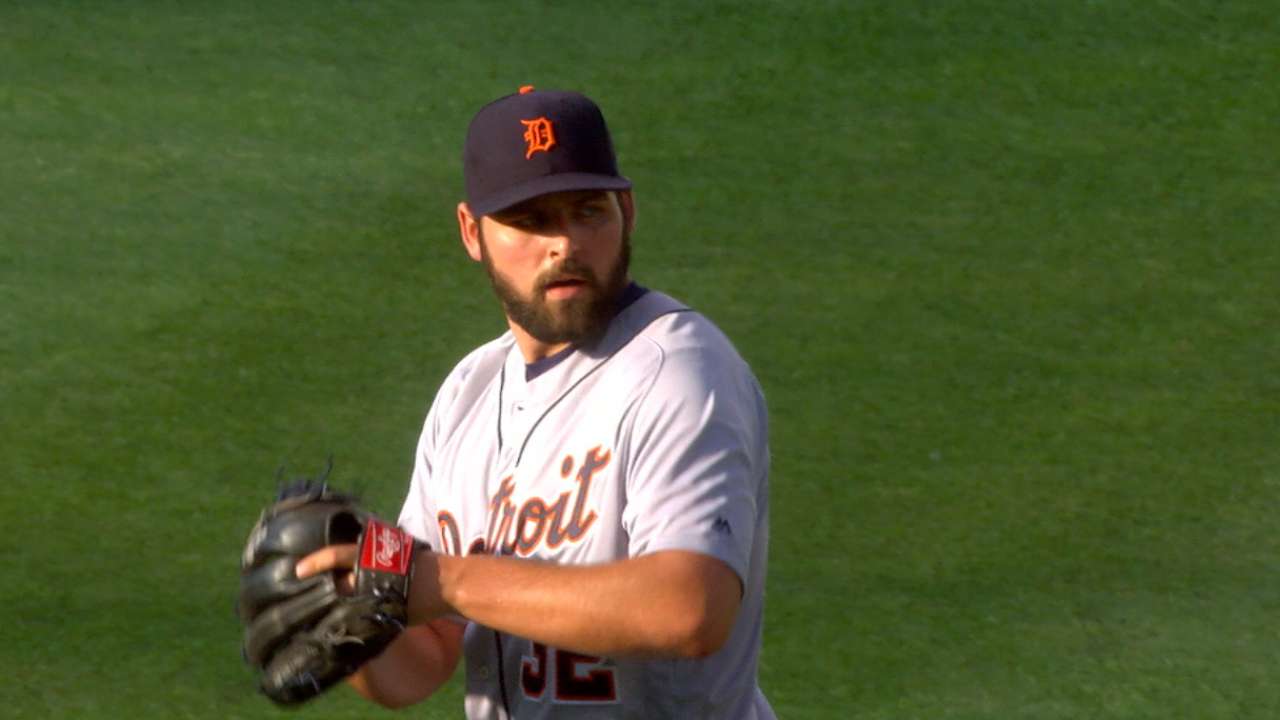 One of those situations occurred in the third when the Royals loaded the bases against Fulmer with one out and Kansas City's cleanup hitter, Lorenzo Cain, at the plate. Fulmer got the necessary 6-4-3 double play to end the threat.
On the other side, Ventura could be on a road toward not only success but redemption. Just two starts ago, he drilled Baltimore's Manny Machado in the back with a pitch and then actively defended himself when Machado charged the mound. Ventura drew a nine-game suspension, which is being appealed.
He rebounded with a superior start against the White Sox in Chicago, giving up one run over seven innings, walking one, striking out 10. He reached the same level here with 6 1/3 shutout innings, no walks and five strikeouts.
"Just completely within himself, no overthrowing," Yost said. "He was completely in control of his mechanics again tonight. So that's back-to-back starts and that's pretty encouraging.
"When you have that really, really good stuff, at times you want to overpower it, but you can't. You've got to just back off a little bit and just let it naturally come out. Your command is always going to be much, much better when you do that. So doing that on a consistent basis is what it's going to take for him to get to that next level. He's figuring it out."
"The most important thing for me is my mechanics and I was able to do the same thing today as I did in Chicago and I feel good about it," Ventura said through an interpreter.
It may be ironic to speak of a pitchers' duel in a game that ended 10-3. But while Fulmer and Ventura were in the game, the score was 0-0 until the bottom of the sixth, when it became 1-0. Fulmer didn't look much like a losing pitcher, with a 2.43 ERA for the season, and the longest consecutive scoreless streak by a rookie pitcher since Fernando Valenzuela had 35 consecutive scoreless innings in 1981.
And Ventura looked like the winner that the box score said he was. With two straight superior starts in hand, he appears to be turning the corner from controversy to success.
Mike Bauman is a national columnist for MLB.com. This story was not subject to the approval of Major League Baseball or its clubs.