Like Father, Like Son
A love for baseball often begins with a game of catch with your dad.
Ken Griffey Jr. and his dad share one of the most unique bonds in baseball. After all, it's not every day that a father plays baseball against his son, who's nearly 20 years his junior. But back in 1990, Junior, a second-year player, and Ken Griffey Sr., who was a year away from retirement, teamed up in the Mariners' lineup.
"I really wanted to be like my dad growing up," said Junior, a 13-time All-Star who will be inducted into the Hall of Fame later this summer. "I remember when I won my first All-Star Game MVP Award [in 1992] that I tied my dad."
The elder Griffey took home the same trophy 12 years earlier, in 1992. Together, the Griffeys are part of a select group of just over 200 father-son combos to play in the Majors. The joy they both showed every day on the field inspired MLB to name Griffey Jr. as a youth ambassador this past Thursday, in an effort to grow youth baseball and softball throughout the U.S. and Canada.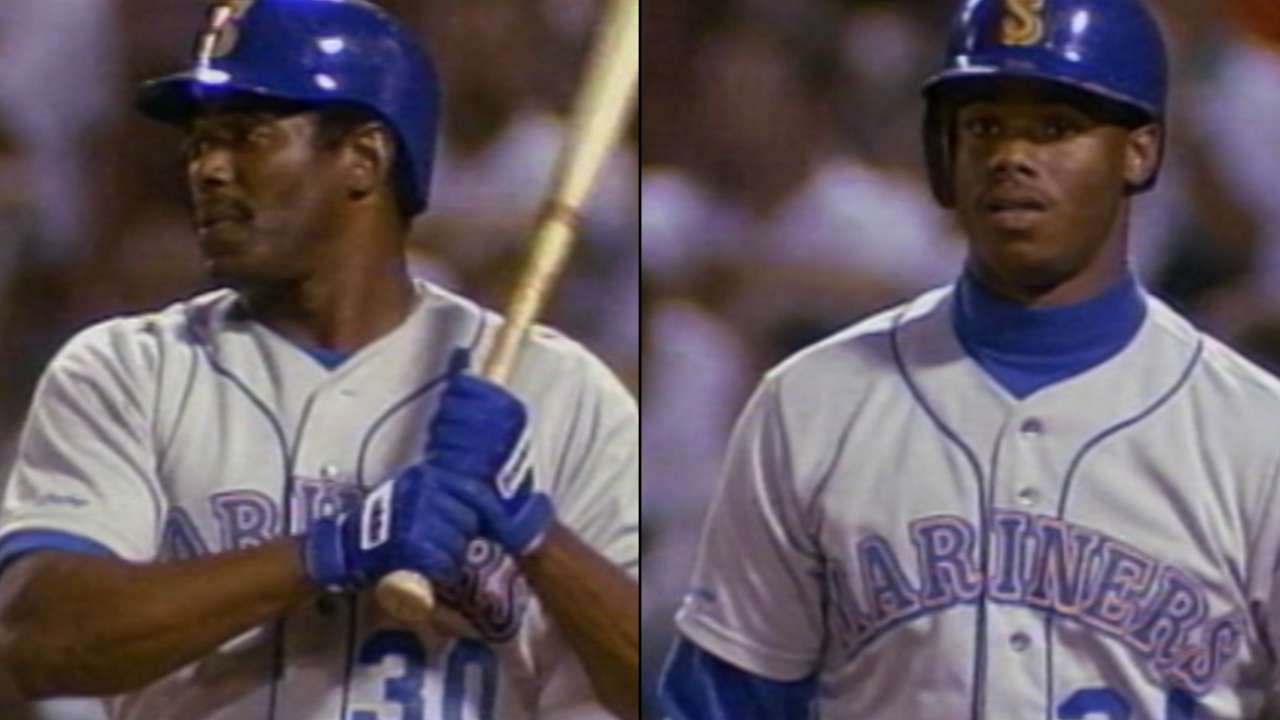 But even those fathers and sons without a Major League lineage have found a special bond through America's national pastime.
"My dad was always trying to make me the best I could be," said Diamondbacks pitcher Shelby Miller. "It was nice just having him around. I enjoyed him being my coach more than anybody else. I liked seeing him every day and I enjoyed working with him."
Angels reliever Cory Rasmus -- a Little League World Series participant whose parents earned an award from the organization from their contributions -- couldn't remember a weekend growing up that didn't involve baseball and his dad.
"Every weekend, we were doing something baseball-related," said the 2006 first-round draft pick. "We used to drive to Atlanta to go play in tournaments, [spent] a lot of hours in the car together."
Now a father himself, Angels utility infielder Cliff Pennington cherishes his baseball relationship with his 6-year-old son, Brady.
"I coach [Brady] with me and him just playing," Pennington said. "He has a little bat and ball, and I'll throw to him so he can hit."
Not every youngster can be so lucky as to have a Big Leaguer teach him the fundamentals.
"I'm starting to teach him how to catch," said the nine-year veteran. "It's scary when a ball is flying at you for the first time.
"We play baseball every day. I play more baseball at home than [at the stadium]."
Just as on Mother's Day, teams will wear their traditional uniforms with a twist. The baby blue logos on this year's brand-new jerseys and caps generate awareness for Prostate Cancer. Many players are also expected to sport blue batting gloves and wristbands, while special lineup cards will be used across the league. Proceeds from Father's Day themed merchandise will be donated to the Prostate Cancer Foundation for prostate cancer research.
Drew Casey is a contributor to MLB.com. This story was not subject to the approval of Major League Baseball or its clubs.