Clemson standout Beer wins Howser Trophy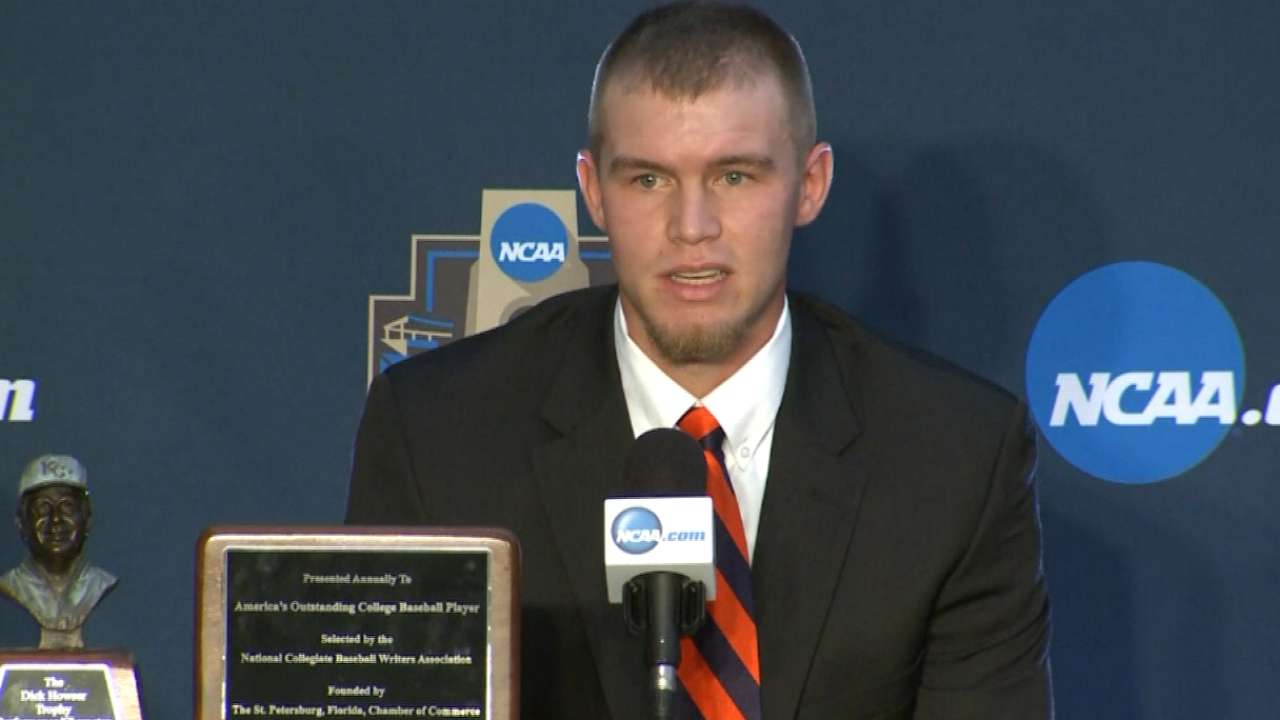 Clemson freshman outfielder Seth Beer -- who could have been a high school senior had he not graduated a semester early to enroll in classes this last January, just in time for baseball season -- was awarded the Dick Howser Trophy on Friday.
Beer is the 30th winner of the award, presented annually to college baseball's national player of the year, and the first freshman to take home the honors.
"What an honor. It's even hard to put into words right now," Beer said after being presented with the trophy. "You just think of all the great ballplayers that have won this award in the past. To be thought of as one of those guys now and be linked with those guys forever is pretty cool."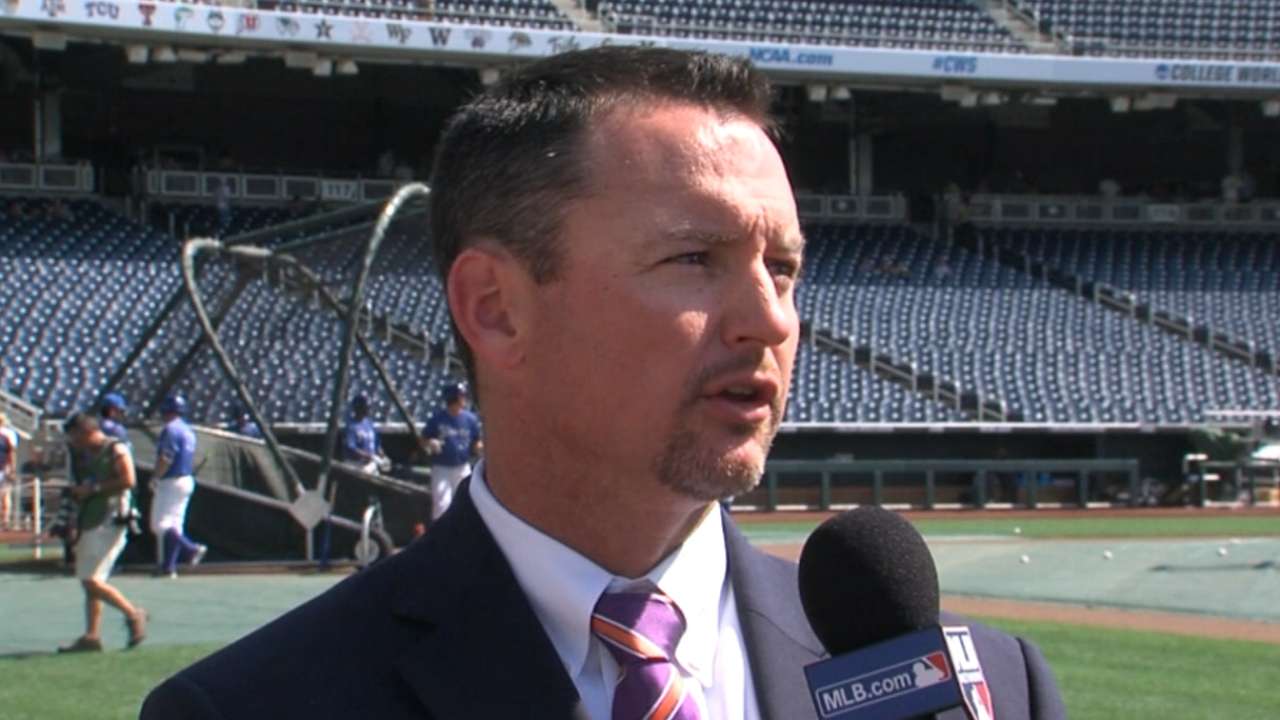 If the 19-year-old had decided to enter the MLB Draft straight out of high school, MLB.com's Jonathan Mayo projected he would have been a Top 50 overall pick. Instead, Beer joined the Tigers, and in 62 games this season, he slashed .369/.535/.700 with 18 homers, 13 doubles, 70 RBIs, 57 runs and 62 walks. He also recorded six outfield assists. Beer was named the first-ever freshman ACC Player of the Year.
"We wanted him. There was no doubt about it," said Clemson head coach Monte Lee. "We knew how talented a player he was, how good a fit he was for us at Clemson, and we needed him."
After helping lead Clemson to an ACC championship and a national seed in the NCAA Tournament, Beer will also play for the USA Baseball Collegiate National Team this summer.
"You have to keep learning the game because the game just keeps getting better and better," Beer said. "So I'm willing to do whatever that might take, and just to go out there and have some fun."
He is the third Clemson player to win the Dick Howser Trophy, along with former Major Leaguers Khalil Greene and Kris Benson.
"The opportunity to come to Clemson early and participate in baseball here has just been a blessing," Beer said. "There are some great ballplayers out there -- in the country, in the ACC, everywhere -- and to be known as one of these guys is such an incredible experience."
The other finalists for the 2016 award included Wake Forest junior third baseman Will Craig, Louisville sophomore starting pitcher/first baseman Brendan McKay, Kent State junior pitcher Eric Lauer and Texas A&M junior third baseman Boomer White.
Beer, the youngest of the group, came out on top. Not only was he the first freshman to win the Dick Howser Trophy, but only three college sophomores have ever won it.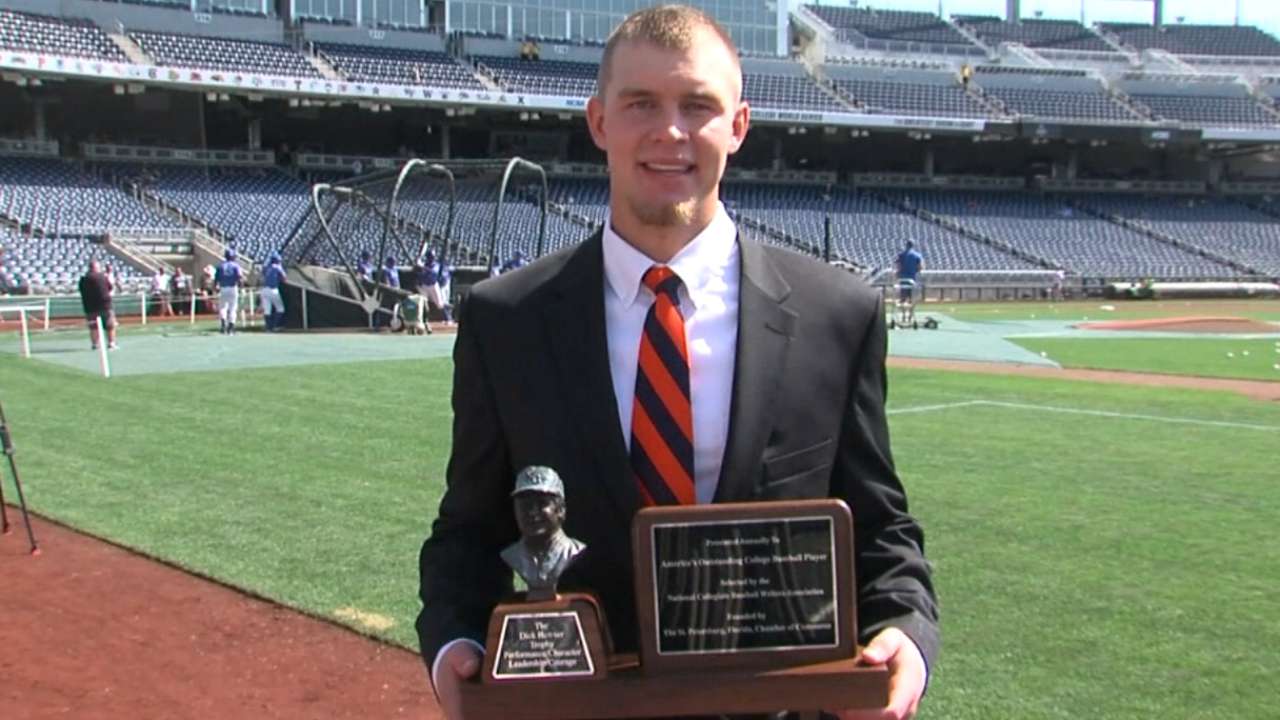 "His status as national player of the year as a freshman is a history-making moment," said Dick Howser Trophy chair David Feaster.
Earlier in his teens, Beer was also a swimmer good enough to set national records in his age group as a 12-year-old in the 50-meter backstroke and 100-meter backstroke. He could have been a potential invite to the 2012 U.S. Olympic trials at age 15, but he gave up swimming for baseball that summer.
"I think the work ethic that swimmers have is tremendous. ... I really think that translated to baseball -- as in, I want to work, I want to get better, no matter how much time it takes," Beer said. "I really think it helped me in my baseball career."
The Dick Howser Trophy is named after the former Royals manager, Major Leaguer and All-American shortstop at Florida State. Howser, who was an All-Star his rookie year in 1961 and managed Kansas City to a World Series title in 1985, died of a brain tumor in 1987. The trophy was established in his honor that same year.
Beer is joining a group of Dick Howser Trophy winners that features a slew of notable names. Past honorees include:
• Cubs third baseman Kris Bryant (San Diego, 2013)
• Nationals right-hander Stephen Strasburg (San Diego State, 2009)
• Giants catcher Buster Posey (Florida State, 2008)
• Red Sox left-hander David Price (Vanderbilt, 2007)
• Royals left fielder Alex Gordon (Nebraska, 2005)
• Angels right-hander Jered Weaver (Long Beach State, 2004)
• Former Cubs right-hander Mark Prior (Southern California, 2001)
• Yankees first baseman Mark Teixeira (Georgia Tech, 2000)
• Former MLB outfielder J.D. Drew (Florida State, 1997)
• Former Rockies first baseman Todd Helton (Tennessee, 1995)
• Former Red Sox catcher Jason Varitek (Georgia Tech, 1994)
• Former MLB third baseman and current White Sox manager Robin Ventura (Oklahoma State, 1988)
David Adler is a reporter for MLB.com based in New York. Follow him on Twitter at @_dadler. This story was not subject to the approval of Major League Baseball or its clubs.