Kluber's career comes full circle for father
Right-hander's dad grew up an avid Indians fan
CLEVELAND -- Each offseason as the holidays approach, Corey Kluber starts his throwing program in preparation for the season ahead. As he has done since Corey was a kid, Kluber's father, Jim, grabs his glove and offers to play catch with his son to help.
Those rounds of catch have become a little more painful over the years.
"The ball just smacks into the glove so hard," Jim said. "And he's not even trying to throw hard. It just has so much behind it, effortlessly. You look at your hand afterwards, and it's red."
Jim speaks with pride when discussing what Corey has become for the Indians. And he gets a kick out of the fact his son's success has come with Cleveland, the team Jim pulled for during his childhood on the east side of the city.
The elder Kluber began following the Tribe in 1959 -- you can still hear the pain in his voice when he mentions how the White Sox edged the Indians for a spot in the World Series that fall. Jim brings up Rocky Colavito, Sonny Siebert, Fred Whitfield and Max Alvis. He speaks of how Bob Feller was a local celebrity in Gates Mills, Ohio, two towns over from where Jim grew up in Highland Heights.
All of that made the phone call from Corey in 2010 so special.
Both of Corey's parents answered, but Jim told his son he would catch up with him after he spoke with his mom. Corey insisted his dad stay on the line.
Corey had been traded to the Indians by the Padres.
"It had a lot more significance to him that it was the Indians," Corey said. "To me, at the time, it was just another one of 30 teams. I didn't have any connection to the Indians, but for him, it was the team that he always grew up watching and rooted for."
Jim, who now lives in Cape Cod, was stunned with joy.
"I literally could not believe it," he said. "I probably screamed or something like that, because I've always been an Indians fan. Our family, my family, we've always been baseball people. Especially for me, for him to go to Cleveland was like a dream come true."
In the years since, Corey has won the American League Cy Young Award in 2014, and tied the Tribe's nine-inning franchise record with 18 strikeouts in a game in '15. Corey shares that record with Feller, and his name is alongside other franchise greats -- names like Sam McDowell, Herb Score and Luis Tiant -- for numerous achievements.
It is all a bit surreal for his father.
"Corey has said it, that it's an honor to be just mentioned along with them," Jim said. "I feel the same way."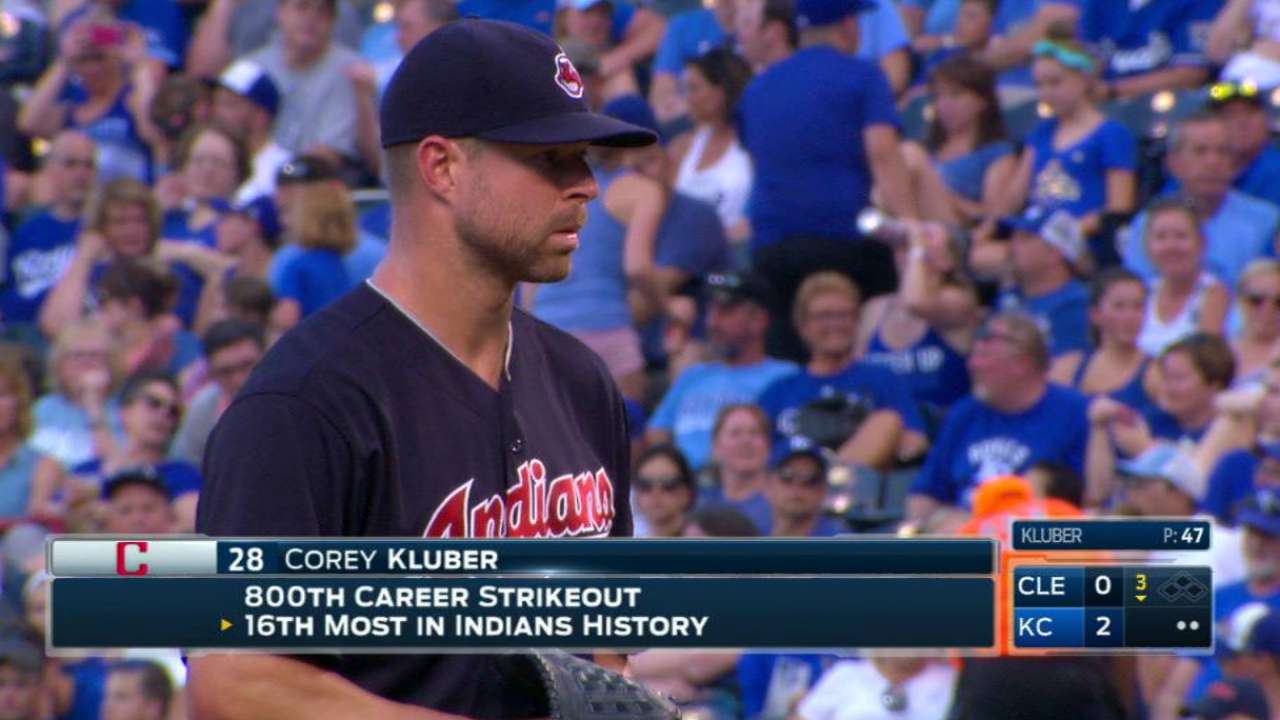 Jim is just as proud of what his son has become away from the field.
Indians fans are used to seeing the stoic pitcher -- one who shows no emotions on the days he starts. Jim said that not only comes from his own personality, but from a youth coach who emphasized being emotionless on the field. In fact, Jim said Corey is a "jokester" with a great sense of humor. And he has watched his son turn into a great husband and father of two young girls.
"He has great accomplishments as a baseball player," Jim said, "But an even greater accomplishment is what he's done as a husband and father. He's got a great family. Two little girls that he's totally devoted to. That's really what, at the end of the day, means the most to him."
Corey and his wife, Amanda, have 4-year-old Kendall, 2-year-old Kennedy, and another child due in early December.
"I'm definitely outnumbered," Corey said with a smile, a smile his fans don't typically see inside the ballpark. "If I have to do stupid things to make them laugh out in public, so be it. I didn't know how to put hair in a ponytail before I had daughters. Now, I can do it halfway decent."
Good dads will do anything for their kids -- that includes playing catch, even when it's painful.
"It's probably not his favorite thing to do anymore," Corey quipped.
Jordan Bastian has covered the Indians for MLB.com since 2011, and previously covered the Blue Jays from 2006-10. Read his blog, Major League Bastian, follow him on Twitter @MLBastian and listen to his podcast. This story was not subject to the approval of Major League Baseball or its clubs.