Profar tutored at third base by Beltre
Rangers veteran infielder offers tips while rehabbing injury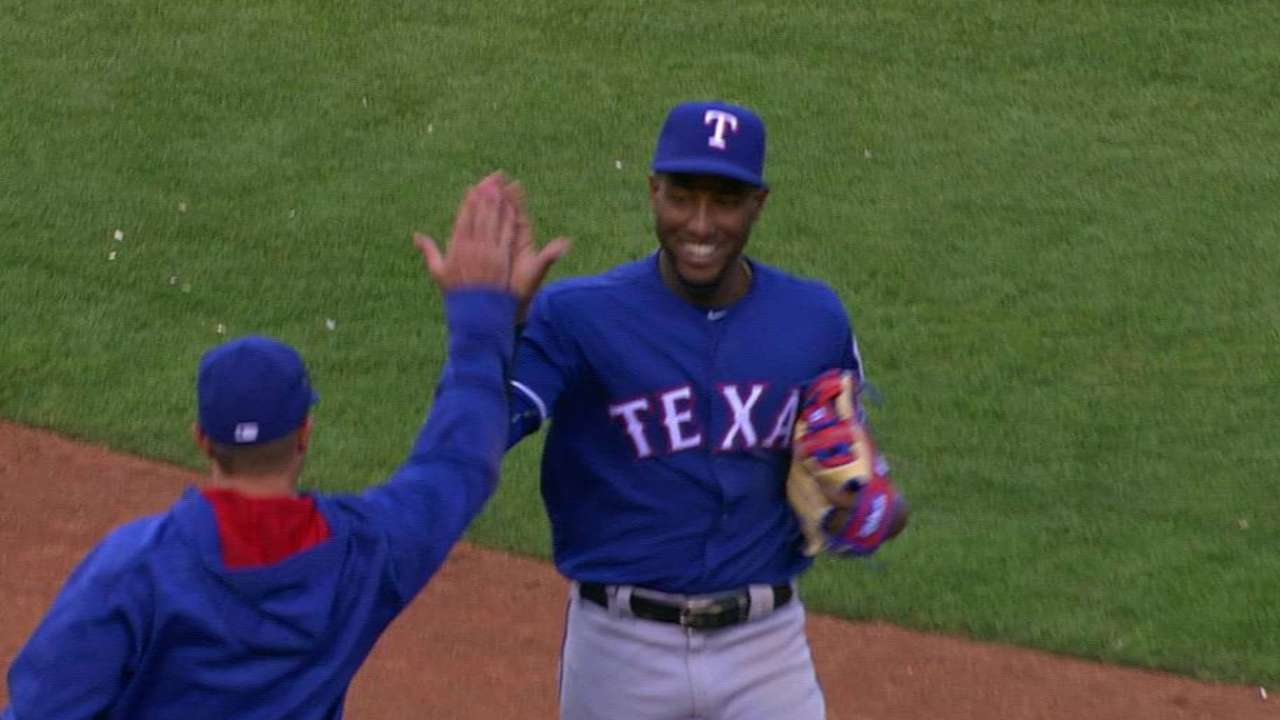 OAKLAND -- Rangers third baseman Adrian Beltre is expected to be back in the lineup Thursday after missing seven games because of a strained left hamstring.
But Beltre's rehab work over the past week didn't keep him from taking some time to help novice third baseman Jurickson Profar. The two spent much time together during batting practice Tuesday and the results were immediate.
Profar made several outstanding defensive plays in the Rangers' 10-6 victory over the Athletics, including a spectacular diving catch to his left on Danny Valencia's scorched first-inning line drive.
"Before, my timing was off," Profar explained. "Having spent all my time as a middle infielder, I was getting locked up. I wasn't ready for the ball. I talked to Beltre and we practiced during batting practice and I felt a lot better. He taught me a lot of things about being ready and reacting quicker."
Profar had only limited time at third base before filling in for Beltre over the past seven games. He had never started at first base until being asked to do so on June 9 in Arlington.
Profar is an excellent athlete, which helps his versatility. But, like Ian Desmond, he has an especially high baseball aptitude that allows him to make adjustments and learn quickly.
"His aptitude is at a high level and we have challenged it," manager Jeff Banister said. "To be able to do it, the interest has to be there. There is a thirst for learning and a desire to be better than most. Every player has a high ego but at some point you have to put the ego in the back pocket and be vulnerable to being taught.
"Sometimes self-evaluation is critical. He knows he needed help. It was beautiful to watch those two go back and forth."
Despite dealing with the complexity of playing unfamiliar positions, Profar still went into Wednesday's game hitting .333 with a .359 on-base percentage and a .493 slugging percentage in 18 games since being called up.
"Overall he has been unbelievable offensively and defensively," Beltre said. "We knew he was a good player but we didn't expect him to be that good. To produce the way he has is great. That's why they're trying to find him more playing time."
Beltre not 100 percent
While Beltre is planning to be in the lineup for the first time since he strained the hamstring running the bases on June 9 in Arlington, he will not be 100 percent.
"It's good enough to be out there," Beltre said.
Beltre said he can hit and be good enough at third base. The biggest concern is being explosive enough to run the bases.
"I'm going to protect it for a while until I feel confident to go 100 percent," Beltre said.
"I've watched him run, I've talked to the training staff, I've talked to him, he feels good," Banister said. "He's in a good place. When he's ready, we want him back in the lineup and on the field."
Rangers beat
• Rangers broadcaster Matt Hicks has been selected for induction into the El Paso Baseball Hall of Fame. Hicks was the voice of the El Paso Diablos from 1995-2004.
• The Rangers are planning to honor their 1996 team before Tuesday's game with the Reds. That team won the first division title in club history, and over 20 players and coaches, along with team president Tom Schieffer, general manager Doug Melvin, and Gloria Oates, widow of the late Rangers Hall of Fame manager Johnny Oates, have committed to attend the game.
• The Rangers will honor retired outfielder David Murphy before Friday's game against the Red Sox. Murphy will throw out the ceremonial first pitch before the game as part of Baylor University night. Murphy went to Baylor and played for the Rangers from 2007-13.
• With Robinson Chirinos going deep in Tuesday's game, the Rangers have four catchers with at least two home runs. No other team has more than two.
T.R. Sullivan has covered the Rangers since 1989, and for MLB.com since 2006. Follow him on Twitter @Sullivan_Ranger and listen to his podcast. This story was not subject to the approval of Major League Baseball or its clubs.