Despite numbers, Gomez feeling confident
ST. LOUIS -- The steps forward are small ones, but center fielder Carlos Gomez hopes that his season-long struggles are finally behind him. Coming off Tuesday's game, in which he went 2-for-4 and scored three runs, Gomez said he's playing with more confidence.
Since returning from the 15-day disabled list on May 31, Gomez is hitting .211 with three homers and four RBIs -- numbers that aren't satisfactory for anyone, but still much better than those he posted the first two months of the season, when he didn't homer.
"The last couple of weeks, I feel really good at the plate, with more confidence, and I'm swinging at pitches I'm looking for," Gomez said. "I don't have a lot of results, but I'm swinging at the pitch I'm looking for and I'm taking more walks and just taking it day by day.
"[Tuesday] was a big day. I got on base three times and scored three runs. It was a big game. You start from there. The last week and a half, you've seen me hit, like, three home runs, a couple of extra-base hits, get on base more. I'm going in the right direction."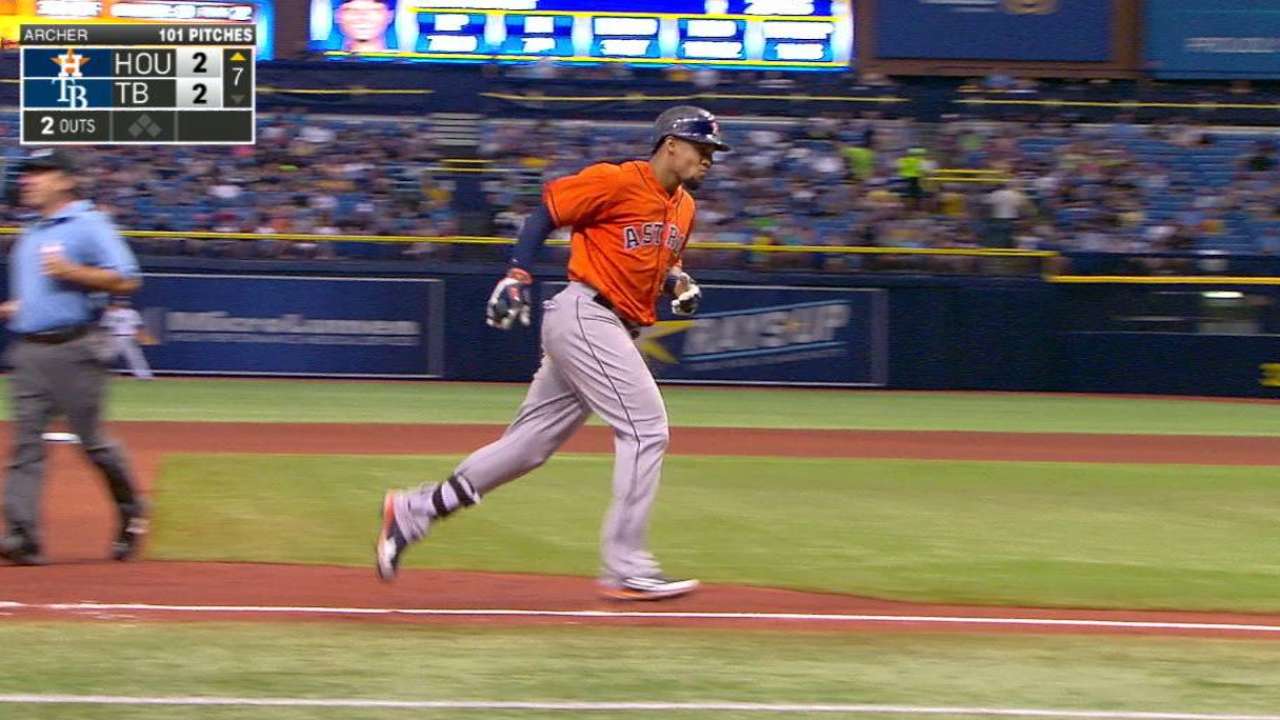 When Gomez doesn't chase pitches out of the strike zone and plays more under control, he can be an effective part of the lineup, Astros manager A.J. Hinch said.
"When you look up at the scoreboard after a couple of months of struggling, it can look ugly," Hinch said. "But the reality is, the skill set's there, the talent's there. It's going to take him a while to dig out of this from a numbers standpoint. He's still a very productive player at this level if he continues to stay positive with himself and gets good pitches to hit."
Gomez raised some eyebrows on Tuesday when he wore prescription glasses during the game, leading some to wonder if corrected vision has led to better production, but he said he simply ran out of contact lenses.
"I dropped one, so I only have one left," he said. "I feel more comfortable wearing glasses, but at home I can't wear them because they get fogged. I came out yesterday and they didn't get fogged here, so I used them. I wear them to practice every day. When you see me with sunglasses, it's prescription."
Brian McTaggart has covered the Astros since 2004, and for MLB.com since 2009. Follow @brianmctaggart on Twitter and listen to his podcast. This story was not subject to the approval of Major League Baseball or its clubs.