MLB.com Columnist
Tracy Ringolsby
Here's the Story: Rookie is Rockies' SS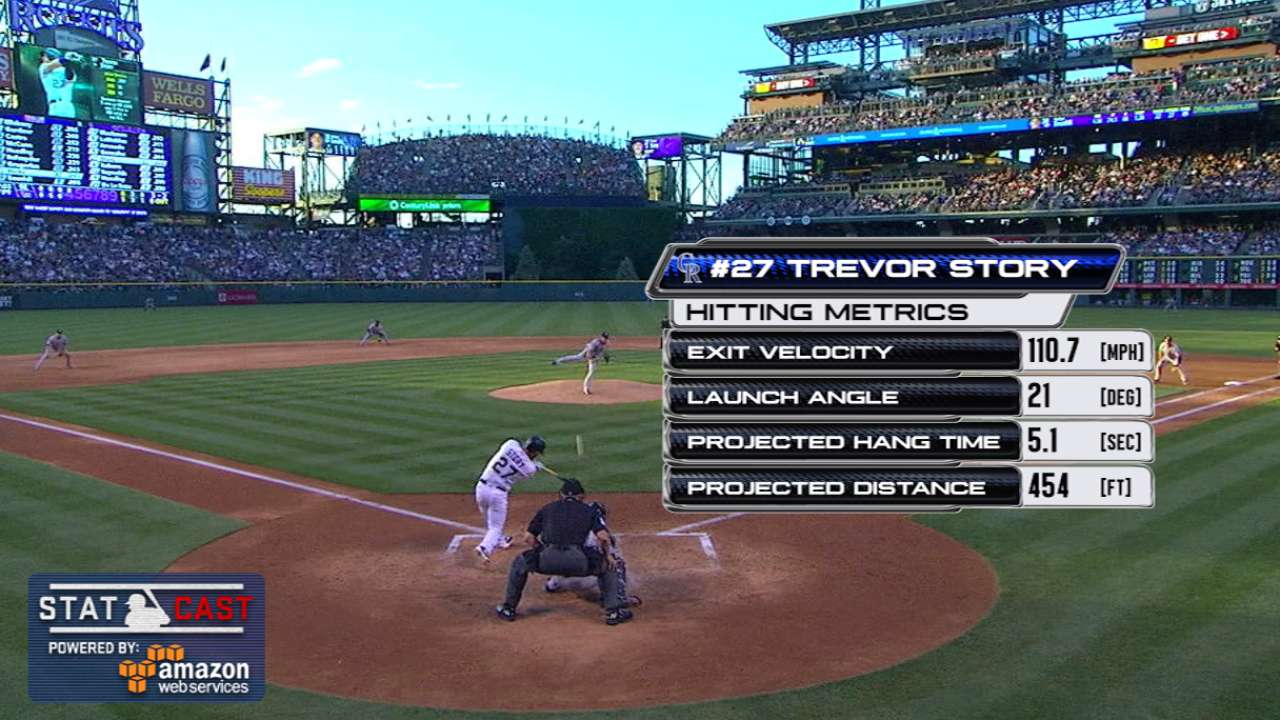 DENVER -- One thing is perfectly clear. Trevor Story is the Colorado Rockies' everyday shortstop.
Yes, Jose Reyes, having served his penalty for domestic violence, has completed his rehab assignment at Triple-A Albuquerque and now waits to find out whether the Rockies will place him on the 40-man roster, activate him, trade him or release him.
The only question surrounding Story is whether he's going to be an All-Star. The latest National League vote totals will be announced Wednesday. Last week Story was second, behind Addison Russell of the Cubs.
But there are 15 more days before the fan voting for the starting lineup concludes, and then there is the vote among players for each team, and then NL All-Star manager Terry Collins of the Mets will make the final NL roster selections for the All-Star Game, which will be held at Petco Park in San Diego on July 12.
• Cast your Esurance All-Star ballot for Story and other #ASGWorthy players
The rookie has reinforced his growing stature time and time again this season, adding to his resume on Tuesday night with a two-run home run and run-scoring single in the Rockies' 13-10 victory over the Yankees at Coors Field on Tuesday night.
Story certainly has made believers of the Rockies. With 24 games remaining before the All-Star break, he leads NL shortstops with 17 home runs, 45 RBIs and a .553 slugging percentage.
Story's 17 home runs have him tied with Travis Lee (D-backs, 1998) and Preston Wilson (Marlins, 1999) for sixth most by an NL rookie before the All-Star Game, four shy of the NL record of 21 that Dave Kingman set with the Giants in 1972 and Albert Pujols matched with the Cardinals in 2001. Mark McGwire holds the Major League record of 33, set in 1987.
Joc Pederson of the Dodgers hit 20 a year ago, and Mike Piazza (Dodgers, 1993) and Frank Robinson (Reds, 1956) both had 18 at the break.
"That's some kind of company," said Story. "It is always nice to see the ball go over the fence. For me, the way to do it is not try. I hit line drives."
Here's the kicker, though. A year ago, Story would have already hit 20 home runs, but he has been denied a home run three times by the right-field fence at Coors Field that was raised before the season by 8 feet, 9 inches to a height of 16 feet, 6 inches.
Not that Story is complaining. He is a matter-of-fact, blue-collar guy, the son of a fireman/paramedic who has put in a full day's work his whole life, and Story approaches baseball the same way.
When Story got off to that MLB record-setting seven home runs in the first six games of the season and tied the NL rookie record with 10 in April, he raised some eyebrows. But what gets manager Walt Weiss' attention is the way Story handles the bad times.
"Any time it looks like he is struggling a little bit, he has a big game," said Weiss. "That is what I am so impressed about with him. He can quickly turn things around. He doesn't get derailed. He has a great knack for getting himself back on track."
Story had an emotional challenge in Tuesday's game. Yanks center fielder Jacoby Ellsbury led off the third inning with a blooper to left. Gerardo Parra made the catch, but in the process, Story slid into him and Parra was helped off the field with a sprained ankle.
"You never want to see someone get hurt, and it looked pretty bad," said Story. "GP is one of our leaders. He's always happy."
But then Story is becoming one of Colorado's leaders himself because he is always pushing himself to excel. And Weiss was quick to bring that point home.
"Mentally, emotionally, I'm sure he felt he caused Parra's injury," said Weiss. "I told him, 'You were going hard after the ball. Those things happen because you are hustling to make a play. It's nobody's fault.'"
Story quickly erased any concerns that the incident would linger.
After Carlos Gonzalez led off the fourth inning with a single, Story made Yankees starter Nathan Eovaldi pay, lining a home run over the center-field fence. He came up big again in the sixth. After the Yanks cut the Rockies' lead to 6-3 in the top of the inning, Story delivered a single that capped a three-run rally and put Colorado back up by six runs, 9-3.
Others might not have been sure of what lay ahead for the Rockies when Reyes opened the season on the suspended list, and Story won the job after less than a full season at the Triple-A level. There was never a doubt on Story's part, though.
"I have played baseball my whole life, and I know what I can do," he said. "I believe in myself."
Story is making believers of the rest of baseball, too. Whether he can win over the fans in the next two weeks remains to be seen, but he will have that chance.
Fans can continue to vote for the starting lineups at MLB.com and all 30 club sites -- on their computers, tablets and smartphones -- exclusively online using the 2016 Esurance MLB All-Star Game Ballot until Thursday, June 30, at 9:59 p.m. MT. They are allowed to vote up to five times in any 24-hour period for a maximum of 35 times.
Fans also may receive the ballot by texting VOTE to 89269 (USA) or 101010 (Canada) or texting VOTA for a ballot in Spanish. Message and data rates may apply. Up to five messages. No purchase required. Reply STOP to cancel. Reply HELP for info.
Tracy Ringolsby is a national columnist for MLB.com. This story was not subject to the approval of Major League Baseball or its clubs.