A's officially introduce Draft pick Jefferies
OAKLAND -- Right-hander Daulton Jefferies has drawn comparisons with Sonny Gray and spent the last year "idolizing" him. Now he has a chance to one day call Gray a teammate.
The A's agreed to terms on a $1.6 million deal with their Lottery Round A (37th overall) Draft pick on Monday, according to MLB Pipeline's Jim Callis. The Cal product will report to Arizona and continue his rehab as he recovers from an injury to his shoulder that sidelined him for eight weeks this year.
Oakland officially introduced Jefferies at the Coliseum on Tuesday. He toured the ballpark, had lunch with several A's executives -- including GM David Forst -- and met coaches and players, Gray among them.
Jefferies played it cool.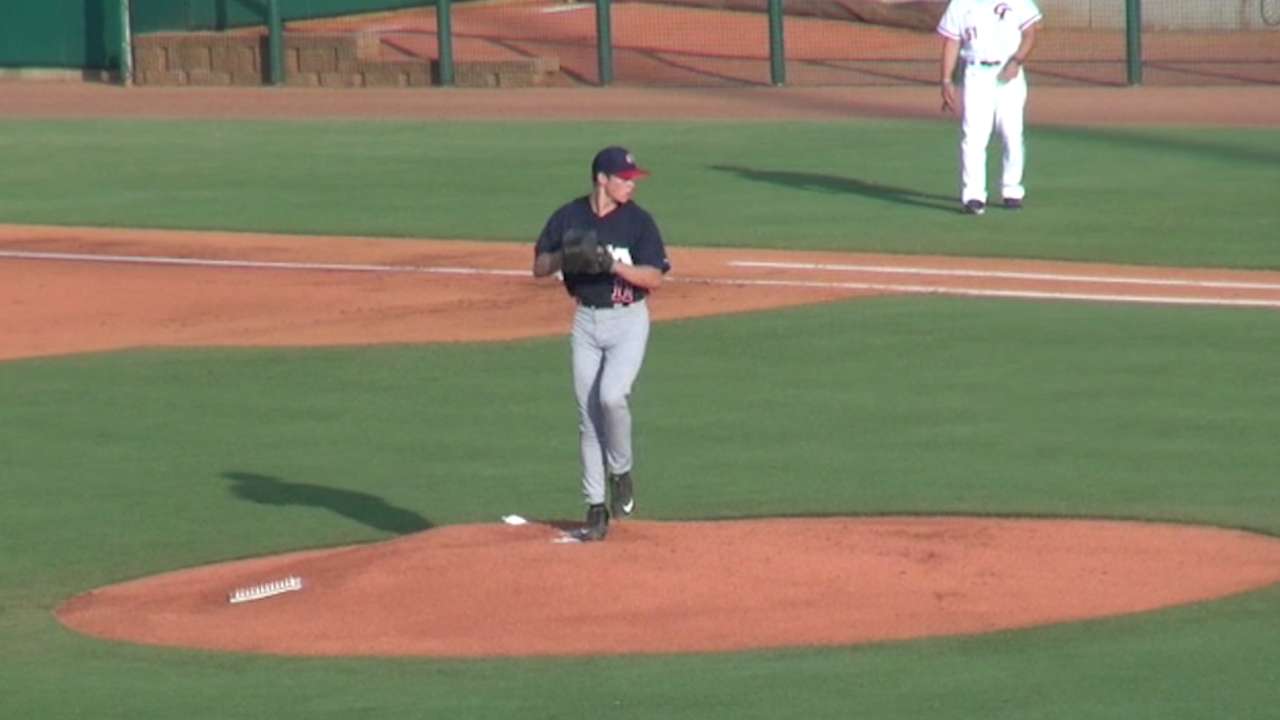 "I tried to hold back a lot of things to say to Sonny," Jefferies said. "I didn't say we have the same baby faces or anything like that, I just said, 'Hey, how's it going?' That's about it. I tried to stay composed when I saw him."
Last year a friend mentioned that he shared some similarities with the A's ace, so Jefferies did some investigating.
"He was one of my top YouTube searches, just watching him pitch," said Jefferies, adding that he tries to emulate Gray. "Don't think I'm weird or anything like that."
Although it's unfair to compare the newest member of the organization with an MLB All-Star, at least right away, manager Bob Melvin said the organization "expects big things" out of Jefferies. Jefferies went 7-0 with a 1.08 ERA in his injury-shortened junior season at Cal and has a low-to-mid-90s fastball in addition to a changeup and a slider.
Jefferies acknowledged that the familiarity with Oakland -- Melvin and shortstop Marcus Semien are Cal grads, plus Berkeley is the next city over -- has already helped with the transition. His mother's family lives in Midland, Texas, home of Oakland's Double-A affiliate, and Class A Stockton is less than a two-hour drive from Berkeley.
Jefferies even met Billy Beane at a Midland game when he was seven years old.
"He probably doesn't remember that," he said.
Jefferies, who finished his freshman year with a 3.45 ERA, was drafted in the 39th round in the 2013 Draft by the Marlins but returned to school and struck out 74 batters his sophomore season. His junior season was abbreviated by the injury.
"This is a guy we were lucky to get, in my opinion, in the spot that we got him," said Melvin, who called Jefferies a "feature guy."
On Tuesday Jefferies underwent an MRI with Oakland doctors that he said came back clean, and watched Tuesday night's game at the Coliseum with his family and a few friends from high school. He said several times that he's trying to keep his composure amid what has been a whirlwind week and an ideal start to his career.
"It's a lot to take in. You just have to take a step back and embrace everything. I've had a lot of fun," he said.
Mark Chiarelli is a reporter for MLB.com based in the Bay Area. This story was not subject to the approval of Major League Baseball or its clubs.