Tolleson could pitch way back to prominence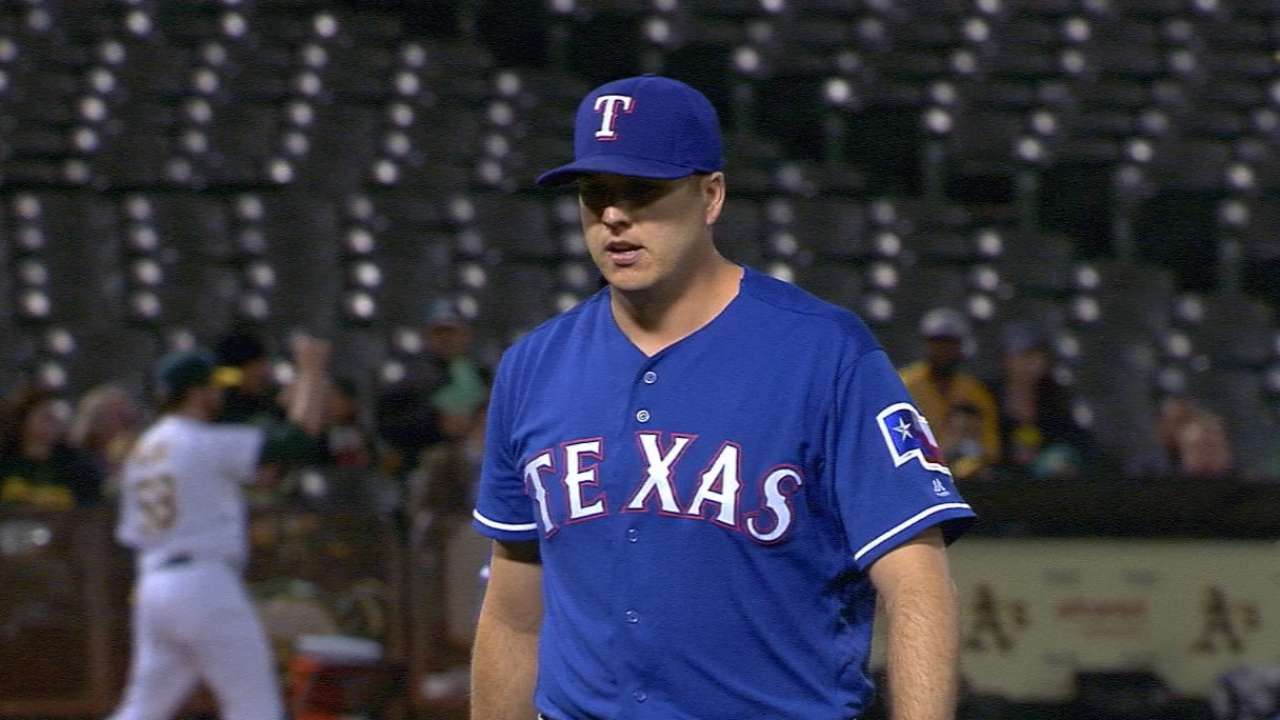 OAKLAND -- The Rangers, not willing to wait until the July 31 non-waiver Trade Deadline approaches, are actively talking to clubs about trading for relief pitching. How serious they get in these talks could depend on Shawn Tolleson.
The Rangers want at least one more big arm for the back end of their bullpen to go with right-handers Sam Dyson, Matt Bush and Tony Barnette, and left-hander Jake Diekman. Tolleson could still be that guy if he pitches the way he did in the Rangers' 14-5 loss to the Athletics on Monday night, when he retired seven straight hitters on 27 pitches.
The 2 1/3-inning outing matches the longest of his career, and it was a good sign for a pitcher who lost his job as closer last month and still has an 8.41 ERA with opponents hitting .322 off him.
But Tolleson was outstanding for the Rangers the past two seasons -- he was their Pitcher of the Year in 2015 -- and could still pitch his way back into a prominent role in the bullpen.
"Just continue to back it up," manager Jeff Banister said. "Last night was nice -- not only one inning but backing it up with the second inning. It was refreshing to see."
Dyson, Diekman and Bush have been outstanding, and Barnette has been solid in middle relief. The concern is running Diekman and Dyson into the ground before September.
"I'm trying to have success in whatever role," Tolleson said. "We have a bunch of good arms, and they have done a great job at the back end of the bullpen. They've all had a heavy workload. That's just the way the game is going. We have had a lot of tight ballgames, so they are going to go with their most reliable guys.
"I'm just trying to put up zeros, have some success and help any way I can."
Tom Wilhelmsen was also supposed to be an integral part of the bullpen, but he was optioned to Triple-A Round Rock before Tuesday's game. Nick Martinez was called up to give the Rangers a long reliever.
Wilhelmsen was sent down with a 10.55 ERA -- the highest among qualifying relievers in the American League -- and opponents were hitting .392 off him. From 2011 to 2015, he had a 2.97 ERA out of the Mariners' bullpen, along with 67 saves and a .206 batting average against.
"Willy needs to go down and work on things," Banister said. "Willy is a victim of [the] 'when things don't go right, let's try harder' mentality. That doesn't always play."
Martinez an option for rotation: Martinez has been brought up to give the Rangers depth in the bullpen, but he could also be a candidate to start against the Cardinals on Saturday in the spot vacated by Yu Darvish, who was placed on the disabled list on Monday with discomfort in his neck and shoulder. Cesar Ramos, who allowed eight runs in 3 2/3 innings on Monday, is another candidate, along with right-hander Kyle Lohse, who is currently in the Minor Leagues.
"Nick is an option if we don't use him [out of the bullpen]," Banister said. "But he's here now to give us protection."
A.J. Griffin, on the DL because of inflammation in his right shoulder, started for Double-A Frisco on Tuesday and allowed two runs on five hits, two walks and three strikeouts in three-plus innings. He threw 63 pitches.
"He looked like himself the first couple innings, and then he looked like he ran out of steam a little bit," general manager Jon Daniels said. "It was an 11 a.m. start, which is a challenge; [it was] hot and muggy out. Looked like the end of the third and in the fourth, he ran out of steam, which is not totally unexpected given what he's coming off of."
Rangers beat:
• The Rangers are still targeting Thursday for third baseman Adrian Beltre to return to the lineup. Beltre missed his sixth straight game on Tuesday with a strained left hamstring.
• Darvish underwent treatment in Arlington on Tuesday for the discomfort in his right shoulder, but did not doing any throwing.
• Ryan Rua entered Tuesday hitting .392 against left-handers, tied for the highest in the AL, and batted fourth for the first time in his career.
• The Rangers announced eight more Draft signings late Tuesday, including shortstop Charles LeBlanc (fouth round) from the University of Pittsburgh, right-hander Kyle Cody (sixth) from the University of Kentucky and Tai Teidemann (eighth) from Long Beach College. Also agreeing to terms were right-hander Hever Bueno (ninth) from Arizona State, outfielder Josh Merrigan (10th) from Gwinnett (Ga.) College, right-hander Joe Barlow (11th) from Salt Lake College, catcher Alex Kowacyzk (12th) from the University of Pittsburgh and shortstop Jonah Reynolds (13th) from Patrick Henry (Va.) College.
T.R. Sullivan has covered the Rangers since 1989, and for MLB.com since 2006. Follow him on Twitter @Sullivan_Ranger and listen to his podcast. This story was not subject to the approval of Major League Baseball or its clubs.