Barnes' Father's Day marked by loss, new beginnings
Righty lost stepdad to cancer in April, welcomed daughter weeks later
LOS ANGELES -- The most meaningful Father's Day of Jacob Barnes' life will be a long-distance affair. The right-handed reliever will be in the Brewers' bullpen at Dodger Stadium today, but his heart will be pulled east to Mississippi by his newborn daughter, and to Florida, where family is still mourning the loss of the man who raised him. Meanwhile, Barnes is renewing a relationship with his biological father.
For a 26-year-old rookie still getting used to life in the big leagues, it is a lot to process.
"It's bittersweet," Barnes said. "I have my own child now, so that's an amazing feeling. It's going to be special. But my stepdad is gone, and that was my father figure. That part is going to be hard."
Barnes' stepfather, Ray, was diagnosed with Stage 4 lung cancer at the start of Spring Training, and it spread to his brain, Barnes said. He passed away at the end of April.
Ray began dating Jacob's mother when Barnes was a toddler, and they married when Barnes was in grade school. At first, Barnes referred to his stepfather as "Ray." In more recent years, it was "Dad."
Filling that role became more challenging starting when Barnes was in third or fourth grade. A factory worker, Ray was already fighting some hereditary back ailments when he was injured on the job. Surgery was deemed too risky, so Ray survived on therapy and occasional treatment for pain. His condition worsened throughout the rest of his life, to the point where his mobility was severely limited in recent years.
Barnes' mother also suffered a severe back injury at work that required emergency surgery, and she remains physically limited. Ray did what he could to get the family by, Barnes said.
"When I was younger, [my dad and I] would be out there playing catch in the backyard now and again. Normal things," Barnes said. "Once I got to high school, he couldn't really do that stuff anymore.
"But he was always cracking jokes, even when he struggled. He was never the type of person who wanted people to feel bad for him. Whenever we would ask how he was doing, he would always come up with some reason he was feeling great, even though we knew he wasn't.
"He had a big heart. I have two other siblings that weren't his, and he took us all on at a young age. He treated us as his own. That sums up who he was."
What lessons did Barnes learn from Ray that applied to baseball?
"You learn to appreciate things a lot more," Barnes said. "You see him struggle, and you learn that sometimes life isn't fair. You deal with it. You learn, 'Don't let things beat you.'
"He taught me a lot about life, whether he knew or not; whether he was talking about it or just doing it."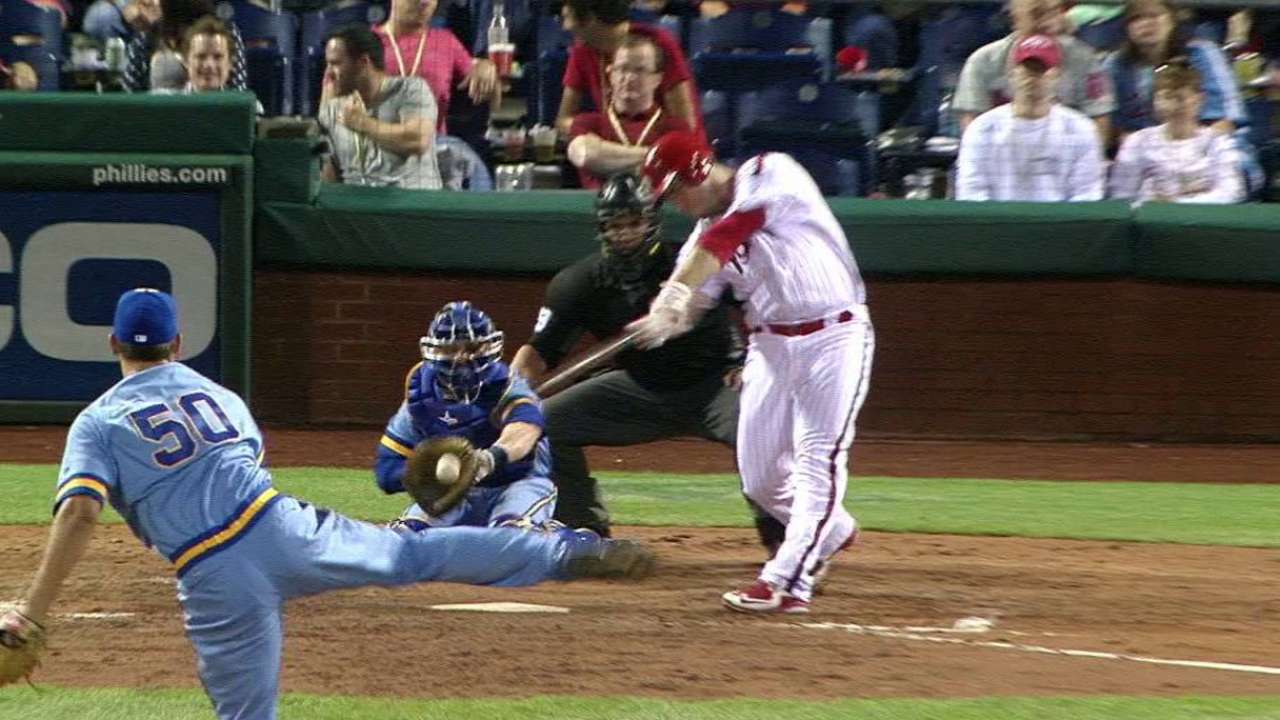 Barnes left the Triple-A Colorado Springs team in time to travel home to see his stepfather before he passed. After helping his mother put Ray's affairs in order, and attending the funeral, Barnes rejoined his team only to be called again two weeks later.
This time, it was a much happier affair. Barnes was able to get to Mississippi in time to attend the birth of his first child, a daughter named Maisy.
"At first, there was so much going on all at once, it didn't really hit me," Barnes said. "But once I got back to playing and I was able to sit down and think about everything, it's an awesome feeling having your own child, and to be able to teach her everything that you learned growing up. I can't wait for her to grow up and learn about life and enjoy all life has to offer."
He paused to reflect.
"There's been a lot going on," Barnes said. "It's been an up-and-down year, there's no doubt about that. There's been a lot of good things lately."
Adam McCalvy has covered the Brewers for MLB.com since 2001. Follow him on Twitter @AdamMcCalvy, like him on Facebook and listen to his podcast. This story was not subject to the approval of Major League Baseball or its clubs.