Britton, dad find deeper bond through fatherhood
BALTIMORE -- Over the past year and eight months, Orioles closer Zach Britton's relationship with his dad, Greg, has evolved. And it's not because Zach has transformed into one of the league's most dependable closers.
Sure, Greg enjoys watching his youngest son strike out Major League hitters with a 96-mph sinker. But it's watching Zach interact with his own son that brings him more joy than anything.
Since Zander Britton was born during the Orioles playoff run in October 2014, Zach's relationship with his dad is no longer just father and son.
"I relate to [Zach] differently a little bit because now he's a dad, so I can relate to him as a father to a father," Greg said.
And Zach has developed a greater appreciation for all the years his dad put up with him when he was growing up. When the Orioles traveled to Texas for a series with the Rangers in mid-April, he had dinner with his dad, who lives in the area.
At one point during the meal, Zander grew anxious. He was tired of sitting in his seat. He wanted to run around and unleash some of his energy.
But this was dinnertime, so Zach leaned over to his son and told him he needed to behave himself. Then he shared a look with his own dad. Greg just nodded.
"There are so many things at the time when you are growing up, you're always like, 'Why is he doing this to me or that?" the closer said. "You understand that it's for a reason. I think in hindsight, you appreciate it a lot more as you get older."
When Zach was younger, his father used baseball as his disciplinary tool. All he had to do was ask Zach if he wanted to play baseball that weekend.
"Everything got in line," Greg said. "No problems."
Zander is too young to understand baseball, but when Zach leaves the clubhouse after a game, his son is the first person he goes to.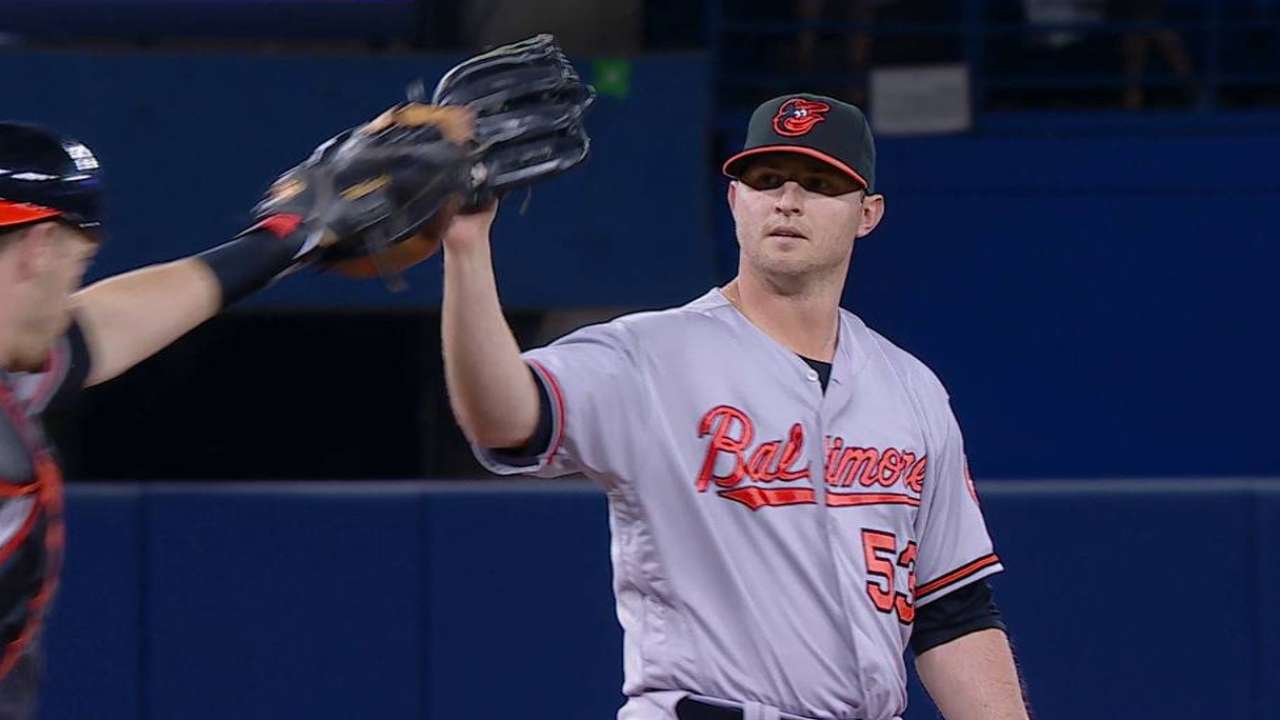 "Everything you do now revolves around him," Zach said. "It just completely changes everything about your life. Everything that you thought was important isn't a focal point anymore. It's been awesome."
To some degree, Zander has become a focal point for Greg as well. When Greg gets a chance to visit with Zach, he conceded he'd go to Zander first.
"Our sons were always the focus," Greg said. "Now we've got grandkids, and you can't help it that they're like little magnets."
That hasn't detracted from Greg and Zach's relationship, though. In fact, it's improved it, since the O's closer can relate to his dad in a way he never could before Zander.
And with Zach's wife, Courtney, due again this November, Greg will have another grandchild to cherish and see Zach mentor.
"What I really like -- and it's with all my sons -- is watching them being a dad," Greg said. It's really satisfying to me. … Zach is a very good dad. He's an excellent father."
Ryan Baillargeon is a reporter for MLB.com based in Baltimore. This story was not subject to the approval of Major League Baseball or its clubs.