Close race for third outfield spot in AL voting
Cain, Trumbo, Betts, Bautista bunched up behind Trout, Bradley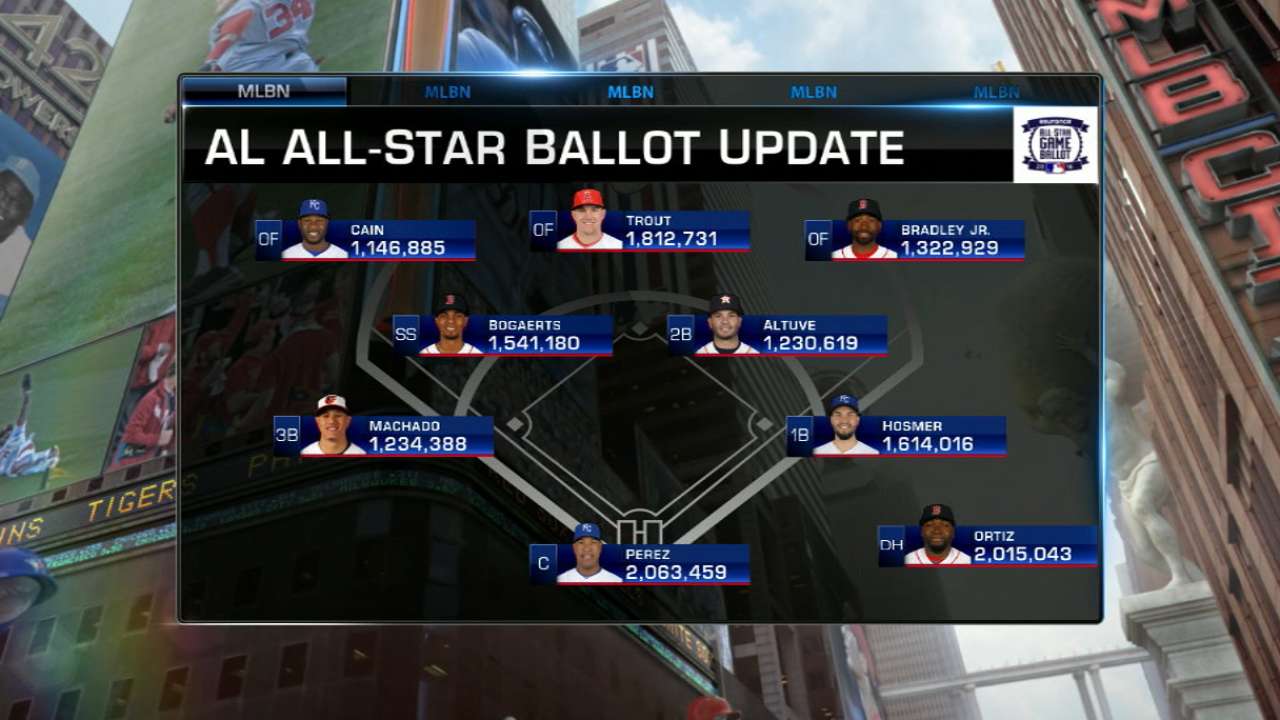 We're approaching the final two weeks of voting in the 2016 Esurance MLB All-Star Game Ballot, and four American League outfielders are separated by fewer than 200,000 votes for the third and final starting spot in the 87th All-Star Game presented by MasterCard on July 12 in San Diego.
The question may be: Can anyone slow Mookie Betts?
Mike Trout of the Angels, Jackie Bradley Jr. of the Red Sox and Lorenzo Cain of the Royals currently hold the starting outfield spots, in that order, in the latest AL voting update released on Tuesday by Major League Baseball, but one of the biggest stories in the voting right now is probably Betts -- the cover player for MLB.com's R.B.I. Baseball 16 video game -- and his substantial rise the past two weeks in balloting.
• Cast your Esurance All-Star Game Ballot for #ASGWorthy players
Mark Trumbo of the Orioles remains fourth in outfield voting, but Betts leapfrogged Jose Bautista of the Blue Jays for fifth and is closing fast on fourth. To best gauge this race, consider these three largest AL outfield vote totals from the Week 2 update to this one: Trout (468,153), Bradley (385,158) and Betts (356,243). Trumbo (294,444) and Bautista (221,999) also outvoted Cain (202,523) over the past week, so get ready for a frantic fortnight.
The rest of the current AL starting composition is unchanged: Salvador Perez of the Royals behind the plate, Eric Hosmer of the Royals at first base, Jose Altuve of the Astros at second, Manny Machado of the Orioles at third, Xander Bogaerts of the Red Sox at shortstop and David Ortiz of the Red Sox at designated hitter. So if Betts stays on his current track, you could be looking at four Boston players in the starting lineup at Petco Park.
Betts leads the Majors with 58 runs, setting the table as the leadoff hitter with the most pop in the game today -- 14 homers and 47 RBIs, tops among leadoff men. He has been successful in each of his last 13 steal attempts (11-for-11 in 2016), and if you like Altuve in your balloting, then it's worth noting that Betts joined him as the second player this year with 10 or more homers and 10 or more stolen bases.
"Just trying to ride the wave," Betts said earlier this month.
Cain batted cleanup for a fourth straight game on Tuesday, entering Kansas City's game against Cleveland tied for the Major League lead with nine game-winning RBIs and 15 go-ahead RBIs. He was hitting .285/.337/.417. Last year marked Cain's first All-Star selection, and he played a key role in an AL victory that proved critical for his own Royals team, which as a result had home-field advantage in the World Series.
• Starting spots still in the air in National League
Trumbo, bidding for his second All-Star nod (also in 2012), leads the Majors with 20 homers to go along with a .286 average, 11 doubles and a .584 slugging percentage. Bautista, who sits just two home runs shy of 300 for his career, has an AL-high 47 walks along with 12 homers, 40 RBIs and 15 doubles.
One of the most interesting races that has unfolded is for top overall vote-getter, especially given the circumstances. Ortiz, retiring after this season, earned that recognition only once before in his nine All-Star selections: in 2005, as he basked in the afterglow of Boston's long-awaited title. Ortiz gained on Perez by nearly 100,000 votes over the past week and is now right behind him in a battle between two of the past three World Series MVPs.
Ortiz, 40, is leading the Majors with a 194 OPS+ and 55 RBIs, a big reason the Red Sox were tied for first place with Baltimore in the AL East entering their series opener with the Orioles on Tuesday.
Hosmer's lead is certainly not as tenuous as that of his teammate Cain, but 10-time All-Star Miguel Cabrera of the Tigers had a better voting week than Hosmer for the first time this year, drawing 357,973 votes to Hosmer's 341,459. Hosmer, hoping for his first Midsummer Classic selection, still has a healthy lead of 521,939 overall votes. Baltimore's Chris Davis just won AL Player of the Week honors, so there's another deserving player to consider.
Cano leapfrogged Kansas City's Omar Infante for second place at second base, but is struggling to keep pace with Altuve. Altuve led Cano by 269,803 votes after Week 1, then by 356,782 votes (a gain of 86,979) after Week 2, and now by 462,737 (105,955 gain).
Machado more than doubled his lead at third, but keep an eye on reigning AL MVP Josh Donaldson, who is well within striking distance. The Blue Jays' third baseman is now about 70,000 behind Mike Moustakas (out for the season with a knee injury) for second. Machado had 179,443 more votes than Donaldson after Week 1, 309,578 more after Week 2, and now is 479,611 ahead.
Bogaerts, who last week overtook Alcides Escobar of Kansas City for the shortstop lead, nearly tripled his advantage in the past week.
Fans can cast their votes for starters at MLB.com and all 30 club sites -- on their computers, tablets and smartphones -- exclusively online using the 2016 Esurance MLB All-Star Game Ballot until Thursday, June 30, at 11:59 p.m. ET. Vote up to five times in any 24-hour period for a maximum of 35 times.
Fans may also receive the ballot by texting VOTE to 89269 (USA) or 101010 (Canada). Or text VOTA for a ballot in Spanish. Message and data rates may apply. Up to five messages. No purchase required. Reply STOP to cancel. Reply HELP for info.
Following the announcement of the 2016 All-Stars, be sure to return to MLB.com and cast your 2016 Esurance MLB All-Star Game Final Vote for the final player on each league's All-Star roster. On Tuesday, July 12, watch the 2016 All-Star Game presented by MasterCard live on FOX, and during the game visit MLB.com to submit your choice for the Ted Williams Most Valuable Player Award presented by Chevrolet via the 2016 MLB All-Star Game MVP Vote.
The 87th All-Star Game, in San Diego, will be televised nationally by FOX, in Canada by Rogers Sportsnet and RDS, and worldwide by partners in more than 160 countries via MLB International's independent feed. ESPN Radio and ESPN Radio Deportes will provide national radio coverage of the All-Star Game. MLB.com, MLB Network and SiriusXM will also provide comprehensive All-Star Week coverage. For more information, please visit allstargame.com.
AMERICAN LEAGUE ALL-STAR BALLOTING LEADERS
CATCHER
1. Salvador Perez, Royals: 2,063,459
2. Matt Wieters, Orioles: 672,822
3. Brian McCann, Yankees: 446,697
4. Russell Martin, Blue Jays: 424,273
5. Blake Swihart, Red Sox: 285,059
FIRST BASE
1. Eric Hosmer, Royals: 1,614,016
2. Miguel Cabrera, Tigers: 1,092,077
3. Chris Davis, Orioles: 571,583
4. Hanley Ramirez, Red Sox: 532,917
5. Justin Smoak, Blue Jays: 323,917
SECOND BASE
1. Jose Altuve, Astros: 1,230,619
2. Robinson Cano, Mariners: 767,882
3. Omar Infante, Royals: 711,439
4. Dustin Pedroia, Red Sox: 685,853
5. Ian Kinsler, Tigers: 376,095
THIRD BASE
1. Manny Machado, Orioles: 1,234,388
2. Mike Moustakas, Royals: 824,727
3. Josh Donaldson, Blue Jays: 754,777
4. Adrian Beltre, Rangers: 539,102
5. Nick Castellanos, Tigers: 478,596
SHORTSTOP
1. Xander Bogaerts, Red Sox: 1,541,180
2. Alcides Escobar, Royals: 958,750
3. Troy Tulowitzki, Blue Jays: 569,676
4. Carlos Correa, Astros: 474,730
5. Elvis Andrus, Rangers: 459,141
OUTFIELD
1. Mike Trout, Angels: 1,812,731
2. Jackie Bradley Jr., Red Sox: 1,322,929
3. Lorenzo Cain, Royals: 1,146,885
4. Mark Trumbo, Orioles: 1,110,720
5. Mookie Betts, Red Sox: 1,069,912
6. Jose Bautista, Blue Jays: 956,160
7. Alex Gordon, Royals: 807,469
8. Paulo Orlando, Royals: 663,255
9. Carlos Beltran, Yankees: 463,504
10. Adam Jones, Orioles: 419,313
11. Ian Desmond, Rangers: 414,031
12. Kevin Pillar, Blue Jays: 404,089
13. Melky Cabrera, White Sox: 369,194
14. Michael Saunders, Blue Jays: 340,672
15. Brock Holt, Red Sox: 298,652
DESIGNATED HITTER
1. David Ortiz, Red Sox: 2,015,043
2. Kendrys Morales, Royals: 739,284
3. Victor Martinez, Tigers: 482,352
4. Nelson Cruz, Mariners: 472,733
5. Edwin Encarnacion, Blue Jays: 465,497
Mark Newman is enterprise editor of MLB.com. Read and join other baseball fans on his MLB.com community blog. This story was not subject to the approval of Major League Baseball or its clubs.