Returning home reverses Oakland's fortunes
OAKLAND -- It's good to be home.
The A's clobbered Rangers pitching on Monday night at the Coliseum, racking up a season-high 14 runs and tying a season high with 17 hits -- highlighted by a pair of three-run homers from Khris Davis and Josh Phegley -- in a 14-5 win. The outburst came after Oakland went 1-7 on its most recent road trip, averaging 2.6 runs per game.
They didn't wait long to establish themselves in the series opener, scoring 14 runs in the first five innings in a dizzying attack. They sent eight batters to the plate and scored four runs in the third off Texas starter Cesar Ramos, punctuated by Davis' three-run homer.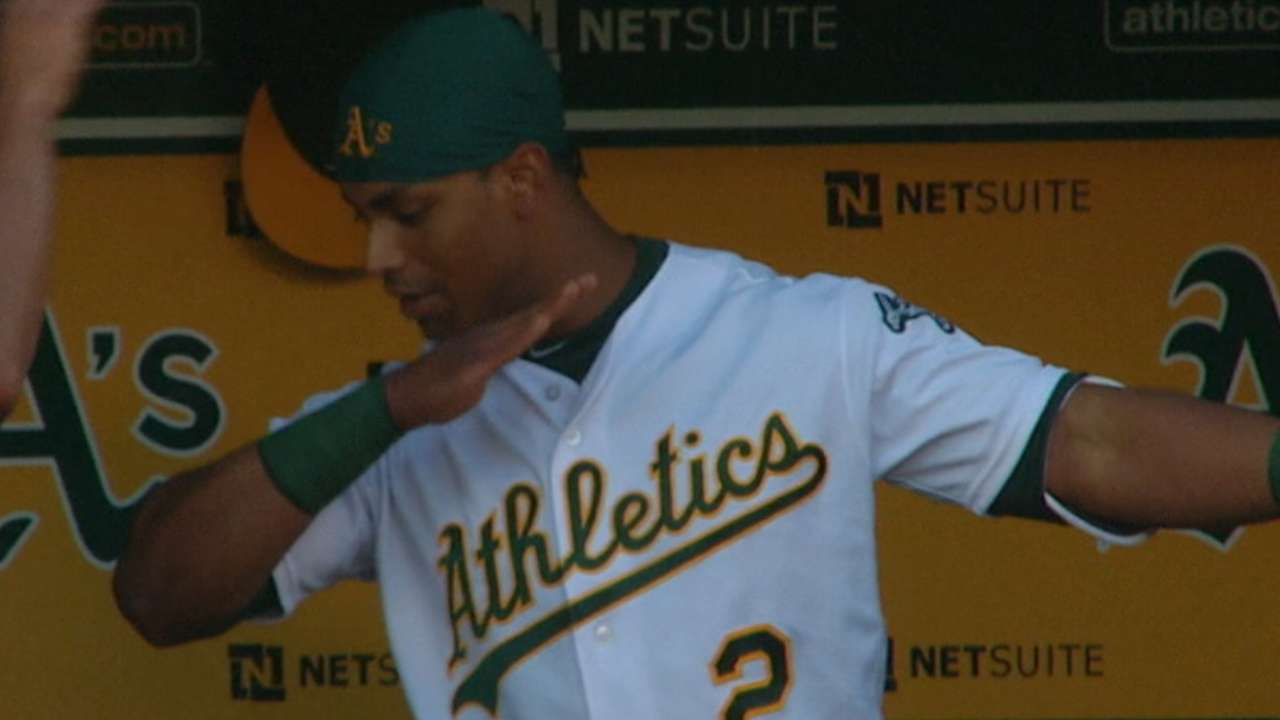 "That was a charge," manager Bob Melvin said. "That was a type of ball that's usually a double in the gap, and it leaves the park in a hurry. It looks like he's getting past the issues he had earlier on, and that's a good thing, because we've seen when he's healthy, he's quite the run-producer."
Davis' teammates followed his lead. Ramos recorded just one out in the fourth before turning it over to Tom Wilhelmsen, who fared even worse, giving up six runs on nine hits in an inning-plus.
Opportunity presented itself for newcomers and mainstays alike. Phegley blasted his first home run of the season and Jake Smolinski made the most of another chance against a lefty starter, reaching base in each of his first four at-bats while driving in two runs. Even Tyler Ladendorf, who entered with a .048 batting average, added a hit and a run.
"I think hitting is contagious," Smolinski said. "We were on a roll tonight and we kept it rolling throughout the whole game."
Although Monday's offensive performance was rare, the Rangers are plenty used to seeing Davis (2-for-4, five RBIs) frustrate their pitching. Davis is 7-for-13 this season against Texas, with five homers and 13 RBIs in four games.
"I feel like there are some organizations I hit better than others, so maybe the numbers aren't lying," said Davis, who was relieved to hit the ball hard following a road trip in which he was hampered by nagging elbow and hand injuries.
Melvin noted that Oakland has surged offensively before. The last time the A's scored more than 10 runs was on May 28, against Detroit, in a 12-3 win. They rattled off five straight wins after that but plummeted during their recent road trip. The hope is that they can learn from that experience and stabilize moving forward.
"You just try to enjoy it while it lasts, because it's only temporary," Davis said. "Hopefully, we can just hold on to some consistency."
Mark Chiarelli is a reporter for MLB.com based in the Bay Area. This story was not subject to the approval of Major League Baseball or its clubs.