'Little things' elude Halos as mistakes snowball
'We can't give teams extra outs,' Giavotella says of team's 3 errors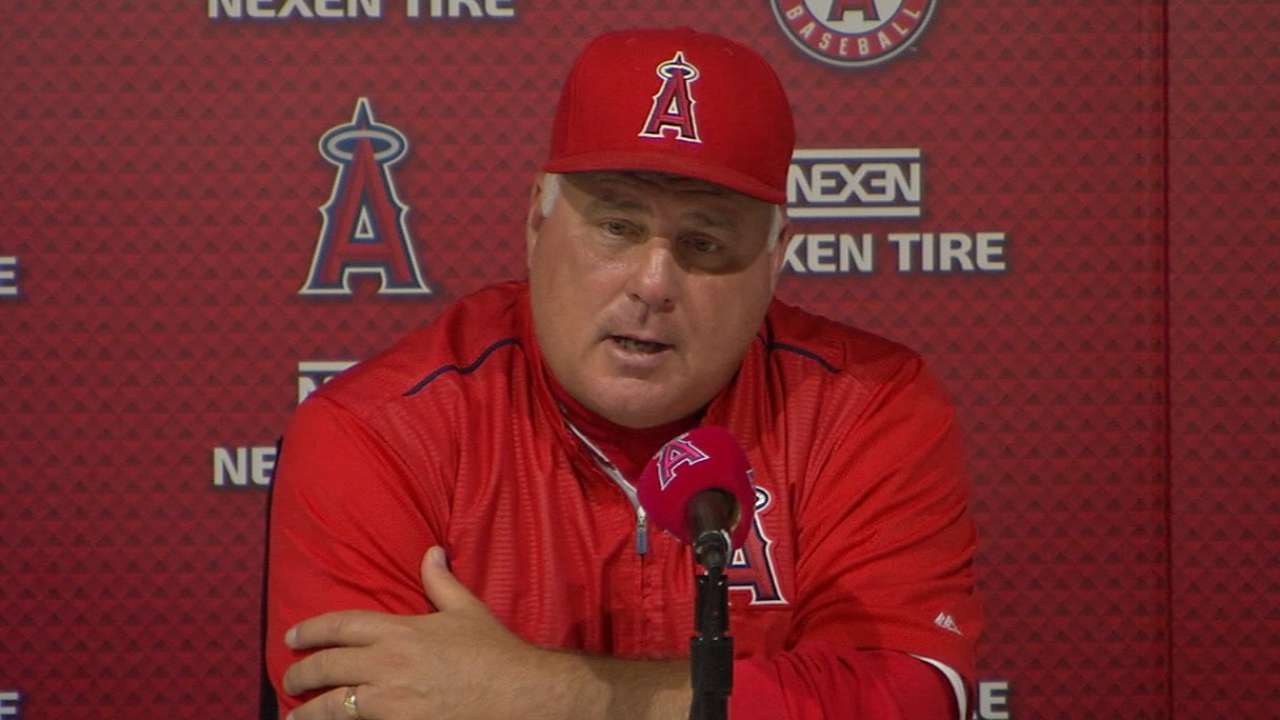 ANAHEIM -- The Angels don't have much room for error these days. Their rotation is crippled, their offense is lacking and their bullpen is taxed. And so, on most nights, the wins only come if the mistakes are avoided.
On Monday night, in the series opener against the similarly hapless Twins, the opposite occurred in a 9-4 defeat.
The top of the third was extended by an errant throw on a potential inning-ending double play, and three runs were added. The top of the seventh was prolonged by three defensive lapses, and two more men crossed home plate because of it. And in the end, the Angels lost for the seventh time in the last eight games and fell 10 games below .500 for the first time since 2013.
"We're not a team that can go out there and miss out on the little things," said Angels starter Jered Weaver, tagged with a loss after being charged with six runs (five earned) in six innings. "We have to do all the little things to win a game, and obviously we didn't do that tonight. It starts with me, obviously. I can't keep the ball in the yard."
Weaver gave up a three-run homer in the third to Trevor Plouffe and a solo shot in the sixth to Byron Buxton, who went deep for only the third time in 237 plate appearances. The Angels' longtime ace has a 5.71 ERA and has yielded a Major League-leading 18 home runs, but one of those probably does not occur if not for the sloppy defense behind him.
With one on and one out in the third, Joe Mauer hit a slow roller to the right side that second baseman Johnny Giavotella failed to charge. Giavotella was rushed by the time he fielded it, so he turned to second without much of a grip on the ball and hurled the baseball into left field, putting runners on the corners and setting it up for Plouffe's homer.
"Inexcusable," Giavotella said of the play. "I work hard on my defense."
It got worse in the seventh.
Al Alburquerque started the inning, representing the 20th pitcher used by the Angels this season, and immediately gave up a home run to straightaway center field to Robbie Grossman. Gregorio Petit, who had been solid as a fill-in shortstop, booted a couple of ground balls, and then the Angels couldn't turn a 5-4-3 double play, allowing a run to score and keeping the inning alive for Kurt Suzuki to dump an RBI single shortly thereafter.
By that point, a sparse Angel Stadium crowd was booing.
"We can't give teams extra outs," Giavotella said. "We have to capitalize on double-play balls, on routine plays, and we didn't do that tonight."
Angels starters are 0-6 with an 8.33 ERA over the last seven games, including Matt Shoemaker's eight scoreless innings. During that stretch, the bullpen has absorbed 28 1/3 innings and the defense has committed 10 errors.
The Angels are in last place in the American League West, at 12 games behind the Rangers.
They've dropped all four of their games to the Twins, a team that is 23 games below .500 even after Monday's win.
"Since I've been here, it's always been based off of pitching and defense, and that has been a little bit sporadic," said Weaver, nearing the midway point of his 11th season with the Angels. "If we take care of those two tangibles, everything else should take care of itself. It obviously didn't go too well in both of those aspects."
Alden Gonzalez has covered the Angels for MLB.com since 2012. Follow him on Twitter and Facebook, and listen to his podcast. This story was not subject to the approval of Major League Baseball or its clubs.