Freeman sees great night as 'sign of big things'
Braves first baseman has three hits, including two-run home run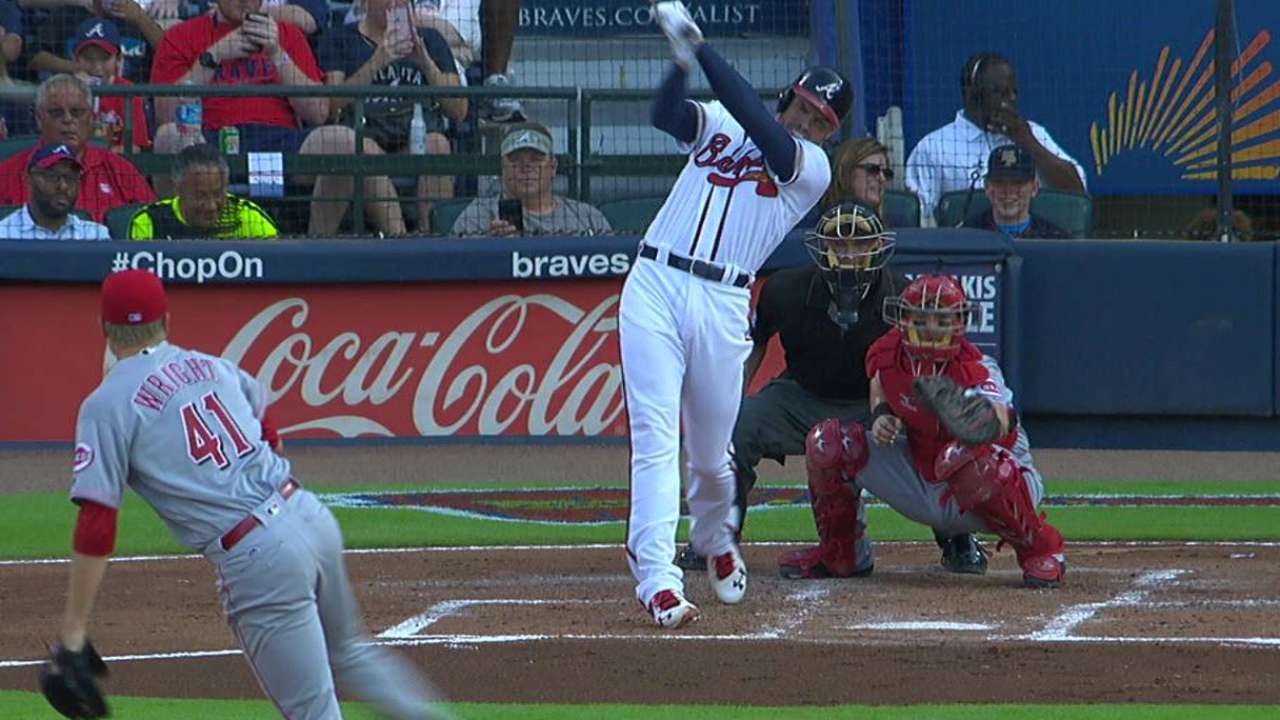 ATLANTA -- Freddie Freeman recorded three hits and three RBIs, as the Braves tallied eight runs for the third time this season. In the past, this would have often been the introduction to a story about an Atlanta victory.
But the past was far different than the present for the Braves, who squandered Freeman's second multi-RBI game of the season and fell to 18-45 with Monday night's 9-8 loss to the Reds at Turner Field. By the time this frustrating evening was over, it was quite clear how quickly eight walks can minimize the value of eight runs.
"Offensively, we did a lot of really good things," Braves manager Brian Snitker said. "It's something we haven't been doing, scoring some runs. And it's a shame we can't get everything on the same page because you can see in bits and pieces what we're capable of. We just have to keep working to put it all together for an extended period."
Braves starting pitcher Aaron Blair issued three walks, including one with the bases loaded in the Reds' three-run third inning, and Atlanta closer Arodys Vizcaino followed an intentional walk to Joey Votto with two more free passes, including another with the bases loaded during the decisive ninth inning.
At the end of a night that gave him reason to believe he's about to break free from this season's inconsistencies, Freeman certainly wasn't feeling good. The All-Star first baseman struck out with two on and one out in the seventh inning of the loss. After his first three at-bats, though, he found himself a triple shy of the cycle and recorded his first multi-RBI game at home this season.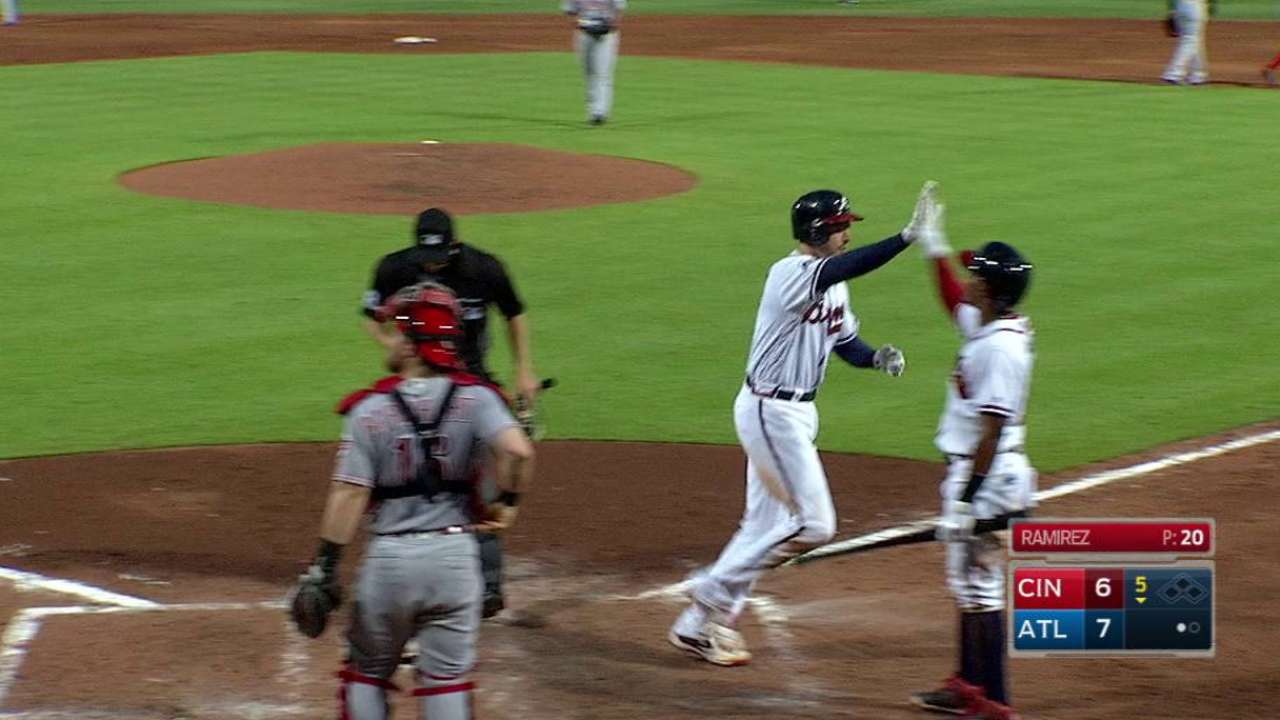 Freeman notched an RBI single in a two-run first inning and then sparked a two-run third inning with a two-out double. He then gave the Braves a short-lived 7-6 lead with a two-run home run in the fifth inning. He recorded two hits in three at-bats with runners in scoring position, or just four fewer than he had notched in the 49 at-bats he'd tallied in these situations this season.
Freeman's struggles have been well-documented, as he notched just two hits in his first 25 at-bats and then managed to get his batting average back up to .284 on May 16. But even with Monday night's three-hit performance, he has hit just .204 with a .663 OPS over his past 21 games.
"Obviously, things haven't gone the way I've wanted it so far this year, but hopefully, this is a sign of good things to come," Freeman said.
Mark Bowman has covered the Braves for MLB.com since 2001. This story was not subject to the approval of Major League Baseball or its clubs.