MLB.com Columnist
Tracy Ringolsby
Texas proving to be the right fit for Hamels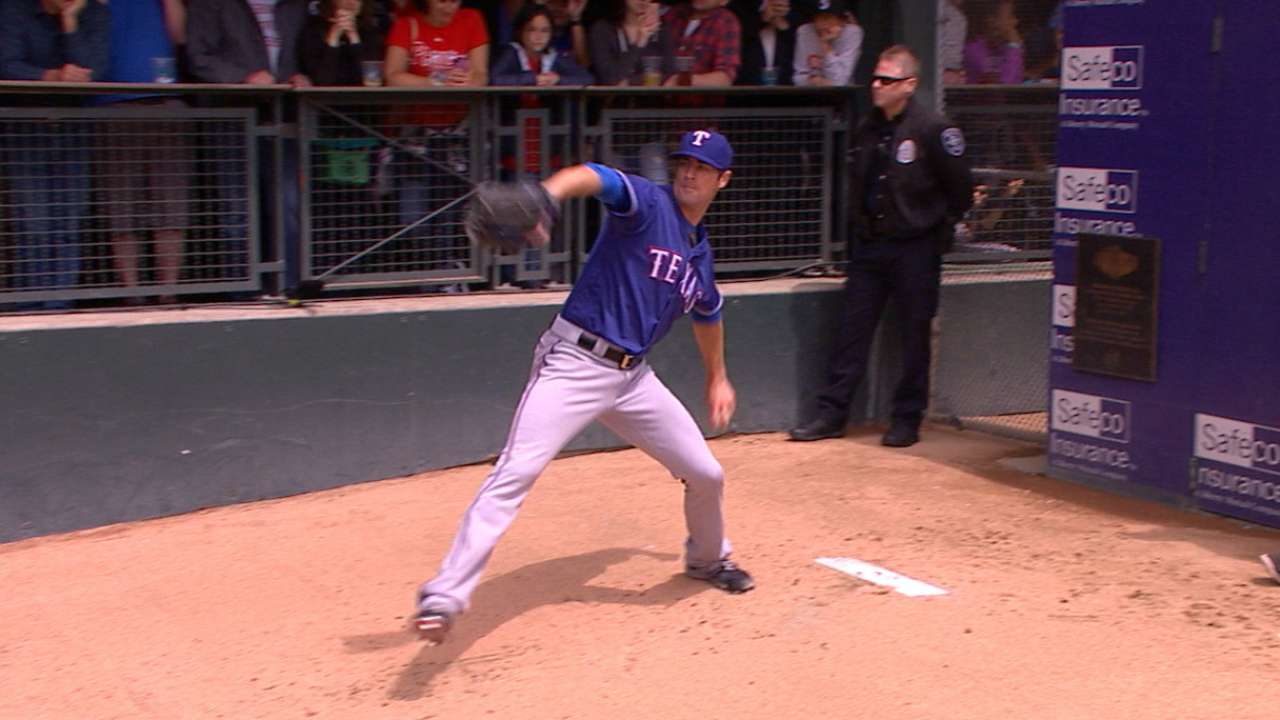 SEATTLE -- In the morning of July 31, 2015, there were 14 teams with winning records, 14 teams who were within seven games of first, and 17 teams within 4 1/2 games of a postseason spot.
And then there were the Texas Rangers, struggling to rebound from the worst April since they moved to Texas from Washington, D.C., back in 1972, an afterthought in most discussions of postseason possibilities.
Now look at the Rangers. Not only did they rally in the final two months in 2015 to win the American League West, but with a 6-4 victory against the Mariners on Sunday afternoon, they found themselves with the best record in the AL (39-24).
There have been many things that have played a part in the team's resurgence.
None, however, are bigger than the arrival of Cole Hamels in a July 31 deal with the Phillies that saw the Rangers package five players 25 or younger to add Hamels not only with the hope of a late-season boost in 2015, but an expectation he could be a center piece for success in years to come.
So it was fitting that on Sunday afternoon at Safeco Field that it was Hamels who dominated for seven innings, allowing just one run on a Leonys Martin home run, to put the Rangers in position to increase their lead in the AL West to five games, the biggest advantage they have enjoyed in three years, two weeks and four days.
Hamels showed up talking about how the Rangers had the quality of players that winning the division last year wasn't unrealistic, and he hasn't backed off that sales pitch a bit since.
"It was a great move by [general manager Jon Daniels] and the front office to be bold and aggressive and get a guy like Cole Hamels," said manager Jeff Banister. "They were thinking long-term. They knew he was going to bolster the rotation last year, but he also was an addition for the long term."
It's no coincidence that since that announcement prior to the games on July 31 that Hamels was coming to Texas, the Rangers are a combined 32 games over .500, having finished up the 2015 season by winning 39 of their final 61 games, and opening this season at 39-24.
They are 19-6 in games started by Hamels, including 13-3 in games against the teams in the AL West.
"He added a trust to our process," said Banister.
And it wasn't by chance that Hamels wound up in Texas.
Hamels had the hammer in the Phils' effort to trade him. He had veto power over any trade, and in a methodical evaluation of the teams with interest, it was the Rangers who stood out to Hamels, who forced the issue at Deadline time.
"If I had been going someplace for just the last two months, it would have been a different team," admitted Hamels, who took a long-range view in light of the fact his contract is guaranteed through 2018 with an option for '19. "I treated my situation like a free agent. I wanted to go where I wanted to go."
The Rangers were his choice to the surprise of many, especially the Phillies general manager [since fired Ruben Amaro].
So what caught the attention of the left-hander -- who was born and raised in the San Diego area and had spent his entire pro career pitching back east -- to suddenly lust for a life in the Lone Star State?
"I knew they had a good mix of veterans and young guys," said Hamels, alluding to the expectation that the roster was aligned for more than a win-now opportunity. "What I didn't know until I got here was the clubhouse chemistry was 100 percent. They had good people, too."
They got better with the addition of Hamels, who arrived preaching about being able to win, and do it immediately, and hasn't backed off the spiel a bit.
Hamels is excited about what the team has done on the field, and humbled by the credit he gets from the organization for providing that necessary push for a winning mentality to take over the clubhouse.
"That is the best compliment you can hear," said Hamels. "You don't have too many years to play the game at an elite level. If you are able to bring something to the game every day, whether you are in the lineup or not, is more important."
Hamels has done both. He has given the Rangers a boost on the days he has pitched, and been a factor in the clubhouse and on the bench every other day since his arrival.
Tracy Ringolsby is a columnist for MLB.com. Read his blog, Write 'em Cowboy. This story was not subject to the approval of Major League Baseball or its clubs.