Friedrich shines in Coors Field homecoming
Former Rockies left-hander strikes out nine over six strong innings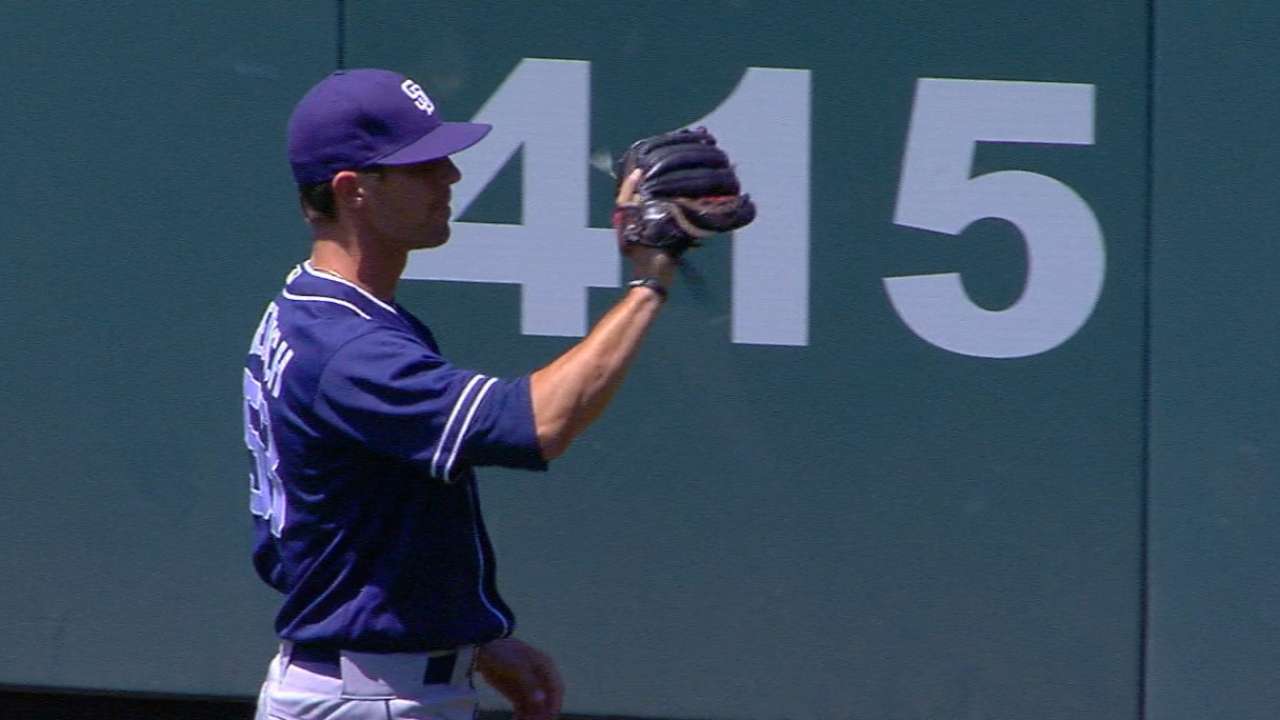 DENVER -- Who says you can't pitch at Coors Field? The Padres' Christian Friedrich was the third of three former Rockies first-round Draft picks to toe the rubber in the weekend series, and he had one of his best outings of the year, if not his career, on Sunday afternoon, earning a no-decision in a 2-1 pitchers' duel that ended up in the Rockies' win column.
In his Coors Field homecoming, Friedrich pitched six innings and allowed just one unearned run on two hits and three walks while striking out a season-high nine, his most ever in the ballpark he called home for the first four years of his big league career.
"I'd say his fastball command was the best I've seen it," manager Andy Green said. "He's pitched well for us. You don't have those numbers on the board if you don't pitch well. He's really competing every time out. Start to finish he was off-the-charts outstanding."
Friedrich was Colorado's first pick in the 2008 Draft. He played his entire career in the Rockies organization before being released on Feb. 19 this year. He faced Tyler Anderson, a good friend and Colorado's first pick in 2011, and they were preceded over the weekend by Colorado's 2013 first-round pick, Jon Gray. The three pitchers combined for a 0.93 ERA, throwing 19 1/3 innings and allowing five runs (2 earned) on 12 hits, three walks, and 22 strikeouts while throwing 285 pitches.
For Friedrich, it may have felt like his brilliant outing came in spite of his upbringing in the Rockies organization. He never fully clicked in purple pinstripes, and he was 2-9 with a 6.96 ERA in 49 previous games at Coors Field, including nine starts. He left Colorado Sunday with a 3-1 record and a 2.12 ERA in six starts for the Padres.
"It's definitely good," he said of his satisfying return to Colorado. "I wish I could have gone a little deeper. Those are the days you want to take advantage of when you're rolling. It's always nice to come back to a place you used to play. Obviously it wasn't as successful as I wanted it to be, but some success. It was a fun one."
After a one-out double from DJ LeMahieu in the first inning and a subsequent walk to Nolan Arenado, Friedrich got on a roll and retired 15 batters in a row.
"He got ahead and he expanded," catcher Derek Norris said. "When you get ahead, you tend to have a higher success rate on guys chasing pitches. It makes it difficult as a hitter to stay in an aggressive mindset. You start to chase because you're behind and you don't want to get two strikes. He mixed speeds well, he got ahead, and he expanded when he needed to."
Ironically, Friedrich said he felt "rusty" coming out of the bullpen, but the feeling went away in a hurry.
"Some days you feel like you're going to throw a no-hitter, some days you feel like you're going to strike out everybody," Friedrich said. "This was just one of those days that felt a little off. I felt a little bit better [once the game started]."
Owen Perkins is a contributor to MLB.com based in Denver. This story was not subject to the approval of Major League Baseball or its clubs.