With 1st HR, Kepler joins exclusive Twins club
Rookie right fielder fourth player with walk-off shot as 1st dinger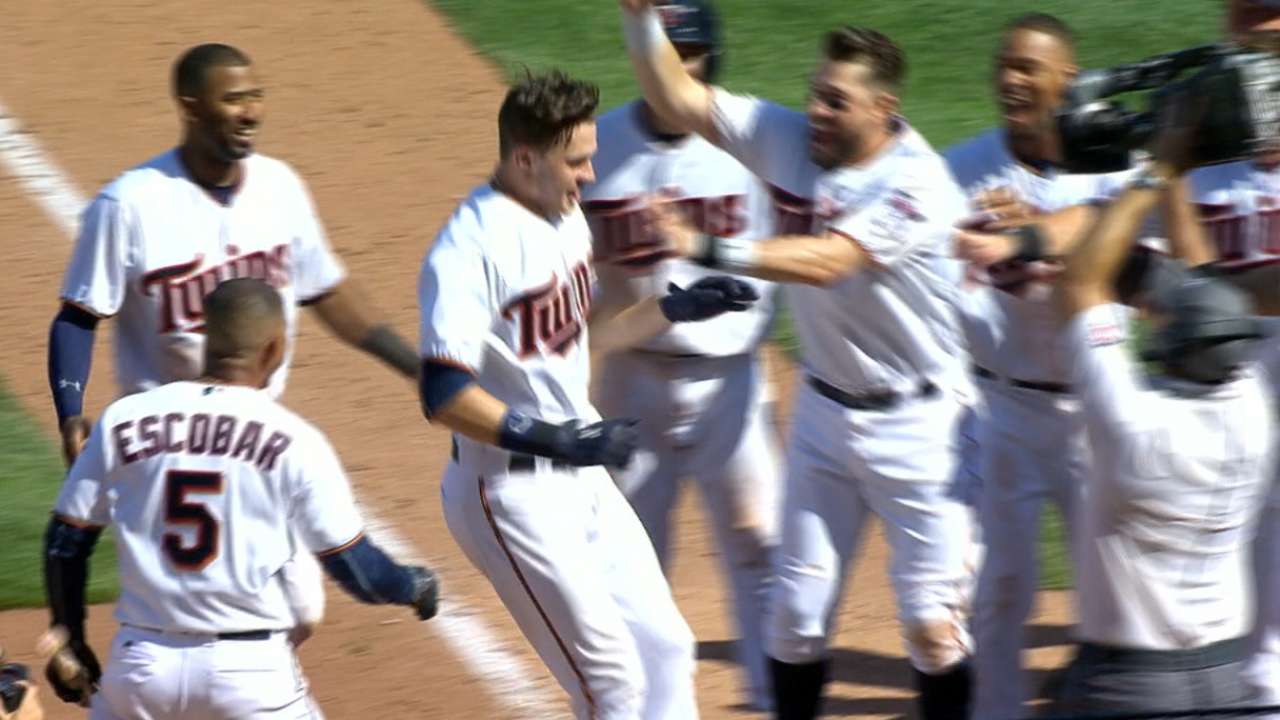 MINNEAPOLIS -- Twins rookie right fielder Max Kepler picked a good time for his first career home run.
Kepler crushed an 0-2 fastball from Red Sox right-hander Matt Barnes for a walk-off three-run homer in the 10th inning to lift the Twins to a 7-4 win Sunday afternoon at Target Field. Boston deployed a five-man infield, but Kepler made sure that was irrelevant, as his three-run blast hit off the batter's eye in center field, going a projected 434 feet, per Statcast™.
"I'm just thankful I was able to get the bat to the ball and be as simple as I was," Kepler said. "I told myself to put myself into a hit-and-run situation with quick hands and to keep it simple. The swing before, I tried to do too much, and was thinking I wanted to hit it out of the park, but on 0-2, I shortened it up and got the bat to the ball."
Kepler, who became the fourth player in Twins history to have a first career homer come as a walk-off blast, said even he was surprised how far he hit it to center field. He thought it was going to be a game-winning sacrifice fly until he saw it hit off the batter's eye while rounding first base. It was his first career walk-off shot at any level.
"I was just thankful I hit it into the outfield," said Kepler, who joined Terry Tiffee (Sept. 4, 2004), Dan Masteller (July 28,1995) and Jim Nettles (July 11, 1971) in the exclusive club. "I put my head down as I was running to first and then saw it hit off the wall, and I was like, 'That was me?'"
Twins manager Paul Molitor was impressed by Kepler's at-bat, as he didn't let the five-man infield get into his head. Kepler said it was the first time he'd hit against that kind of defensive alignment, and that seeing shortstop Xander Bogaerts behind the mound was distracting, but he was able to focus on the ball and come up with the big hit.
"It was a good moment for a good kid who is finding his way," Molitor said. "He's had some chances to get big hits in his brief stint as a Major Leaguer and today he can finally say he had a moment to help us win a game."
Get you your first one #walkoff style Kepler. #Boioioioioing

— Trevor May (@trevmay65) June 12, 2016
Kepler, who is hitting .208/.296/.354 with a homer, four doubles and five RBIs in 20 games, was 0-for-4 with two strikeouts before facing Barnes. But Molitor said he never thought to pinch-hit him, and Kepler was happy his manager had confidence in him.
"I had a rough game until that at-bat, but it's great when coaches trust in their players until the end of games," Kepler said. "I'm thankful that he trusted in me."
Kepler had a solid series against the Red Sox, going 4-for-12 with a double and a walk, and said he's hopeful he's starting to turn the corner offensively after making the adjustment from Triple-A.
"I think for me, my mechanics are down and I'm confident in them, so it's more of a focus thing," Kepler said. "I have to zone everything out. It's a great atmosphere, and I love the crowd, but when you acknowledge them during an at-bat, it really speeds up on you."
Rhett Bollinger has covered the Twins for MLB.com since 2011. Read his blog, Bollinger Beat, follow him on Twitter @RhettBollinger and listen to his podcast. This story was not subject to the approval of Major League Baseball or its clubs.