MLB.com Columnist
Mike Bauman
Surprising Davies turning into Brewers' ace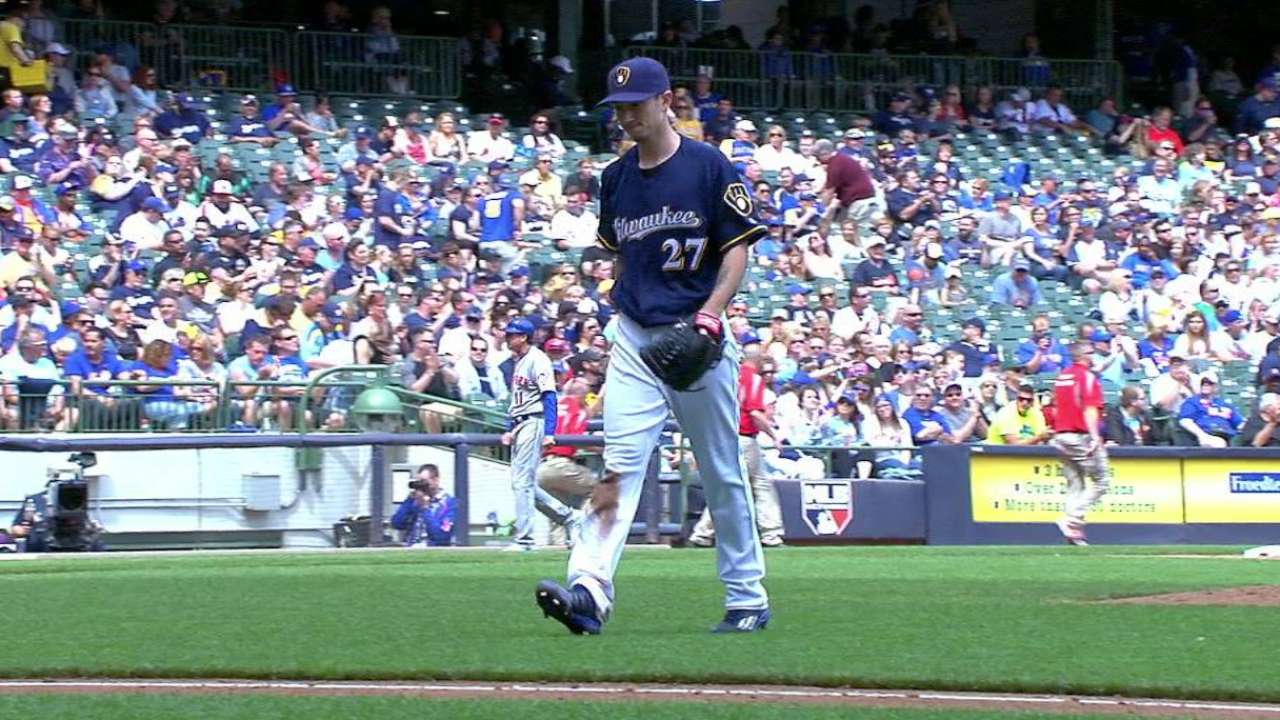 MILWAUKEE -- Steven Matz vs. Zach Davies. On the basis of name recognition alone, Matz, the heralded Mets pitcher, would be the obvious choice.
But Sunday at Miller Park, Davies, a relatively new addition to the Milwaukee Brewers' rotation, had by far the better of it. Matz is a terrific talent. But Davies' recent work has been outstanding.
The Brewers defeated the Mets, 5-3, on Sunday to gain a split of their four-game series. It was a disconcerting day for the Mets, who had won the first two games of this series, but then had two sub-standard pitching performances.
Beyond that, their manager, Terry Collins, was taken to nearby Froedtert Hospital before Sunday's game with an undisclosed medical condition. According to Mets vice president and assistant general manager John Ricco, Collins as of late Sunday afternoon, was resting comfortably at the hospital but was to be kept there overnight for further tests and observation.
In the Brewers victory, Davies worked six-plus innings, giving up one unearned run on three hits, walking only one and striking out seven.
In his last three starts, Davies has given up only two earned runs over 21 innings, allowed only eight hits, walked four and struck out 21. His emergence has essentially made the Brewers' Opening Day starter, Wily Peralta, expendable. The struggling Peralta was sent to Triple-A Colorado Springs on Sunday.
Matz, who entered this game with a 7-2 record and a 2.39 earned run average, was much more hittable than usual. He gave up five runs, four of them earned, over six innings. The Mets' defense was not particularly helpful, committing three errors, but one of those was by Matz.
The Brewers scored two runs on a squeeze bunt by Davies in the second inning, after Matz made an errant throw to first.
Davies, 23, came to the Milwaukee organization from Baltimore in a Trade Deadline deal last year in which the Brewers gave up veteran outfielder Gerardo Parra. Davies started this season in Triple-A, came up in mid-April and struggled in his first three starts, giving up 13 earned runs in 13 1/3 innings.
But he has not lost a decision in his eight starts since April, and now is 5-3 overall with a 3.88 ERA. Davies, 25, has taken his game to a higher level in the lasts three starts. He has had superior command of four pitches.
"Zach was on it today," Brewers manager Craig Counsell said. "It's progressing for me in that Zach and Luc (Jonathan Lucroy) and Maldie (Martin Maldonado), whoever's catching, are getting on the same page and really making good choices. He's on the attack and he's got all four pitches as weapons. I think he's really getting a feel for playing with the hitter, front-to-back, side-to-side.
"It's good stuff. He's a young pitcher. He's still getting better."
It is difficult to attach the word "dominant" to a Davies performance, but only because he is listed at 155 pounds, and has an extremely boyish countenance. But two earned runs and eight hits allowed over 21 innings constitute at least a brief run of dominance.
"You can use whatever adjective you'd like," Counsell said. "I think he's certainly pitched very well. He's really controlling the hitters with his four pitches. He's using all his weapons right now and he's locked in on executing pitches."
Davies is a matter-of-fact sort who isn't going to make any declarations of success on his own behalf. The Mets loaded the bases with one out in the first inning against him. And then he retired the next 17 batters in a row.
"I just was making sure that I keep making sure that I kept working the zone," Davies said. "Knowing that if calls maybe didn't go my way at first, if I kept getting after it, it'll eventually get there, and maybe (the hitters) will get a little more aggressive and put the ball in play."
What has been the difference for Davies, particularly in the last three starts?
"It's just kind of being able to control the ball-every pitch, every count, every inning," he said. "And just making sure that the hitters put it in play with a great defense there behind me."
Davies echoed Counsell's comment about working in concert with his catchers, finding "the best ways to approach the hitters."
But he also said of his overall approach: "I'm just trying to be myself out there."
That turns out to be one way for Zach Davies to be really good.
Mike Bauman is a national columnist for MLB.com. This story was not subject to the approval of Major League Baseball or its clubs.