Astros' offensive production on the rise
ST. PETERSBURG -- Carlos Gomez distributed the offensive credit. A short time after the Astros edged the Rays, 4-3, on Saturday, Houston's center fielder highlighted the many helping hands during an uptick in production.
Gomez had done plenty himself in a result that snapped Houston's six-game losing streak at Tropicana Field. His 445-foot solo home run to center field off right-hander Chris Archer in the seventh inning tied the score at two and gave the Astros needed life. Still, he was quick to point out Marwin Gonzalez's 3-for-4 day from the second spot in the lineup and Luis Valbuena's 355-foot solo home run to right off reliever Dana Eveland in the ninth as reasons for the pleasing postgame vibe.
"Play the game," Gomez said. "We put Marwin today and yesterday in the second hole, and come today, he had a big game for us. Valbuena continues to swing the bat well. One at-bat for me today, and tying the game is very good for my team so they can continue to play the game and continue to win."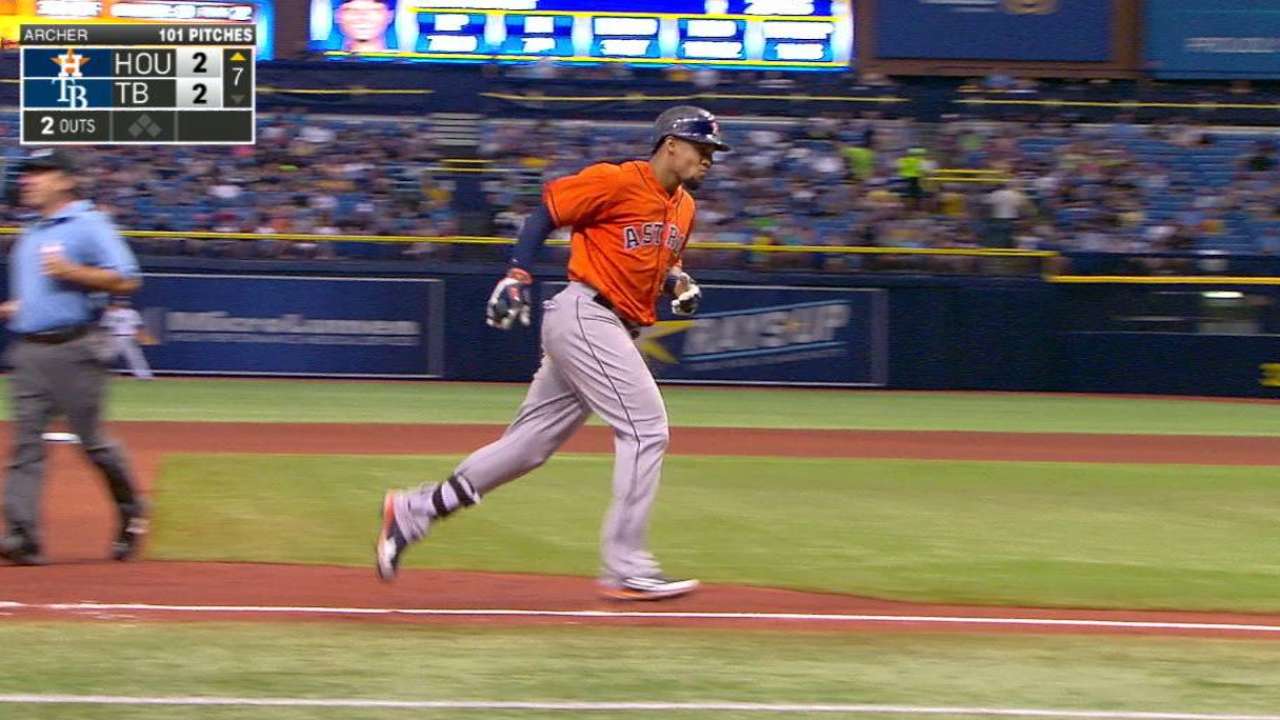 Before Saturday, Houston scored just three runs in four consecutive games. The four runs broke Tampa Bay's streak of holding the Astros to three or fewer runs in 13 consecutive contests, the longest such run in Rays history against any opponent. It was Houston's first game against Tampa Bay with at least four runs since a 7-3 victory on June 14, 2014.
"It was a good win for us," Astros manager A.J. Hinch said. "We needed every run that we could get, obviously. The Gomez homer was easy to be happy about with the tie, and the Valbuena tack-on homer was big."
The bigger offensive effort lifted Houston to a victory in yet another close game. Twenty-one of the Astros' past 29 contests have been decided by two or fewer runs, including each of their last six. Entering Saturday, Houston's 38 games decided by two or fewer runs were the most in the Majors.
As he stood in his office Saturday evening, Hinch understood the value of grinding out another win. The Astros have claimed victory in 10 of their past 15 games and 13 of their last 19. They also improved to 28-1 when leading after eight innings.
"We're in a position to win a lot of games, and we've got to continue to feel good about ourselves in these close games," Hinch said.
"We just need more wins."
Mission accomplished on Saturday.
Andrew Astleford is a contributor to MLB.com. This story was not subject to the approval of Major League Baseball or its clubs.